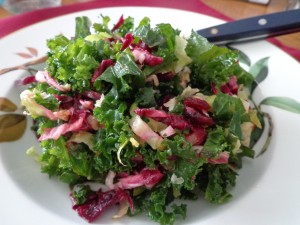 Dark greens and intensely colored veggies and fruits are so healthy for you that we should all be eating them regularly.  Kale happens to be the sweetheart of the dark greens right now.  Brussels Sprouts have found a widespread popularity.  Kudos to Tyler Florence for putting together this tasty, winter slaw.  He adds shaved Parmesan cheese for a salty balance.  However, I wanted to watch my salt intake….so I've left it out.  It's as beautiful as it is healthy!
So let's thinly slice these veggies, throw in some color with radicchio and sweeten it up with dried cranberries and you have a hearty, healthy slaw that disappears fast in a buffet every time.  Bring this to your next Thanksgiving table for a colorful, healthy fresh salad choice.
I made this for my daughter, Lindsay this week and she'd commented that a little less olive oil would lighten up the dressing.
Kale, Radicchio, Brussels Sprouts & Cranberry Slaw
Ingredients:
1/2 bunch of fresh Kale leaves, ribs removed and thinly sliced
8 to 10 medium sized Brussels Sprouts, cored and thinly sliced
1 small head of radicchio, cored and thinly sliced
1 cup dried cranberries
1/2 cup extra virgin olive oil
1/4 cup freshly squeezed lemon oil
1 teaspoon sea salt
1/2 teaspoon freshly ground black pepper
Combine all the veggies with the cranberries in a large salad bowl.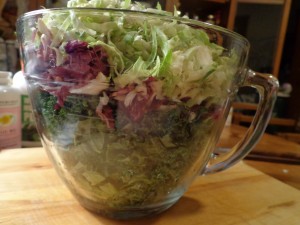 Combine the dressing ingredients and pour over salad.  Toss to coat.  Refrigerate until ready to serve.