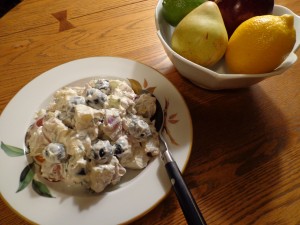 Who doesn't love potato salad?  It doesn't have to be a summer-time picnic food.
I happen to love briny black olives and caesar salad too.  So I combine these two favs, let the cooked potatoes marinate in my fav caesar dressing while still warm, then mix in some additional mayo and chopped fresh dill, red onion and celery when it cools, and voila….a quick, easy flavorful potato salad with little fuss and mess.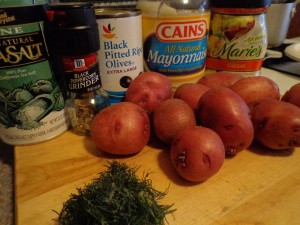 Ingredients:
3 lbs red bliss potatoes, cut and boiled until tender
1 can whole, small black olives drained
2 stalks celery chopped
1 to 2 tablespoons chopped fresh dill
1/2 bottle favorite ceasar salad dressing ( I love Marie's)
1/2 to 1 cup real mayonnaise dressing
salt and pepper to taste
1 or 2 chopped hard boiled eggs if desired
1/2 small red onion, chopped if desired
Wash and cut the red bliss potatoes into bite-size pieces.  Place them in a 3 quart saucepan and cover them with cold water.  Salt the water with a teaspoon of salt and bring to a boil.  Let the potatoes simmer for 10 minutes, until tender.
Drain the cooked potatoes and place into a large mixing bowl.  Drizzle with caesar dressing and mix to coat all the potatoes.  Set aside and let cool to room temperature, stirring occasionally.  The warm potatoes will more easily absorb the flavors of the caesar dressing.
When cool, add the chopped onions, celery, dill weed, chopped eggs and the drained black olives.  Stir to coat all the ingredients.  Stir in 1/2 to 1 cup mayonnaise, according to your taste.  Correct seasoning with additional salt and ground pepper.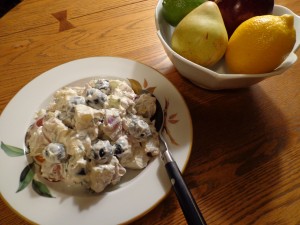 Refrigerate for several hours to develop the taste before serving chilled.