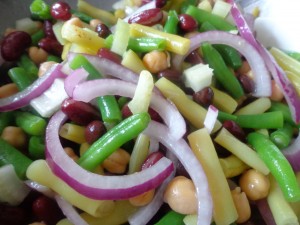 This is a traditional, old-fashioned marinated bean salad…found at picnics and on every salad bar across the country. If one is going to make a healthy marinated veggie salad, why stop at 3 beans?  I've added 5 of my favorite beans: green beans, wax beans, kidney beans, garbanzo beans, and black beans.  This is an easy salad to throw together, keeps well at a picnic and will last a long time in the refrigerator.  So make a big batch and have it handy for a cold, healthy veggie accompaniment to meals all summer!  Goes well with bbq's as well as a topping on a green salad.
5 Bean Salad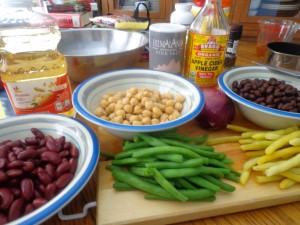 Ingredients:
1/3 lb fresh green beans
1/3 lb fresh wax beans
1/2 large can of red kidney beans, drained and rinsed
1/2 large can of black beans, drained and rinsed
1/2 large can of garganzo beans, drained and rinsed
1 small red onion, halved and sliced
1 stalk celery, chopped
1/4 cup sugar or honey
1/3 cup apple cider vinegar
1/4 cup vegetable oil (I use peanut oil)
1 teaspoon sea salt
Blanche the green and wax beans in boiling salted water for 4 minutes, then shock in ice water to arrest the cooking and set the color.  Drain. Slice the red onion, soak in cold water 5 minutes, then drain on paper towels. Combine all the ingredients in a large mixing bowl.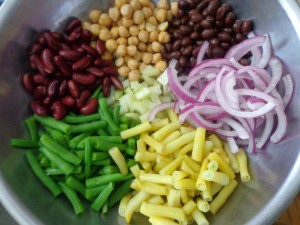 In a small saucepan, bring the oil, vinegar and sugar and salt to a boil.  Stir to dissolve the sugar.  Turn off the heat and allow to cool for a few minutes.  Pour the dressing over the veggies and stir to coat.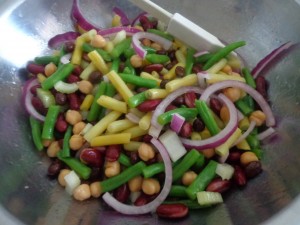 Let marinate at room temperature at least an hour, stirring occasionally. Store in refrigerator.