Back in the day, when I had a food shop/catering service called Country Cuisine, I also taught cooking classes through the local community college and adult education.  I loved those classes and enjoyed my students.  We covered a multitude of dishes, many ethnic and some regional specialities.
One of my most memorable dishes was duck jambalaya, a Louisiana specialty rich with tender, braised duck, spicy with andouille sausage and simmered with rice to produce a one dish meal so flavorful that you'll cherish each mouthful. Granted, there are as many recipes for jambalaya as there are for chili or chowder or mac & cheese for that matter.
Here is a delicious version that has just the right amount of spiciness without being obnoxiously hot.  I had to stalk my supermarket until their holiday shipment of ducklings arrived, then I snatched up a fresh 5 pounder, grabbed a 12 oz package of fresh cajun andouille sausage and never looked back…it being Christmas eve day and shoppers were absolutely crazy!
I cut up the duckling into 6 manageable pieces, so that I could easily sear them in my dutch oven.
Next, I mixed up a batch of creole seasoning using:  1 TB paprika, 1 TB sea salt, 1 TB ground black pepper,  1 Tb garlic powder, 1/2 Tb onion powder, 1/2 Tb cayenne powder, 1 teaspoon dried thyme, 1 teaspoon dried oregano.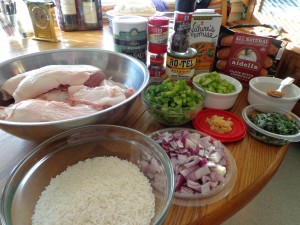 Ingredients:
5 lb fresh duckling, cut into 6 or 8 pieces
1 Tb rendered bacon fat (I save mine in the refrigerator)
10 oz fresh andouille sausage, diced
1 cup chopped onion
1 cup chopped green pepper, or red
1/2 cup chopped celery
1 Tb chopped garlic
1 Tb creole seasoning mixture
1 teaspoon sea salt
1/2 teaspoon ground black pepper
1 bay leaf
10 oz Rotel tomatoes
1 qt chicken stock
1 1/2 cup white rice
1/4 cup chopped parsley
Melt the bacon fat in a large dutch oven over medium heat and place half the duck pieces, skin-side down to brown…approximately 5 minutes.  Turn over and brown for another 3-5 minutes.  Remove and continue to brown the remaining pieces of duck.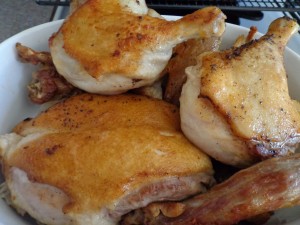 After you've removed the browned duckling, add the diced sausage to the pot to brown.  At this point, I drain off excess fat, leaving 1 to 2 Tb in the pot to brown the sausage and sweat the veggies.  Now add the trinity (onions, peppers, celery) and sweat for 5 minutes with the sausage.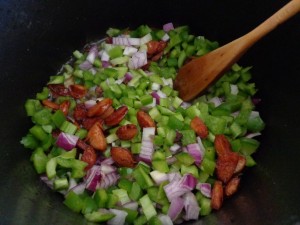 This step will serve to loosen the fond (brown bits) on the bottom of the pot, which is full of flavor and important to the development of the dish. Now add back the duck pieces, stock, creole seasoning, salt, pepper, garlic, bay leaf, and tomatoes.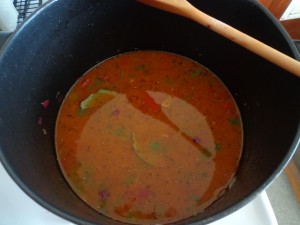 Bring to a boil, lower to a simmer and cover.  Simmer the pot for an hour. Remove the duck pieces and bay leaf and set aside to cool.  When cool enough to handle, remove the duck meat from the bones, and discard the bones and bay leaf.
Meanwhile, add the rice to the pot, bring to a boil.  Cover and simmer on low for 20 minutes more, to cook the rice.  Add the duck meat back to the pot along with the chopped parsley and fluff up the rice.  Cover and let sit for 15 minutes more. Serve hot.