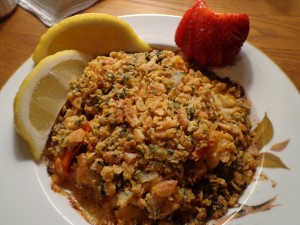 By any other name, this is simply a wonderfully delicious lobster pie!  Grandma Ruth made a fabulously simple lobster stuffing, a typically traditional New England recipe handed down through the generations…and years ago for special occasions, our family would purchase the live lobsters on sale and bring them home to split, stuff and roast…then spend the whole evening picking apart the lobster using crackers and picks in order to enjoy every juicy, butter soaked morsel.  We'd enjoy simple side dishes like baked potatoes and steamed corn, with maybe a green salad and perhaps steamed clams.  What a feast!
Originally, Grandma Ruth's recipe called for the tomalley (liver) of the lobster to be sauteed into the stuffing mixture.  But today, owing to the lobster being a bottom-feeder, there is a federal warning against eating the tomalley due to possible presence of toxins. So I no longer use tomalley in my recipe.
Now that I live in a small apartment, I don't want to smell steamed lobsters for days…so for convenience sake, I asked my fish monger to steam the lobsters right there at the shop, and I brought them home to remove the lobster meat for this pie.
It's a simple recipe, and made all the more delicious because of it's simplicity…which highlights the sweet lobster meat.
Grandma Ruth's Baked Stuffed Lobster – Deconstructed!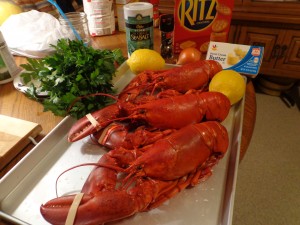 Ingredients:
3  1/14 lb lobsters, steamed
1 1/2 sticks unsalted butter, melted
2 fresh lemons
1 sleeve Ritz crackers, smashed into crumbs
1 sleeve Saltine crackers, smashed into crumbs
1 small onion, diced
1/2 green pepper, diced
salt & pepper to taste
1/4 cup chopped fresh flat leaf parsley
Crack the lobster shells and pick out all the claw and tail meat.  Cut into bite-sized chunks and arrange in 2 oven-proof bowls.  You can remove the meat from the legs by using a rolling pin to roll out the meat. The only other acceptable method to extract the leg meat is to suck it out like a straw, but that's hardly suitable when making a lobster pie!!!   hahaha…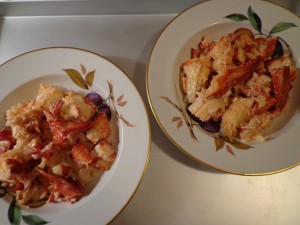 Drizzle 2 tablespoons of melted butter over each bowl of lobster meat.  Squeeze 1/2 of a fresh lemon over each bowl of meat.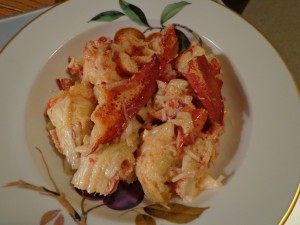 In a large skillet, melt the remaining stick of butter and sweat the onions and peppers until translucent and soft.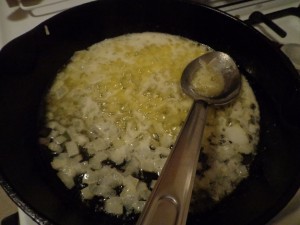 Add the parsley and briefly saute.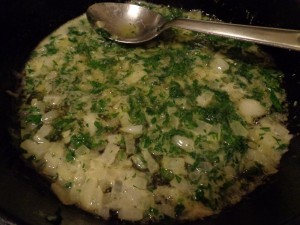 Add the cracker crumbs and stir to combine.  Season to taste with salt and pepper.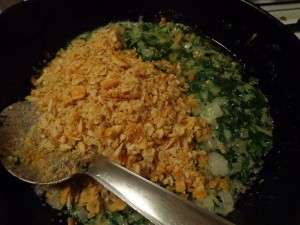 Mound the stuffing over the lobster meat to cover it completely.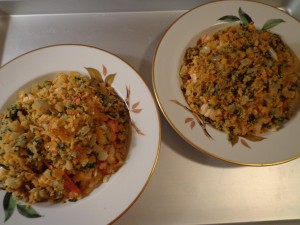 Preheat oven to 350 degrees.  Bake lobster pie for 20 minutes until the butter is sizzling and the lobster meat is heated through.  The stuffing will be golden brown.  Remember, everything is already cooked, it just needs to be heated up.