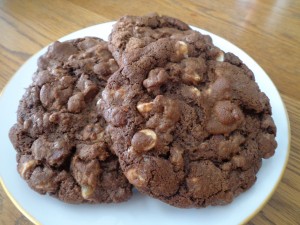 Do you love crispy, intensely chocolate cookies?  These giant cookies have a chewy texture that reminds one of a brownie inside, plus the pleasure of biting into chunks of delicious bittersweet and white chocolate.  The wonderful taste of chocolate just doesn't end.  For maximum chocolate flavor, try using an excellent quality bittersweet chocolate like Lindt and chop it up rather than chips.
The twist here is the expresso powder.  Coffee gives an umami effect to chocolate…enhancing it's flavor without overpowering your chocolate fix.
Triple Chocolate Expresso Cookies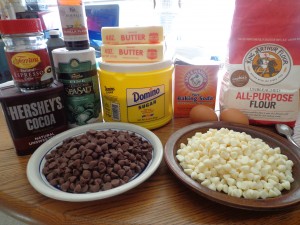 Ingredients:
2 sticks (1/2 lb) unsalted butter at room temperature
2 cups granulated sugar
2 large eggs
2 teaspoons vanilla
1 teaspoon expresso powder
1/2 teaspoon sea salt
2 cups all purpose flour
1 teaspoon baking soda
3/4 cup unsweetened cocoa powder
2 cups of chopped bittersweet chocolate chunks or chips
2 cups of chopped white chocolate chunks or chips
Preheat the oven to 350 degrees F. Line the cookie sheet with parchment.
In large mixing bowl, cream butter and sugar for 2 minutes until light and fluffy.  Add eggs, vanilla, instant expresso powder and salt and mix until combined.
Meanwhile, sift the flour, baking soda and cocoa powder together in a medium sized mixing bowl.
Now add the dry ingredients to the butter mixture.  Mix only until combined well.
Add the chocolate chunks and stir to distribute.  Drop by heaping tablespoons onto baking sheet.
Bake for 15 to 20 minutes, rotating the sheet midway for even baking.  The exterior will be crunchy, the interior chewy.