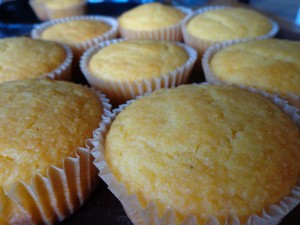 New England style cornbread/muffins are on the sweet side, as opposed to southern style cornbread, which is more savory and usually baked in an iron skillet.
Here in Boston, we favor the sweeter cornbread/muffin, however I will admit that if I'm baking a batch of cornbread to use in my turkey stuffing…I prefer to use southern style cornbread, as I don't like the sweetness of the New England style cornbread in my stuffing.
Back when the children were in college, I'd make up ziploc baggies with pre-measured pancake mix and cornbread mix as well as frozen logs of cookie doughs for them to take back to their dorm rooms and have on hand to bake relatively easily.  All they had to do is add the milk and eggs, mix and cook…. or slice the logs of cookie dough and bake…voila, a taste of home within minutes!  I also pre-measured spaghetti sauce herbs so all they had to do was add tomatoes and tomato paste…hmmm getting off on a tangent here…..
You will find these corn muffins very light and corny….
New England Style Cornbread/Muffins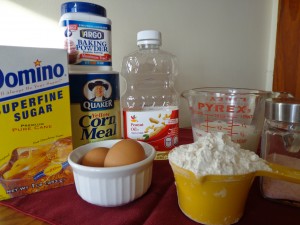 Ingredients:
1 1/4 cups cornmeal
3/4 cup all purpose flour
1/4 cup granulated sugar
2 teaspoons baking powder
1 teaspoon salt
1 cup milk
1/4 cup vegetable oil
1 egg
Preheat oven to 400 degrees.  Line muffin tins with papers.  Or butter a loaf pan.  If I have some saved rendered bacon fat, I heat up a cast iron skillet with 2 tablespoons of the bacon fat in the preheating oven until hot.
In medium mixing bowl combine the dry ingredients.  In 2 cup measuring cup, measure out the oil and milk, then add the egg and beat with a fork.  Add the liquid to the dry ingredients and stir only to moisten.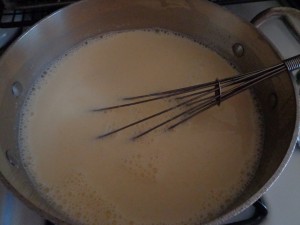 Pour into the muffin tins or buttered loaf pan.  If using cast iron skillet, remove hot skillet with 2 tablespoons melted bacon fat from the oven and quickly pour the batter into the skillet and return to the oven to bake.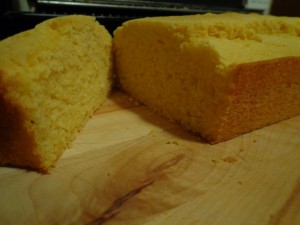 Bake for 20 minutes for muffins or 30 to 40 minutes for loaf and skillet.  Makes 12 muffins.