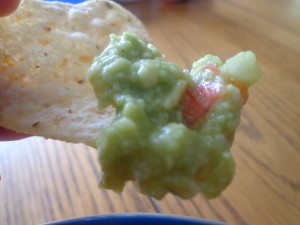 Avocados are so good for you…don't believe me?  Read about'em.  Did you know that this tasty berry has 20 vitamins and minerals, including 18 amino acids and is considered high in protein, has more potassium than a banana, and its antioxidants and essential oils help keep your hair and skin healthy too!  They are sodium and cholesterol free, and contain mono and polyunsaturated fats.  So not only do they taste delicious but you can contribute to your heart health, reduce your risk of kidney stones and help your bone density too.  Plus you can get them year round now.!
My most favorite method of ingesting this fruit (yes fruit!) is to make a tart, creamy guacamole with crispy chips…yum!  It's fast to make and you should have no guilt eating a bowl of it…consider it your salad..with diced onions and chopped tomatoes and a squeeze of lime juice…it's so healthy your heart will thank you.
Don't forget its a fruit!  Elsewhere, I've included avocado in a chocolate mystery mousse recipe which is fast and easy and to die for….you'll never taste the avocado, but each bite with take away the guilt of eating such a sinful chocolate treat!  I make a batch in tiny mason jars and keep them in the freezer to eat like an ice cream cup…yum!
An avocado is ripe when the skin is just soft to the touch, giving slightly when touched. But don't be dismayed is you've picked up an unripened one…just enclose it in a bag for a day or two to ripen.
Ole Guacamole!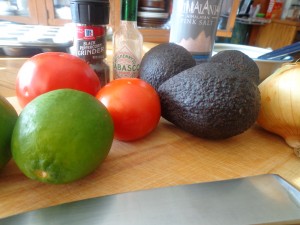 Ingredients:
1 ripe avocado
2 tablespoons chopped ripe tomato (or  salsa)
1 tablespoon minced onion
juice of half a lime
pinch of salt
few grindings of pepper
dash or two of Tabasco
Cut the avocado in half and remove the pit.  Using a spoon, scoop out the ripe meat in any hodgepodge way because you're just going to mash it up anyway.  Add the chopped tomatoes and minced onions.  Juice the half of a lime and add the seasonings.  I love mine tart!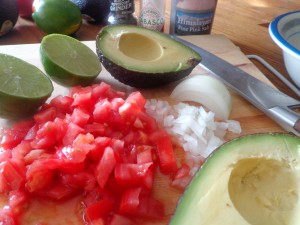 Now take a fork to the whole mixture and mash it all around until your desired consistency…
either smooth…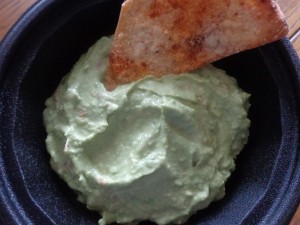 or chunky….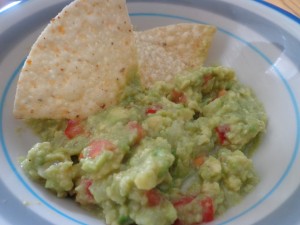 Enjoy with crispy chips or spread on a sandwich, or stuffed inside a fresh pita picket with chunks of roasted chicken
Your can multiply this recipe several times, depending on your hoard of ripe avocados and the size of the crowd you may be feeding.
The citrus juice will keep it from browning too rapidly.  But if you make this early in the day, smooth a piece of plastic wrap directly on the surface of the dip, sealing out any air..then refrigerate until serving time.
This should be consumed the same day.