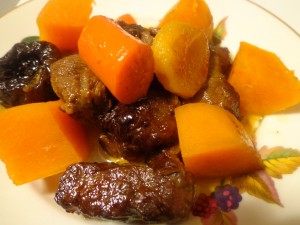 Happy Jewish New Year, (Rosh Hashanah)…and a good Yom Tov to you all.  Every shabbat (from sundown on Friday until sundown on Saturday) is a special day to all the Jewish tribes, to be honored and enjoyed…but Yom Tov is the highest point of the year to be honored, enjoyed and celebrated in great joy. When I was first married and newly converted to Judiasm…my beloved mother-in-law undertook to teach me many of her traditional holiday dishes.  Since her family originated from eastern Europe, many of her recipes reflect those flavors reminiscent of that region…cinnamon, paprika, root veggies, cabbage, etc. There are a multitude of tzimmes recipes.  This particular recipe is both sweet and savory and encompasses both beef and root veggies.  We would serve it as a side dish for the High Holy Days, along with a baked beef brisket and a noodle pudding, called kugel.  However, it is hardy enough to serve as a main dish.  Or you can leave out the beef altogether.  This blend of ingredients may seem unusual to you, but the flavors are delish roasted together…you will love it!  Better yet, the kids will love it!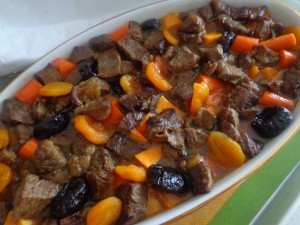 Grandma's Tzimmes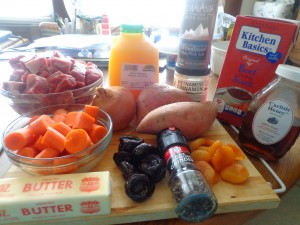 Ingredients:
2 lbs beef chuck, cut into stew sized pieces
1 tablespoon oil
1 1/2 cups water or beef broth
1 teaspoon sea salt
1/2 teaspoon ground black pepper
1 small onion, quartered
1/4 teaspoon ground cinnamon
1/2 cup orange juice
1/2 cup honey
1/4 cup butter
2 large sweet potatoes (peeled and cut into bite-size pieces)
2 large carrots, peeled and cut into bite-sized chunks
1 dozen pitted prunes
1 dozen dried apricots
In a large dutch oven, heat oil over medium heat and brown beef pieces, caramelizing all sides.  This step adds flavor.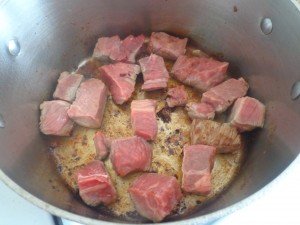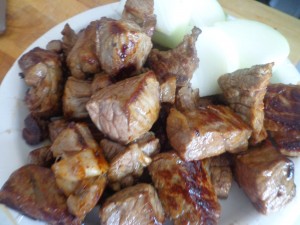 Drain off any excess fat.  Pour the liquid, cinnamon, salt & pepper over the meat.  Add the onion quarters.  Cover pot and bring to a boil, then reduce heat and simmer on low heat for 1 1/2 hours.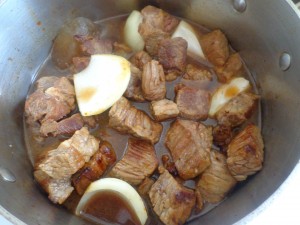 Remove the beef from the braising liquid, and measure out 1/2 cup of the liquid.  Add this 1/2 cup of braising liquid to the orange juice, honey and butter.
Preheat oven to 325 degrees.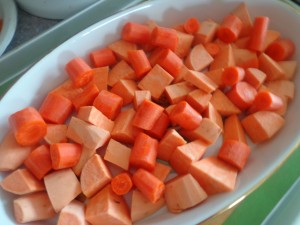 In a large casserole dish, arrange carrots, sweet potatoes and the braised beef.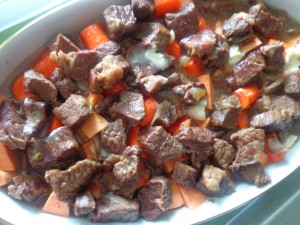 Pour the braising liquid/OJ/honey/butter mixture all over the veggies and beef.  The liquid should come only halfway up the veggies (do not drown the casserole in liquid).  Cover and bake 1 hour.
Since I don't like to use aluminum foil directly on food, I first cover the casserole dish with a sheet of parchment paper, then seal the foil over that and place it all on a cookie sheet, in case of run over.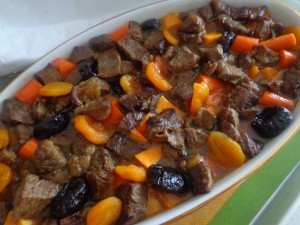 After the one hour, add the dried fruits intermittently over the casserole…poking them into the juices.  Cover again and continue baking 1/2 hour more.
The beef will be fork tender and savory and the veggies sweet and tender.  Serve hot or at room temperature. The orange juice and hint of cinnamon will lend a distinctly exotic flavor which will become a holiday comfort food favorite for the family.   Yummmmmm