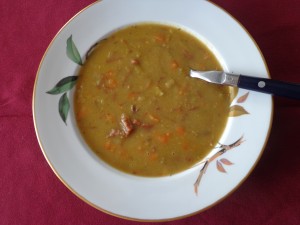 I have a leftover ham bone with bits of ham just calling my name demanding I make a split pea soup out of it.  Mmmm thick and hearty, a way to celebrate the green of St Patrick's Day!  So first I'll make a ham stock out of the bone….with Easter right around the corner, those of you serving the traditional baked ham for dinner might want to keep this recipe in mind.
Since this was a Smithfield smoked ham, I won't have to add any salt to this stock or the finished soup.  Just cover the ham bone, with all the leftover meat remaining on the bones, quarter an onion, toss in a couple of medium carrots, two stalks of celery, a handful of parlsey springs and a bay leaf. Then simmer for 4 hours.  I let the stock cool overnight, then defatted the surface, lifted out the meat and bones, picked the meat off the bones and discarded the strained veggies and bare bones.  The stock was wonderfully jelled from the bones.  Now I am ready to make the split pea soup.
Here's a tip:  If you have old lettuce, toss it in the soup pot.  This soup likes the addition of lettuce and greens you want to use up.
Here's another tip:  for a fresh, more intense pea flavor, take a box of frozen peas, thaw and puree…then add to the soup at the last minute before serving, reserving some of the whole thawed green peas for a garnish in the middle of the soup bowl.  Yummmmm
Split Pea & Ham Soup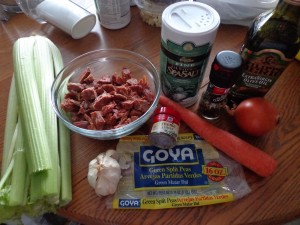 Ingredients:
1 lb dried split green peas
8 cups of water or ham stock, or chicken stock
2 medium carrots, diced
1 medium onion, diced
1 teaspoon minced garlic
2 stalks celery, diced
1 teaspoon dried thyme
1 teaspoon ground black pepper
2 tablespoons olive oil
In a stockpot, heat the oil and sweat the onions for 5 minutes until translucent.  Add the carrots, thyme and celery and cook for another 5 minutes.  Add the garlic and stir only until fragrant.  Add the split peas and liquid and bring to a boil, then reduce to a simmer.  (this is where you would add any old greens or lettuce)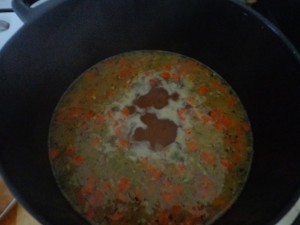 Skim any foam that floats to the top for the first several minutes.  Cook on a simmer 1 1/2 hours, until the peas are tender and have begun to disintegrate.  If you wish a smooth puree, now is the time to blend the soup.
However, if you like the rustic look of a thick split pea soup that has not been pureed, just leave it.  You should not have to puree it.  I like it rustic, with the carrots still visible in a pool of green and chunks of salty ham waiting to be scooped up.  If you have leftover ham, add it now, cut into bite-sized pieces.  Correct for seasonings at this point.  Always wait until the end to correct your seasonings, as you don't want the finished soup to be too salty.