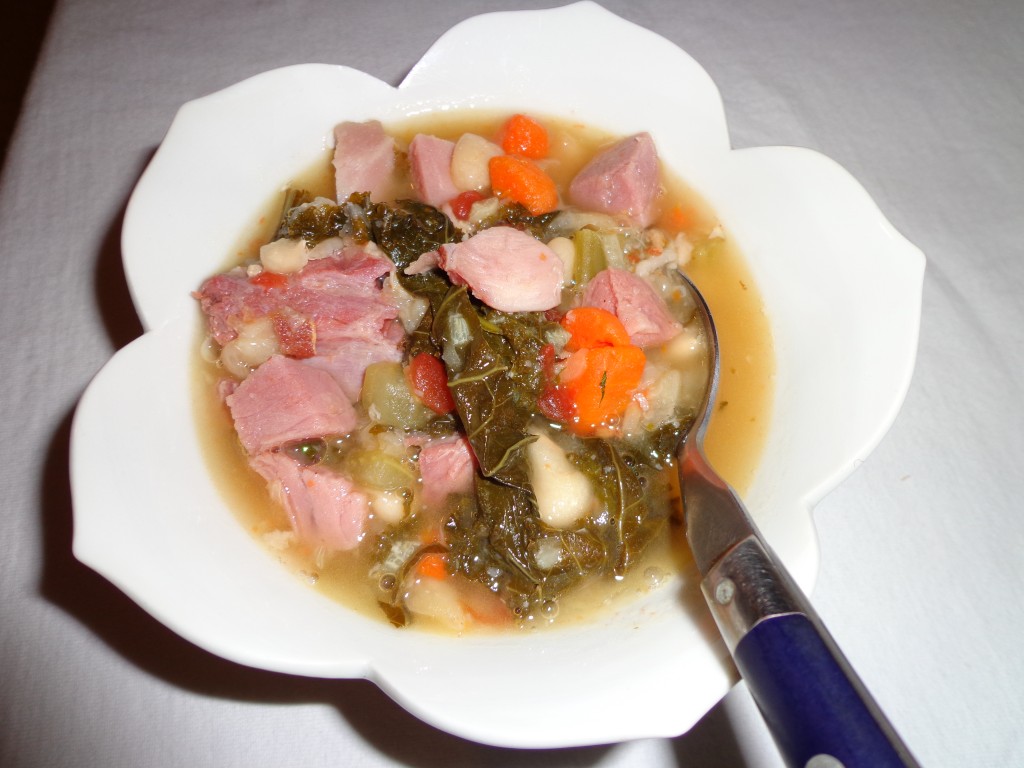 Ingredients
1 lb dried cannellini beans, rinsed, discard damaged beans
1 Tbl olive oil
4 oz Applegate Farm organic bacon, diced
1 large onion, diced
2 stalks celery, diced
2 medium carrots, diced
4 garlic cloves, crushed
1 quart chicken stock
1 quart water
2 bay leaves
trimmed bones from a baked ham
1 bunch kale, chopped into bite-sized pieces
1  10 oz can Rotel Tomatoes
1/4 tsp dried rosemary
1/4 tsp dried thyme
salt & pepper to taste (when using ham bones, I never need added salt)
In a large bowl, stir beans into 4 quarts cold water.  Soak beans 8 – 24 hours at room temperature, making sure beans are always covered with water.  Drain and rinse.
Preheat oven to 250 degrees, adjusting rack to lower level to accommodate soup pot.
Heat olive oil in 8 qt soup pot, add bacon and render until crisp.  Add onions, celery, and carrots and stir occasionally until softened, about 10 minutes.  Add garlic and heat until you can smell the garlic fragrance.  Stir in stock, water and bay leaves.  Nestle ham bones into the soup.  Add herbs and a few grinds of black pepper.  Bring soup to a boil on high, then cover and place in oven for 1 hour.
Remove soup from oven and stir in tomatoes and kale.  Return to over for 40 minutes until kale is tender.  Discard bones and bay leaves and check seasonings.
Serve with bruschetta.