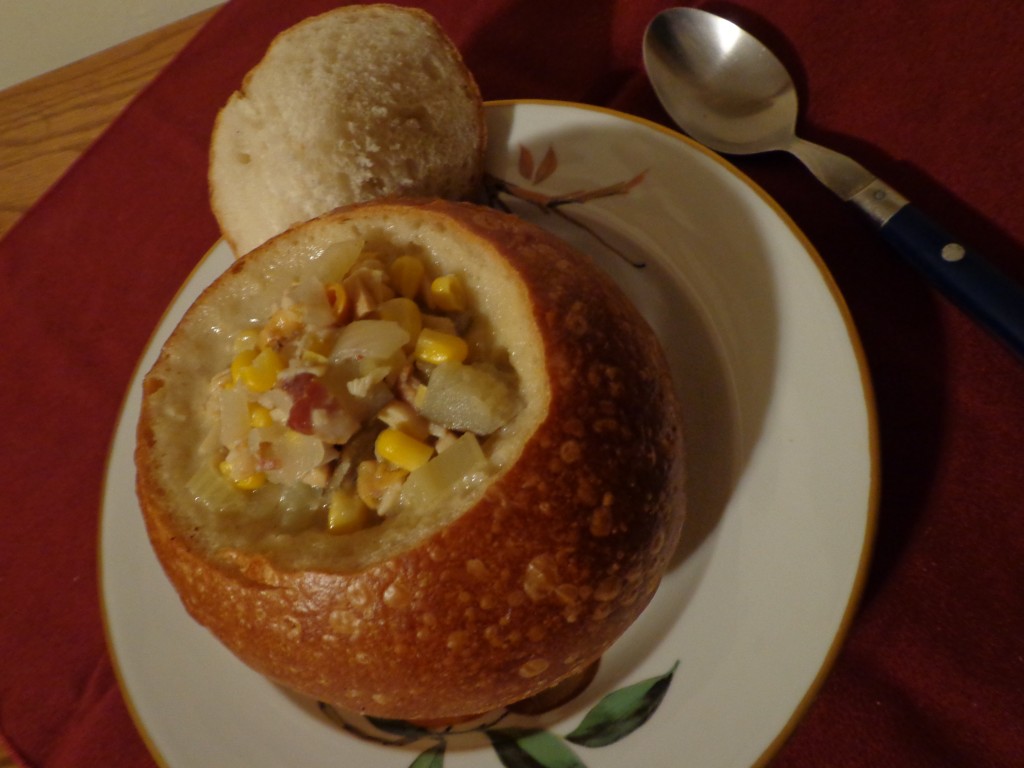 A fast, easy and satisfying meal with crackers…or hollow out a sourdough boule and use as the perfect chowder bowl.  Add more clams if you like it bursting with clams…or leave out the potatoes if you're a purist…or forget the flour paste thickener if you prefer a thin chowder…or some like added diced celery and carrots…but not me, I'm not looking for layers of flavor here…just let me taste those tender clams….there are many ways to satisfy a chowderhead!!!  You will find that homemade clam chowder actually contains tender, delicious clams….not those rubbery, chewy bits found in many restaurants who keep their chowders warm for hours.
Ingredients
4 slices Applegate Farms organic bacon, diced
smidgeon olive oil
1 medium onion, diced
2 medium Idaho potatoes unpeeled and diced
1/2 tsp dried thyme
1 bay leaf
4 bottles clam juice
2 cups heavy cream
mix 2 Tbl soft unsalted butter with 1/4 cup flour into a paste (optional)
1 tsp salt & 1/2 tsp ground pepper, or to taste
shake of hot pepper sauce
2 lbs freshly shucked chopped clams
juice of 1/2 lemon
Drizzle a smidgeon of olive oil into an 8 qt soup pot and heat pot on medium.  Toss in bacon and render its fat until brown and crispy.  Add in onions, season with salt and stir until translucent (this is called sweating them), should only take 6-8 minutes.  Now add the diced potatoes and cook for another 5 minutes.
Add all the clam broth and cream, and while stirring, add in the butter/flour paste by sprinkling it into the soup with your fingers.  Add in bay leaves, pepper and thyme and bring to a boil, stirring all the while.  Turn down to a simmer and continue cooking another 10-15 minutes until potatoes are tender and the soup has thickened.  Shake in hot pepper sauce to taste and correct seasonings.
Toss in the chopped clams and lemon juice, and heat gently for a few minutes to cook the clams.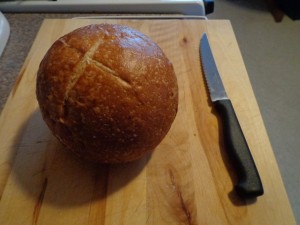 Carve out the top of the sourdough boule, much like you would a pumpkin jack-o-lantern.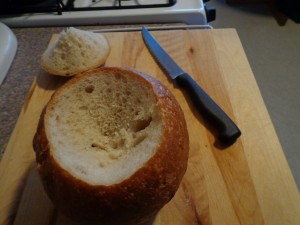 Hollow out the inside by pulling out the bread, taking care to leave a thick enough outer crust so the chowder doesn't spill out.
If the loaf is cold, heat for just 5 minutes in a 250 degree oven, just to warm the bread and crisp the exterior crust.  Ladle hot chowder to fill the boule and serve with the top on the side, perhaps with a serving of beer cheese to spread on the warm bread.