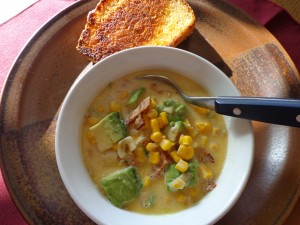 We're in the midst of yet another snow storm today, and since I see my neighbors out with their snow blowers displacing what looks to be about 12 inches of the stuff so far, I feel like a nice hot bowl of soup.  What I have ingredients for is a simple but quick corn and cheese chowder.  A perfect accompaniment to the cheddar dill beer bread I baked earlier this weekend.
Prior to cutting up the bacon, I freeze it for 20 minutes to make the slicing easier.  And if you prefer thick chowder, feel free to add a couple of tablespoons of flour to the veggies before you add the liquids, cooking and stirring it for a minute or two to cook the flour.  Otherwise, it only takes about 1/2 hour to throw this soup together for a hearty and filling lunch full of flavor.  I caution you to hold off on the seasoning until after you melt in the cheese, as cheese is salty and you don't want the final chowder to be too salty.
Corn and Monterey Jack Chowder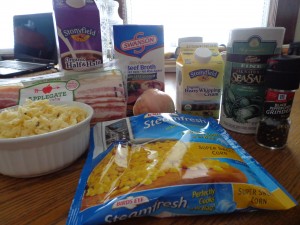 Ingredients:
1  10 oz package frozen corn
1 medium onion, diced
4 oz bacon cut into lardon pieces
1 quart stock, either chicken or beef
1 cup cream, heavy or half & half
salt & pepper to taste
1 cup shredded Monterey Jack cheese
In a soup pot, fry the bacon lardons until crispy.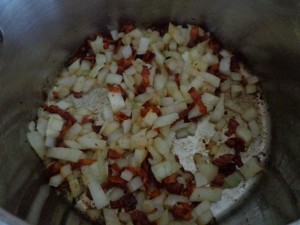 Add the diced onions and stir over medium heat until translucent.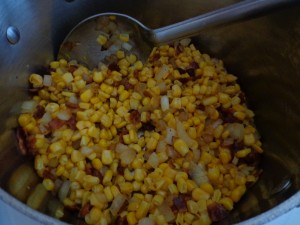 Add the corn, stock and cream and bring to a boil.  Reduce heat to a low simmer. Cover and simmer for 20 minutes.  Add the cheese and stir to melt.  Now season with salt and pepper to taste.  If adding avocado, add bite-sized chunks of ripe avocado just before serving.