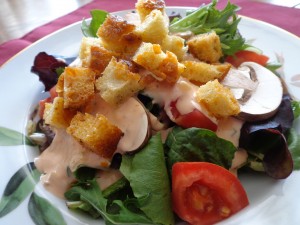 Thousand Island salad dressing is one of my favorites.  It's so easy to make and you always have the ingredients on hand.  Wanting to taste test my freshly made garlicky parmesan rosemary croutons on a fresh salad of assorted baby greens and having no salad dressing…I stirred together the following:
Trudy's Thousand Island Dressing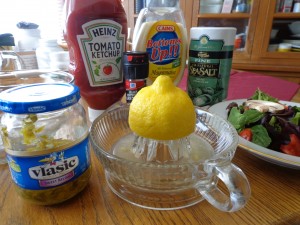 Ingredients:
1/2 cup ketchup
3/4 cup mayonnaise
1 teaspoon fresh lemon juice
1/2 cup drained sweet pickle relish
1/2 teaspoon sea salt
1/4 teaspoon ground black pepper
Stir together all the ingredients.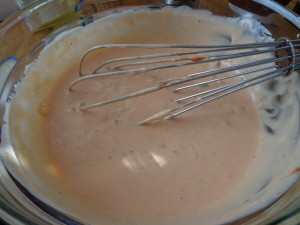 I save my old ketchup bottles, and store my homemade dressings in those.  That way they are easy to dispense…clever, huh?