Pico de Gallo
Ingredients:
6 Roma tomatoes
1/2 red onion
1 jalapeno pepper, or more to taste
1/4 cup fresh cilantro
juice of 1 fresh lime
1/4 teaspoon salt
Finely dice all veggies, or throw all the ingredients into a food processor and pulse a few times until your desired consistency.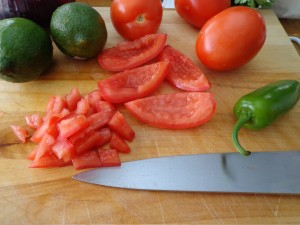 I like to leave it slightly chunky, rather than pureed into a near sauce, as you find in so many jarred varieties of this recipe.  If I use plum tomatoes, I deseed them first, before dicing.  If I use grape tomatoes, I just toss them whole into the food processor.  Taste it for proper hotness.  Since I like the flavor of fresh jalapeno, but not all the hotness, I remove the seeds and inner ribs (which is where the greater part of the heat is stored).  If you are handling fresh jalapeno with your bare hands, be careful not to rub your eyes before washing your hands thoroughly.
Feel free to use more cilantro if you like the taste.  Cilantro has a strong, overpowering flavor, so begin your tasting with less and add more if you wish.  Substituting parsley for cilantro is not recommended, as the cilantro gives this dish it's much desired southwestern flavor.
Let the salsa stand for 1 hour to blend the flavors.
Refrigerate for up to 3-4 days.