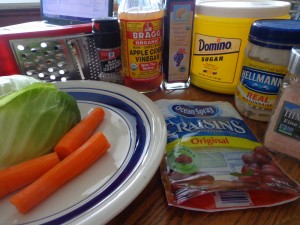 Ingredients:
1/2 small head fresh cabbage, shredded
2 to 3 medium carrots, peeled and shredded
1/2 cup dried cranberries
Dressing:
1/2 cup mayonnaise
2 tablespoons sugar
2 tablespoons vinegar
1/2 teaspoon salt
few grindings of black pepper
Combine the cabbage, carrots and cranberries in a large bowl.
Mix the dressing ingredients together and taste.  If you like it sweeter, add a little more sugar.  If you like it tart, add a little more vinegar.
Pour the dressing over the salad and mix to coat evenly.  Cover and refrigerate for several hours to allow the dressing time to work on the fresh veggies & fruit.  The cranberries will plump up.  You will notice that over time, additional moisture will leech out of the fresh produce, giving you more dressing…so skimp on the amount rather than drown the ingredients.