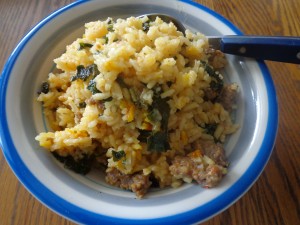 Many many years ago a dear friend once made this dish for me, proudly claiming it as a beloved family recipe.  A traditional Italian rice dish flavored with a pinch of saffron threads, fortified with savory Italian sausage and made more nourishing with its confetti of shredded kale.
This was my first experience with saffron.  I learned that the rare and expensive saffron threads need to be activated, to extract their flavor and perfume.  Heat, alcohol or the acidity of citrus is necessary to activate this intense spice.  Since it is the most expensive spice in the world, make a note not to skip this step in order to extract the most flavor and perfume.  I also learned that where saffron is concerned, more is NOT better.  A teeny bit goes a lonnnnnng way!
The perfume and color of this dish due to the saffron, will announce how special it is…and will fill your home with anticipation for the upcoming meal.  Once you have cooked with saffron, you will always recognize its distinctive aroma.
Saffron Rice with Sausage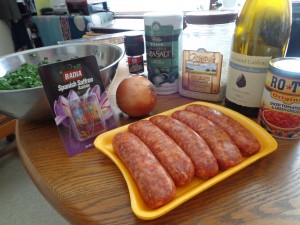 Ingredients:
1 lb Italian sausage, removed from casing
1/2 bunch of fresh kale, deveined and shredded
1 cup long grain rice
2 cups chicken stock, or water
1/2 teaspoon sea salt
1/4 teaspoon ground pepper
1/4 teaspoon real saffron threads
2 tablespoons olive oil
1 small onion, diced
Measure out the 2 cups of stock or water into a saucepan and bring to a boil.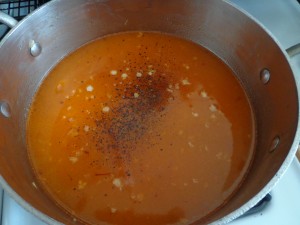 Turn off heat and stir the pinch of saffron threads (1/4 teaspoon) into the broth and let steep for 20 minutes.  This step activates the saffron's color and perfume.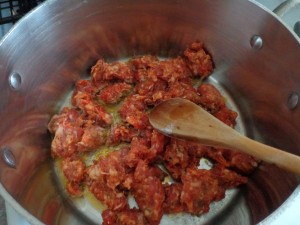 Meanwhile, in a 4 quart dutch oven, saute sausage until browned, crumbling as it cooks. Drain excess fat, leaving 2 tablespoons of the fat in the pot.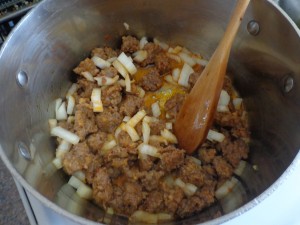 Saute onions with the cooked sausage until translucent.  Add rice and stir to coat with fat, cooking 2 minutes more.
Add the stock to the rice/sausage/onion mixture, salt and pepper and stir once.  Bring to a boil, uncovered.  Cover and reduce heat to a low simmer.  Cook for 20 minutes until the rice is done.  10 minutes before done, stir the chopped kale into the steaming rice.  Cover and allow to finish cooking 10 more minutes on a low simmer.
Let pot sit 5 more minutes, covered, after turning off heat.  Fluff rice with fork, then serve.