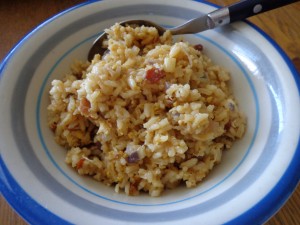 With a Japanese mother how could I not grow up eating fried rice?  And of course I learned how to make it, and many variations from a young age.  So for me, fried rice is an easy staple to whip up.  This dish was invented to use up day-old rice…however I almost always cook a pot of rice just for the sole purpose of making this delicious comfort food…who doesn't love fried rice?  Be sure to use Kikkoman soy sauce, as its a naturally brewed light soy sauce, unlike Chinese soy which is darker, thicker and saltier.
Grandma Pearl's Fried Rice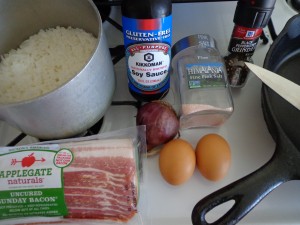 1 cup long or medium grain white rice cooked in 2 cups water with pinch of salt.
1/4 lb diced Applegate Farms uncured bacon, or chopped ham/pork/chicken
1 medium onion, diced
2 eggs
salt & pepper to taste
Kikkoman soy sauce (naturally brewed light soy)
finely chopped green scallions for garnish
Bring the rice and cold water to a boil in a 1 1/2 quart covered pot.  Turn down to a low simmer for ~ 20 minutes until the water is absorbed. This should yield ~3 cups cooked rice.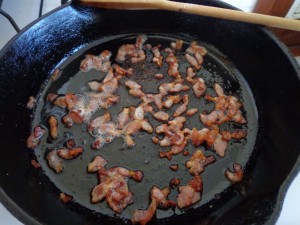 Meanwhile, crisp the bacon in a frying pan until the fat is rendered and the bacon bits are crispy.  Drain off all but approximately 1 tablespoon of the bacon fat.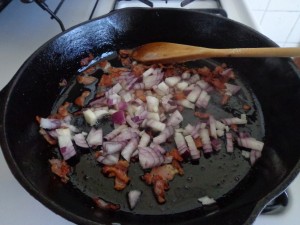 Add the chopped onion and saute until translucent.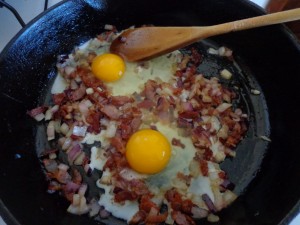 Crack 2 eggs into the pan and quickly stir amongst the bacon and onions, scrambling them in the hot pan for just a minute.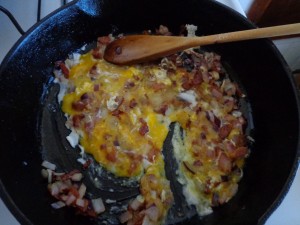 While the eggs begin to set…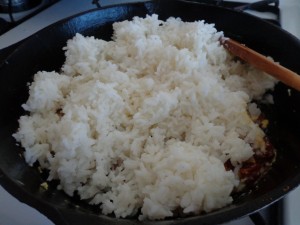 quickly add the rice and stir to mix.  (since I cook my rice at the same time as prepping the other ingredients, usually my rice is still piping hot when I add it to the frying pan, which cooks the eggs fast).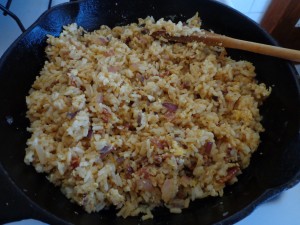 Sprinkle soy sauce to taste.  Season with ground pepper and taste before adding salt.  Continue stirring until rice is hot and eggs are cooked.
If you wish to add bean sprouts, or other veggies now would be the time.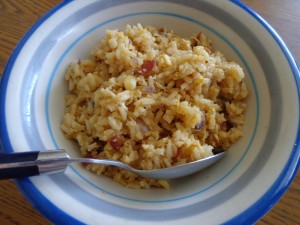 Serve piping hot scattered with chopped scallions.