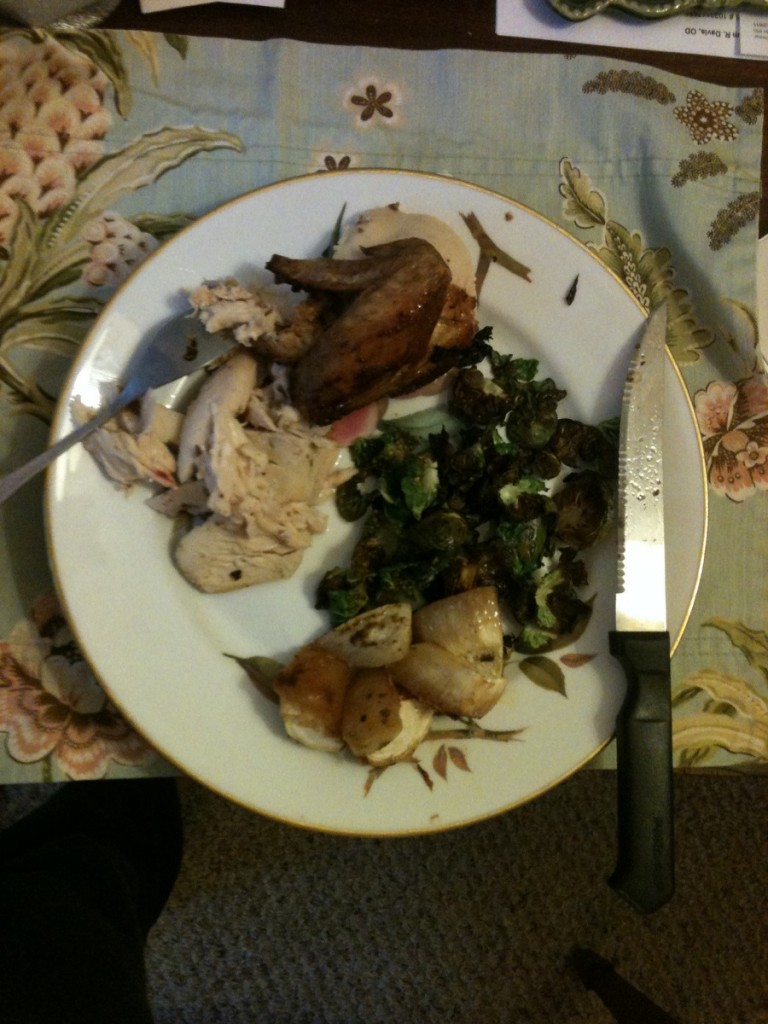 Ingredients:
1 1/2 tsp salt
1/2 tsp ground black pepper
1/2 tsp sugar
1/2 tsp garlic powder
1 tsp rubbed sage
1 tsp paprika
1/2 tsp cinnamon
1/2 tsp ground ginger
Mix all the ingredients in a bowl.  This makes enough for one 8 lb roasting bird.  After rinsing the poultry inside and outside, pat dry and rub the seasoning all over the outside and sprinkle inside the cavity.  Reserve the neck and gizzard for a soup (or freeze them).  Cut a small onion in half, stuff into cavity along with a handful of parsley and a whole lemon (which you've squeezed hard to releases the juice, then pricked all over with a sharp paring knife).  Roast the chicken, breast side down so you don't have to baste, in a roomy roasting pan for 1 1/2 hours in a moderate 350 degree oven.
A roasting chicken smells delightful and your whole house will be so aromatic!
You won't be able to resist nibbling on the crispy skin….delish!
I make a large batch of this poultry seasoning and use it for months, stored in an airtight jar…not only on chicken, but our annual Thanksgiving turkey as well.  This is also the seasoning I use to flavor the stuffing.  Simply multiply measurements by 3 times for a 16 lb turkey.