Happy Passover!  And Easter is just around the corner.  What would be a perfect, easy, light and refreshing dessert to go with that roast beef or baked ham?  Lemon cream pie!
I happened to have some chocolate cookie crumbs in my freezer, but you can just as easily use a graham cracker crust…and there is no shame in using the pre-made crusts at your grocery store.  This whole pie takes only 15 minutes, but tastes like it took you a long time in the kitchen.
I decided to make this light and creamy pie spur-of-the moment.  Traditionally at Passover, one cleans out one's pantry as well as one's household.  So today I cleaned out my freezer.  I threw out all those old indisguishable frozen somethings that I no longer recognized, and decided to use up all those odds & ends of lemon juice, tangerine juice and lime juice that I stored in the freezer over the long months of winter.  I ended up with JUST enough citrus juice to make this cream pie! Kismet!
I'm giving you the recipe as it should be, with 1/2 cup of freshly squeezed lemon juice…however, I combined the fresh lemon I had on hand along with the frozen lime and tangerine juices I had stored, to make this pie.  Don't be afraid to substitute ingredients…keep an open mind.  Experiment..challenge your palate. Surprise your taste buds!  Life is too short to only eat just those foodstuffs that you've eaten time and again.  Yeah…yeah…comfort foods are comforting and nostalgic…but new and tantalizing ingredients just may make your tastebuds dance and awaken your senses!  C'mon, it's spring…time for a rebirth!
Lemon Cream Pie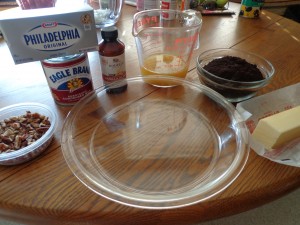 Ingredients:
1  8 inch cookie crumb or graham cracker crust
1/2 cup freshly squeezed lemon juice
1 teaspoon vanilla extract
8 oz cream cheese, at room temperature
14 oz sweetened condensed milk
For the crust:  crush enough cookies or crackers to make 1 cup.  Melt 2 tablespoons of unsweetened butter.  Mix the butter and crumbs and press into an 8 inch pie plate.
In a mixer or food processor, mix the juice, vanilla, cream cheese and milk together until smooth.  Pour into the cooled crust.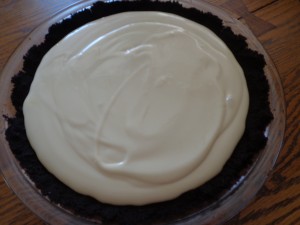 Decorate with lemon zest.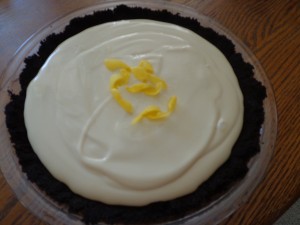 I happened to have just a smidgen of chopped pecans handy….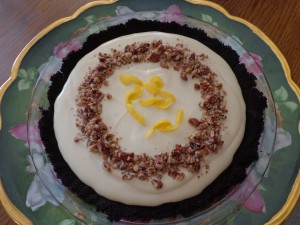 Refrigerate until ready to serve.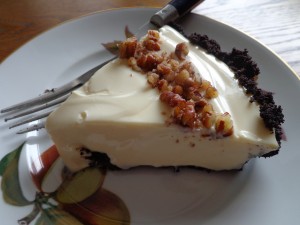 Now wasn't that easy?