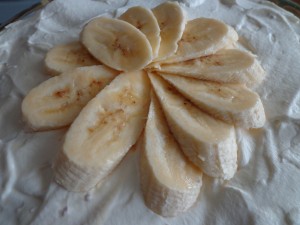 Although Coconut Cream Pie is my favorite, they say variety is the spice of life….so I'm making a Banana Cream Pie today, just for variety.
Banana Cream Pie has long been a southern favorite.  Traditionally it's made with vanilla pudding layered with vanilla wafers and sliced ripe bananas.  Almost every southern cook has her own version of this particular comfort food.  Mine is made with a banana pudding in a crisp pie crust (because I'm not a fan of soggy vanilla wafers) layered with sliced ripe bananas and topped with whipped cream…so for you banana lovers, you get your nutritious banana fix two ways…in the pudding and freshly sliced.
Banana Cream Pie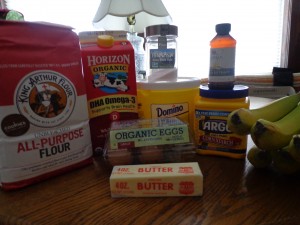 Ingredients:
1  9 inch baked pie crust
1/2 cup granulated sugar
2 tablespoons flour
2 tablespoons cornstarch
1/4 teaspoon sea salt
2 cups whole milk
4 egg yolks beaten in a small mixing bowl
2 tablespoons unsalted butter
1 teaspoon vanilla extract
1 cup mashed ripe banana
2 or 3 whole ripe banana
In a large saucepan combine the sugar, flour, cornstarch and salt and whisk to mix thoroughly.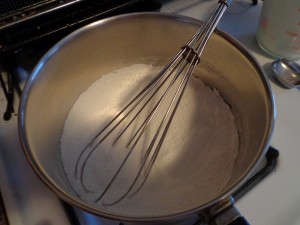 Add the milk and whisk to dissolve.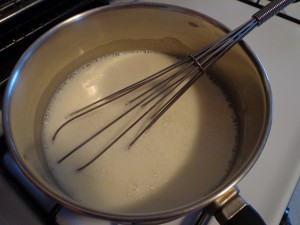 Turn the heat to medium high and bring the custard to a slight boil.  Immediately take 1/2 cup of the hot custard and stir it into the beaten egg yolks to temper the eggs.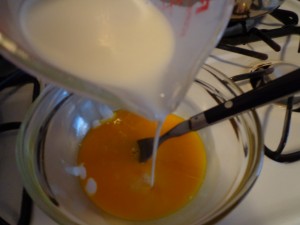 Now pour the tempered eggs into the custard, whisking the whole time so the eggs won't scramble.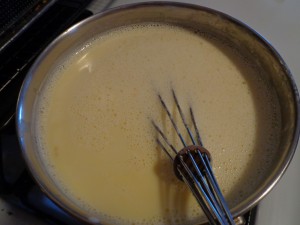 With heat on medium, continue whisking custard until it thickens, approximately 5-7 minutes more.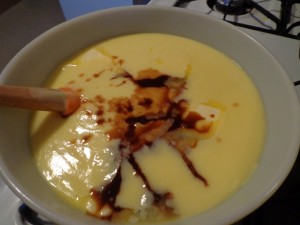 Add the butter and vanilla and stir in.  Pour the custard through a sieve to strain out any lumps.  Set aside to cool completely in refrigerator.
When ready to assemble pie, whip cream in mixing bowl:
2 cups heavy cream
1/3 cup granulated sugar
1 teaspoon vanilla extract
If the cooled pudding is too thick, fold some of the whipped cream into it to loosen it.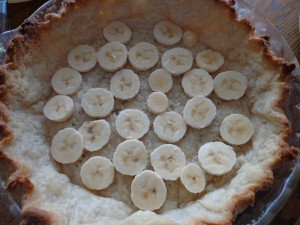 Layer one sliced banana on bottom of cooled pie crust.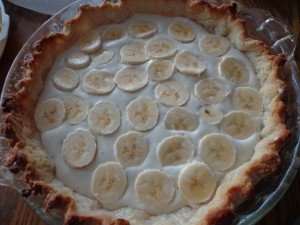 Spread pudding over all the fruit.  Layer a second banana over the pudding and spread the rest of the custard over the 2nd layer of sliced fruit.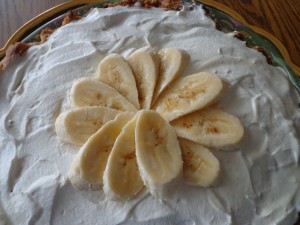 Frost the top of the pie with whipped cream.  Decorate with fresh banana slices.