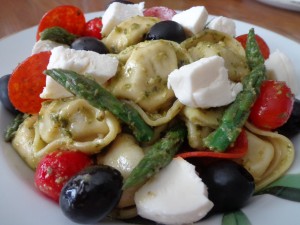 Spring will rapidly turn into summer, and with the warm weather one's thoughts turn to picnics and food gatherings of family and friends.
Here is a warm weather salad you can quickly toss together and serve at room temperature for greatest flavor.  Easy to make and absolutely delish!  Make sure you either make your own fresh basil pesto…or invest in the best freshly made basil pesto your grocery store carries.
Everyone will ask you for this recipe!  When my friend and I operated our food shop, it was always a favorite, and sold out the same day.
Tortellini Pesto Salad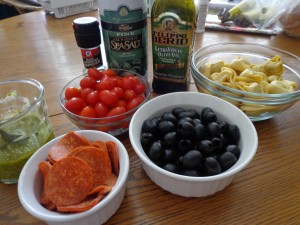 Ingredients:
1 package fresh tortellini, cooked, drained
1/2 cup fresh basil pesto
grape tomatoes
black pitted olives
sliced Margerita Pepperoni
4 oz fresh mozzarella cheese, cut into bite-sized chunks
6-8 pencil thin new asparagus, cut into bite-sized pieces
salt & ground pepper to taste
drizzle extra virgin olive oil if needed
Cook fresh tortellini according to directions on package.  The last minute of cooking, throw in the asparagus pieces to blanch.  Drain and run under cold water to cool.
Combine all ingredients in mixing bowl and stir gently to coat with pesto.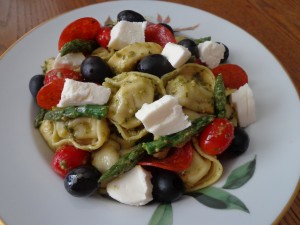 Refrigerate until serving time.  May be served cold or room temperature.
I promise you, this will be the most delicious dish at the picnic!