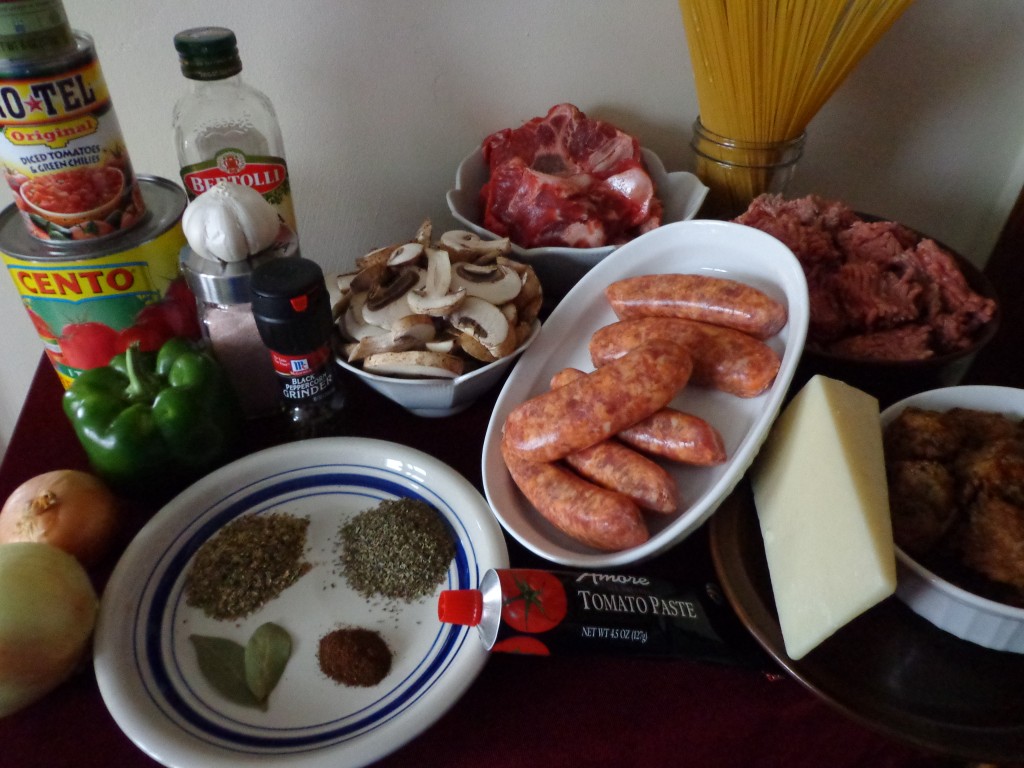 Ingredients:
2 Tbl olive oil
1 lb lean ground beef
1 lb hot Italian sausage (casings removed)
1 lb beef neck bones
1 lb meatballs
1 large onion, diced
1 medium green pepper, diced
6 cloves garlic, crushed
1 lb sliced mushrooms
1  32 oz can whole Italian tomatoes
1  6 oz can tomato paste
1  14 oz can Rotel Tomatoes
1 Tbl dried oregano
1 Tbl dried basil
1/2 tsp ground cloves
2 bay leaves
1 tsp salt
1 tsp ground black pepper
pinch of sugar
rind of parmesan or romano cheese
handful of chopped fresh Italian flatleaf parsley
In an 8 qt pot, warm the olive oil over medium heat and when hot, add the neck bones.  Brown on each side and remove.  Now add the ground beef and Italian sausage and brown.  Add onions, peppers, garlic and mushrooms and heat for several minutes while the excess liquids evaporates.  Now add the tomatoes, using kitchen shears to cut up the whole tomatoes, tomato paste and a can of water.  Stir to dissolve the tomato paste.  Bring back to a simmer.  Add seasonings, nestle the neck bones deep in the sauce along with the cheese rind.  Simmer for 2-4 hours, stirring occasionally.  The sugar cuts some of the acidity of the tomatoes, however if you like your sauce sweeter, add more sugar to taste at the end of the cooking, not at the beginning…. as over the long cooking time, some of the natural sugars in the sauce will caramelize, and you don't want it too sweet.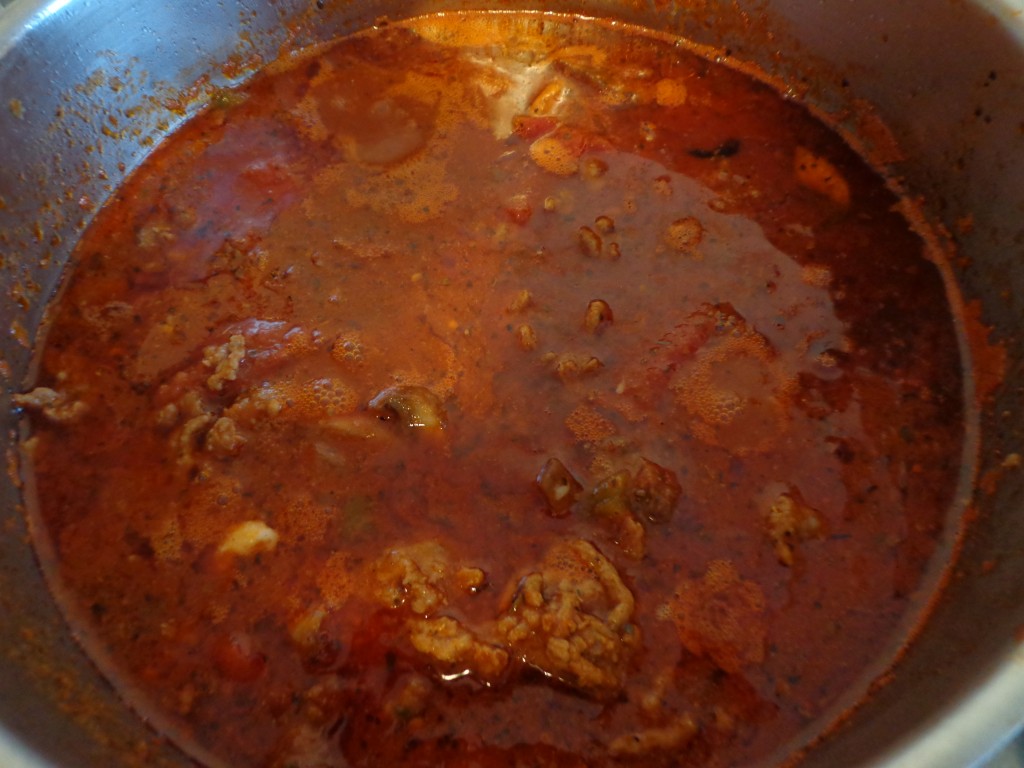 Meanwhile, make and roast a batch of your favorite meatballs.  Throw the meatballs in to simmer during the last hour of cooking the sauce.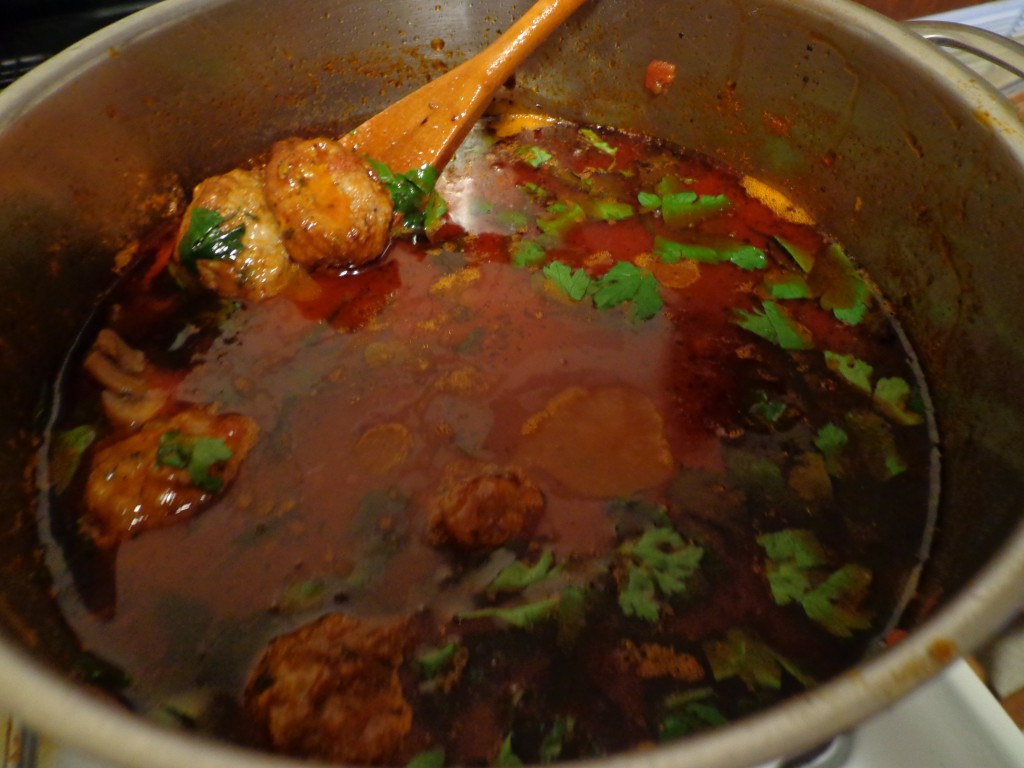 You can now serve hot over your favorite cooked pasta.  Just before dishing out, add the fresh, chopped parsley to brighten the taste.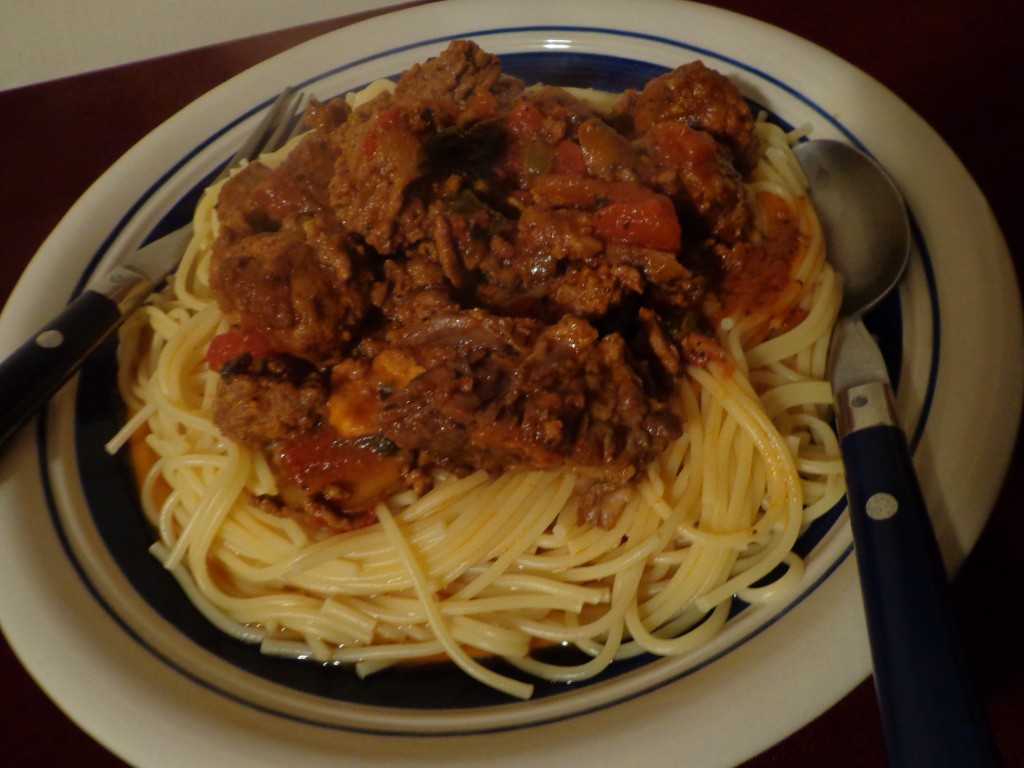 Or better yet, cool and refrigerate overnight.  Once the flavors all marry, the sauce tastes smoother.  Remove the congealed fat from the top the next day.  Remove the neck bones and bay leaves.
Freezes well.