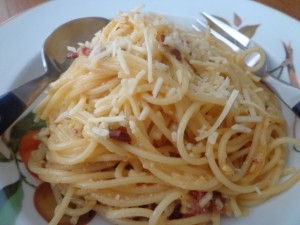 Simple, quick and satisfying…and you have these ingredients on hand all the time! Spaghetti alla carbonara will fast become a comfort food.  The only care you have to take is in how you stir in the eggs because you don't want to make scrambled eggs.  What you want is a creamy sauce coating the pasta which is served immediately.
When boiling the pasta, before draining, reserve a cup of the salted water for the sauce.
If you are a card carrying Italian, no doubt you have pancetta in your frig and pecorino or romano grated on your pantry shelf.  But for this Japanese Jew, bacon and parmesan is what I always have on hand…and will do fine for this recipe.
Spaghetti Carbonara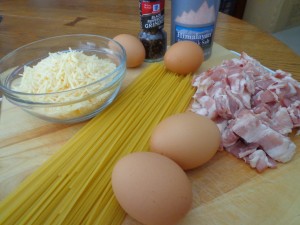 Ingredients:
1/2 lb spaghetti, cooked al dente (reserve 1 cup of the pasta water)
4 oz bacon, diced
1/2 cup grated parmesan cheese
4 eggs
ground pepper
a little chopped parsley for a green contrast (optional)
Bring a pot of salted water to a boil.  Add the pasta and cook 1 minute less than the box instructions.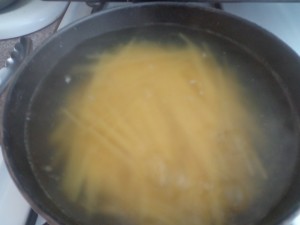 In a 10 inch skillet, render the diced bacon until crisp and set aside.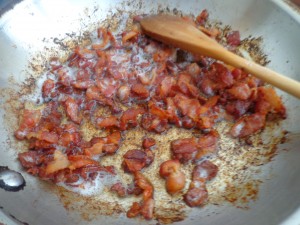 In a small mixing bowl, whisk the eggs with the cheese and ground pepper.
Reserving 1 cup of the pasta water, remove the cooked pasta and place directly into the skillet.  On medium  heat, toss the pasta until coated in the fat.  Now pour the egg mixture quickly over the pasta and toss to coat.
If the sauce is too thick, loosen with some of the pasta water.  Constantly turning the spaghetti in the sauce until it coats the hot pasta, sprinkle in the parsley and serve immediately.  The sauce should be creamy and thick, not looking like scrambled eggs.  Eat while piping hot!!!  yummmmm