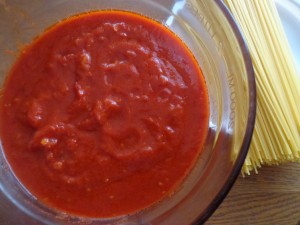 The very generous Catherine Fobes, my work colleague at the bank, has kindly given me cuttings from her prolific oregano and basil plants.  What a great gift!  Thank you so much Catherine!  Now is the time to make a batch of fresh marinara, utilizing these fresh herbs…yum!
A basic marinara gravy is quite simple to make.  Italian San Marzano tomatoes are a sweeter, less seedy, less acidic, more meaty version of the humble plum tomato and lends itself very well to a basic marinara for all these reasons.
I could tell you that I prefer to use whole tomatoes because then you know what you are getting, however it's mainly because I enjoy squishing them in my hands prior to adding them to the pot…this is a secret culinary technique to release aggressive tendencies known only to those who dare to make their own marinara gravy! Years ago, I used to teach a trick to my cooking class students…use kitchen shears to cut up the whole tomatoes in the can, before adding them to the pot…a more civilized way than hand-squishing….though not as fun!  Word of caution to those who choose to hand-squish…beware of tomato juice squirts!
Basic Marinara Sauce
Ingredients:
2  28 oz cans San Marzano whole tomatoes
1/4 cup extra virgin olive oil
1/4 lb bacon or salt pork, cut into lardons
1 small onion, chopped
3 to 4 cloves garlic, minced
salt & pepper to taste
1 tablespoon fresh basil leaves, torn
1 tablespoon fresh oregano leaves, torn
pinch of sugar
In large soup pot, heat the olive oil over medium heat and toss in the lardons.  Render the bacon until crisp, then remove and set aside for another use, such as garnishing a salad.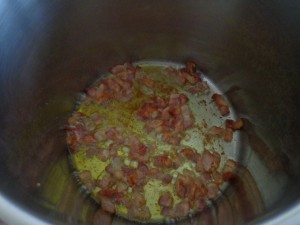 Add onions to the olive oil/bacon fat, and stir until translucent, approximately 3 minutes.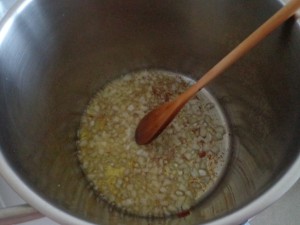 Add garlic and stir just until you can begin to smell the garlic.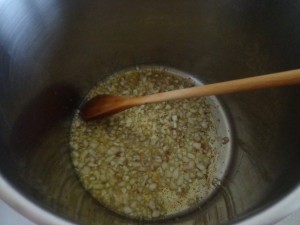 Add the tomatoes, squashing the whole tomatoes in your hand to break them up.  OK, you can use a kitchen shears to cut them up in the can if you have no aggressive tendencies.  Add 1 teaspoon salt and 1/2 teaspoon ground black pepper and bring to a simmer.  Turn heat to low and simmer for an hour.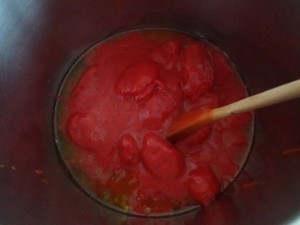 Add a pinch of sugar, freshly torn basil leaves and oregano.  Heat through and your basic marinara sauce with basil is done.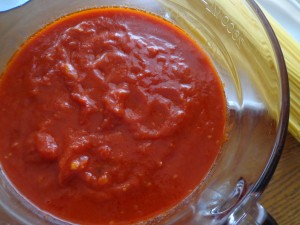 I use this sauce on pizza, or over pasta.  Freezes well.