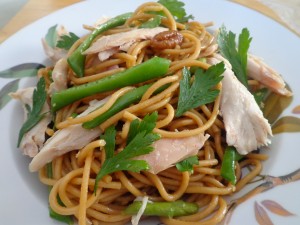 This cold, Chinese chicken noodle salad is a real crowd pleaser…and a wise choice to bring to a hot summer picnic or backyard bbq….it tastes best at and keeps well at room temperature.
Cooking the pasta is easy enough.  Prepping the veggies is not difficult. But the fun part is the hot salad dressing…a new technique which will have your friends asking for the recipe.  I strongly advise you to save up several layers of old newspapers to lay down on the ground/patio/deck before adding the cold dressing ingredients to the hot oils.  The strong aromas will not only permeate your yard, but the sudden bubbling up of the liquids will splatter all over, leaving the odors to linger for days unless done over old newspapers.  If you do NOT take this precaution, your kitchen/yard will smell like a chinese restaurant for days!  Just follow the directions…its fun to watch.
Please use low sodium Kikkoman soy sauce, otherwise you may find this recipe too salty.  Chinese soy sauce is too heavy for this recipe.  Kikkoman is a naturally brewed Japanese recipe which has a lighter taste.  This dark brown dressing will be absorbed into the warm pasta….so if you wish to opt for whole wheat pasta for even more nutrition…go ahead…no one will know!
This pasta salad will last for several days in the refrigerator.  Toss to freshen the salad before serving if it's been sitting for a length of time.  The flavors improve as it sits. Once you learn this technique, you and your guests will enjoy this delicious salad immensely… a most unusual taste treat!
Chinese Chicken Noodle Salad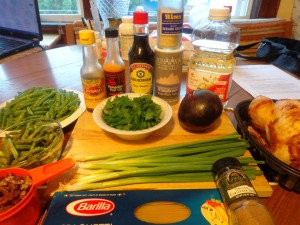 Ingredients:
1 lb spaghetti, cooked al dente
1/2 cup peanut oil
2 1/2 tablespoons sesame oil
2 tablespoons sesame seeds
3/4 cup low sodium Kikkoman Soy Sauce
3 tablespoons ground coriander seeds
1 teaspoon hot chili oil
1 lb fresh sugar snap pea pods, slivered
1 lb fresh asparagus, cut into bite-sized pieces
chicken meat removed from 1 rotisserie chicken, in pieces
1 cup chopped pecans
6 chopped scallions
1/2 bunch of flat-leaf parsley leaves, picked off stems
Fill a pasta pot with 6 quarts of water and add a tablespoon of kosher salt.  Bring to a boil.  Before we cook the pasta, add the asparagus for ~30 seconds until bright green…remove from the boiling water with a slotted spoon into cold water or an ice bath.  Now add the slivered pea pods again for ~30 seconds until bright green, and remove from the boiling water with a slotted spoon into cold water to stop the cooking. Now add the spaghetti.  I break the pasta in half, to make the salad easier to serve and eat.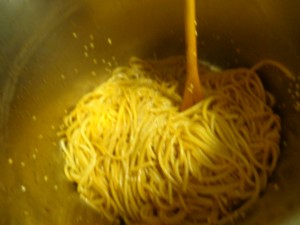 In a large mixing bowl, add the pea pods, pecans, asparagus and chicken.
Measure out the soy sauce, coriander and chili oil into a 2 cup measuring cup.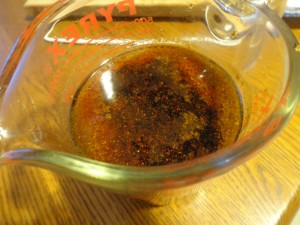 Lay the newspapers at a safe distance away from the nearest outdoor door to your kitchen.  This will prevent any flies or ants from coming too near your kitchen door in case you spill any of the hot dressing. Place the soy sauce/coriander/chili oil measuring cup on the newspaper to hold it down in case the wind's blowing.
While the pasta is cooking to the al dente stage, measure the peanut oil, sesame oil and sesame seeds into a 3 or 4 quart saucepan.  Bring to a boil over medium high heat and carefully watch until you see the sesame seeds turn a golden brown.
Immediately turn off heat.  Rush the hot oil outside and place the pot in the middle of the newspapers.  Now be prepared to step back quickly…and quickly pour the soy sauce/coriander/chili oil into the hot oil…step back to avoid the steam and sizzling.  This will only last a few seconds.  I leave this hot pot outside, while I go back inside to drain the cooked pasta.
Add the hot pasta to the mixing bowl.  Retrieve the hot dressing from outside and pour over the hot pasta.  Mix with tongs to coat everything.  Add parsley leaves and chopped scallions and mix again.
This is actually an easy salad to put together if you pay attention to the tips I've given you.  It's a delicious salad, wonderfully flavorful and different.