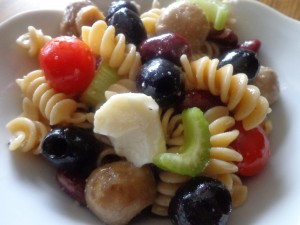 Need a quick and easy pasta salad for that summer picnic that will stand up to the heat and not spoil or wilt?  Here is a fast solution that everyone will love…most especially you, the cook!  You can substitute the caesar salad dressing for another of your own favorite salad dressings as well.  Greek would be delicious!  Use your imagination on the ingredients.  If I had had a jar of marinated artichokes hearts, I would have tossed those in as well….or grated parmesan cheese.
Caesar Pasta Salad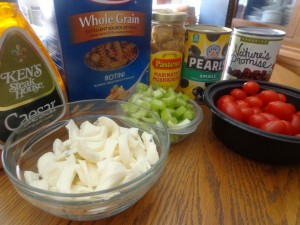 Ingredients:
1 lb rotini or elbow pasta, cooked al dente and rinse with cold water
2 stalks celery, chopped
1 pint grape tomatoes, washed
1 large can of pitted small black olives
1 bottle of caesar salad dressing
1 can kidney beans, rinsed and drained
12 oz jar of marinated mushrooms, do not drain
1 lb string cheese, pulled apart into bite-size pieces
3 scallions, finely chopped
In a large mixing bowl, combine all the ingredients and toss together to coat with the salad dressing.