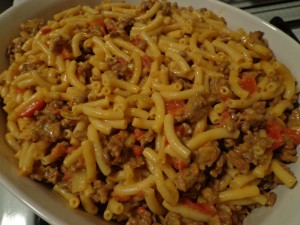 Mmmmm …my version of American Goulash.  Us baby-boomers can recall this school cafeteria dish that appeared with great regularity.  Although I usually brought a bag lunch to school each day, if I spotted American goulash on the cafeteria menu that week, I'd save up my money so I could buy lunch that day…yummmm!  This dish shouts comfort.
I am making it easy for you working parents.  Who doesn't keep a box or two of mac & cheese in their pantry?  I love homemade mac & cheese, and often make it and freeze it…but for some reason, my memory of american goulash just tastes better made with boxed mac & cheese.  I use Annie's organic Mac & Cheese today….and Rotel tomatoes for a little bit of spice…but this can easily be prepared in 30 minutes for a piping hot, satisfying meal that's easy on the budget.
American Goulash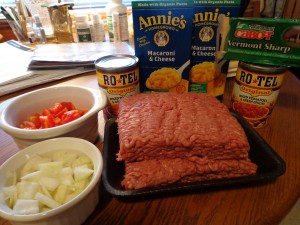 Ingredients:
2 lbs lean ground beef
2 boxes favorite Mac & Cheese
1 medium onion,chopped
1/2 green or red pepper
1 can Rotel tomatoes (I use Original)
8 oz shredded cheddar cheese
Bring a 4 quart pot of salted water to a boil.  Cook the macaroni per the instructions on the box.
Meanwhile, in a large dutch oven pot, brown the ground beef, crumbling it up as you stir.  Add the onions and green pepper and cook until they are translucent.
Stir together the sauce packets in a small bowl with the milk.  Add the sauce and tomatoes to the meat.  Drain the macaroni and add to the pot.  Add the cheddar and stir everything together until coated.  Correct the seasonings to taste with salt and pepper.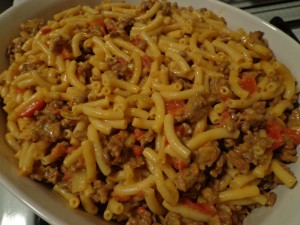 You can serve it at this point, or pour the goulash into a casserole dish, top with more shredded cheese and bake in a 350 degree oven only until the cheese melts and is bubbly golden brown.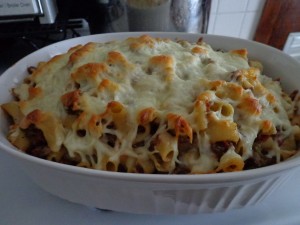 Now wasn't that fast and easy?