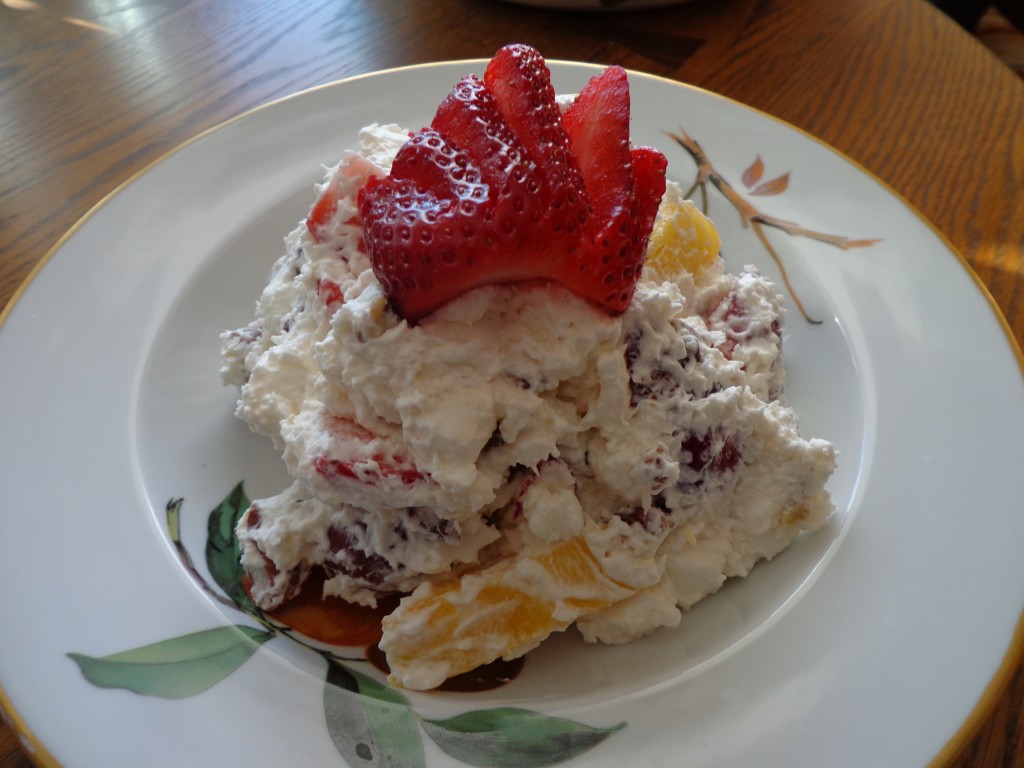 It's New Year's Day and a time to indulge before the diet resolutions begin!
Everyone loves the sweet taste of ambrosia…brings back memories, huh?   And since today's markets offer up a plethora of fresh, ripe fruits from all over the world all year long, one can pick 3 deliciously sweet fruits to put this together, rather than the old-fashioned marachino cherries, canned mandarin orange segments and canned pineapple bits.  If you've ever had a fresh, ripe pineapple…the tinny taste of the canned version will no longer suffice.  Find a golden ripe pineapple (nope, not those green ones!) in your produce department…be daring!  I love red, seedless grapes and if the strawberries look ripe, choose them..or raspberries…even blueberries!  And since I keep dried, grated coconut around for granola, I find it works well in ambrosia too.  Toast your chopped pecans for a deeper flavor and added crunch.
It may now be wintertime…but a sweet, fresh ambrosia will recall hot summer days of picnics and bbqs.   Voilaaaa…a fresh, healthier version of ambrosia…or just call it a fruit salad dressed with a cream dressing…or close your eyes and think "pina colada"….I won't tell!
Pure Ambrosia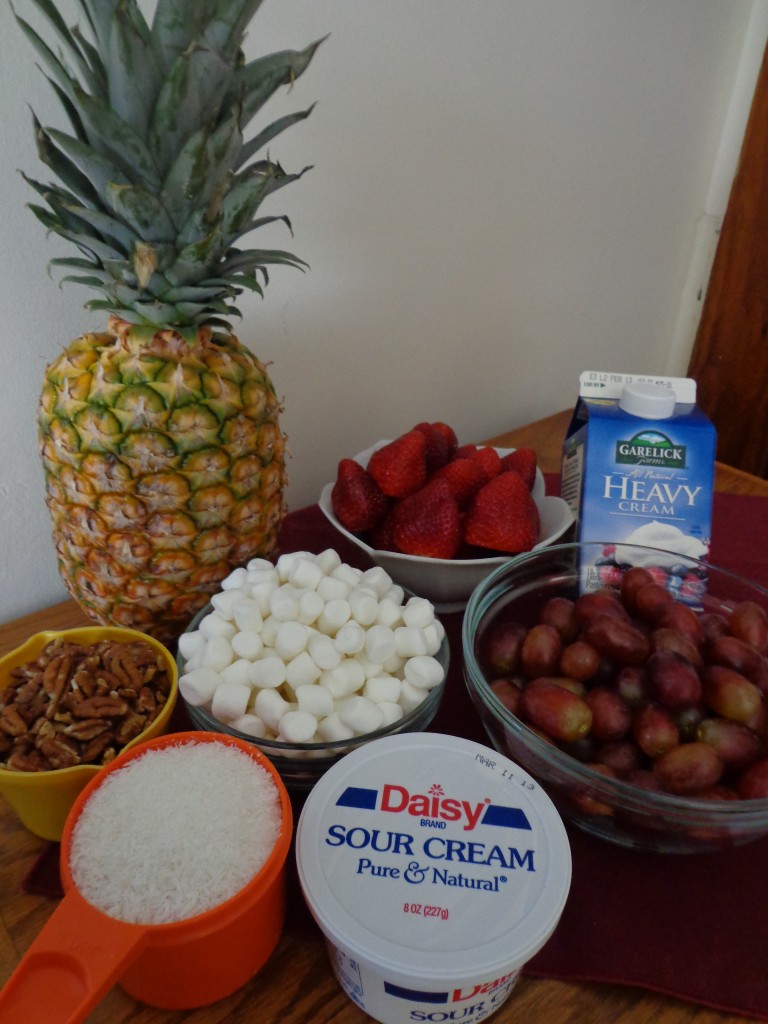 Ingredients:
1 cup ripe strawberries halved, or raspberries
1 cup red or green seedless grapes, or blueberries
1 cup fresh pineapple pieces
1 cup dry grated coconut or freshly grated
1 1/2 cup mini marshmallows
1 cup toasted pecans, chopped
1 cup heavy cream
4 oz sour cream
2 Tbls sugar or honey
1/2 tsp vanilla extract
In a mixing bowl, whip the cream with the sugar and vanilla extract.  When soft peaks form, add the sour cream and whip briefly until stiff peaks form.  Do not over beat as you don't want to curdle the cream, and it will continue to stiffen as you fold in all the other ingredients.
In a large mixing bowl, combine all the other ingredients.
Add the whipped cream mixture and fold everything together.  Cover and refrigerate for 2 hours.