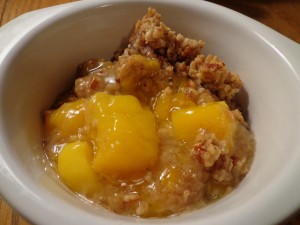 Today's raw wintry day with frosty temperatures calls for a comfort dessert.  I am baking a peach mango crisp with a pecan/cinnamon/oatmeal topping.  Easy enough to whip up since I have a jar of peach pie filling already prepared, and a bag of frozen mango pieces in my freezer….which means all I have to do is throw together the topping and bake 1 hour until golden brown and bubbling.  I love the crunch of the pecans in the topping, the aroma of the wee bit of Vietnamese cinnamon, and the addition of oatmeal makes me feel righteous.  I love all things peach and only in recent years have come to adore the taste of mangoes….so it's only fitting that I marry the flavors of these two fruits and see what happens.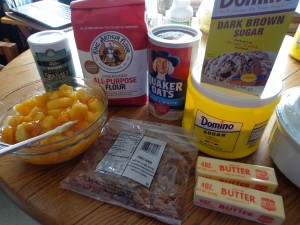 Ingredients:
1 25 oz jar of Cracker Barrel peach pie filling
1 16 oz package of frozen mango chunks (no sugar)
1 1/2 cups all purpose flour
1 cup granulated sugar
1/2 cup brown sugar
1 cup quick-cooking oatmeal (not instant)
1 cup chopped pecans
1/2 teaspoon Vietnamese cinnamon
1/2 teaspoon sea salt
2 sticks (1/2 lb) cold unsalted butter, diced
Preheat oven to 350 degrees.
Combine the peach filling and mango pieces together in a large casserole dish.
In a large mixing bowl fitted with the paddle attachment, combine the 1 1/2 cup flour, 1 cup granulated sugar, 1/2 cup brown sugar, oatmeal, pecans, salt and cinnamon.  Add the cold butter bits and mix until the mixture looks like little pea bits.  Top the fruit mixture heavily.  (I freeze any leftover topping to use as a streusel topping on muffins or another pie).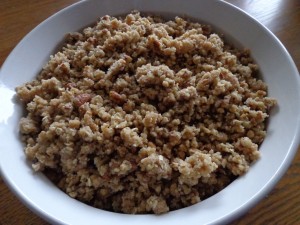 Bake for 1 hour until golden brown and bubbly and the aroma fills the house.