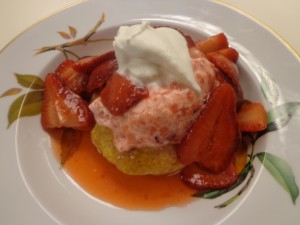 Spring in all her glory is a good old-fashioned strawberry shortcake with a twist…I've added a layer of scrumptious fresh strawberry mousse on top of a homemade sweet biscuit, topped off with mascerated fresh strawberries and hand-whipped sweetened cream….bliss! This dessert showcases the best of spring's first ripened strawberries.   Because I'm adding a scoop of mousse, I baked the biscuits flat, to act as a base to build the dessert on.  If you are using ice cream or no mousse at all, just drop the biscuits onto the baking sheet and let bake until puffed and golden brown.  Then simply split the cooled biscuit in half, layer with fresh strawberries and top with whipped cream.
Of course, if you wish, you can make this with a scoop of your favorite strawberry ice cream instead and save yourself the many steps of mousse-making…but the mousse does provide a spectacularly delicious dessert presentation!
Strawberry Shortcake with a Mousse Twist
To make the sweetened drop biscuits:
2 cups all purpose flour
1 tablespoon + 2 teaspoons baking powder
1/4 cup granulated sugar
1/2 teaspoon sea salt
2 tablespoons lard or veggie shortening, chilled cut into bits
6 tablespoons unsalted butter, chilled cut into bits
1 cup milk
Preheat oven to 425 degrees F.  Line baking sheet with parchment.
In large mixing bowl, combine all dry ingredients.  Cut in fat until it resembles small crumbles.  Pour in milk and mix only to moisten.  Drop by heaping tablespoons onto baking sheet.  Bake 15 to 20 minutes until puffed and golden brown.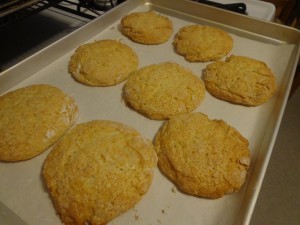 1 quart fresh ripe strawberries, washed, hulled and sliced
1/4 to 1/3 cup granulated sugar
1/4 cup Grand Marnier (optional)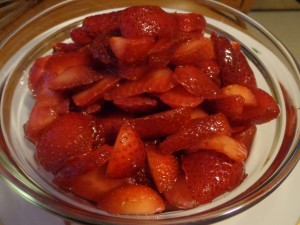 Meanwhile, combine the strawberries with the sugar in a bowl and stir to coat.  Add the Grand Marnier if using. Set aside at least 1 hour to mascerate.  The sugar will draw out the juices.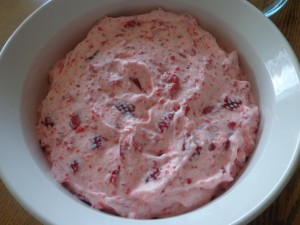 1 recipe strawberry mousse or favorite strawberry ice cream
And lastly, whip the cream until soft peaks:
1 cup heavy whipped cream
2 to 3 tablespoons granulated sugar
dash of vanilla extract
Place biscuit on bottom of serving plate.  Scoop strawberry mousse on top.  Drizzle with freshly mascerated sliced strawberries and top with a dollop of whipped cream.