Hurray…it's finally spring and Mother's Day has arrived.  With it comes the season's first strawberries…yum!  One of my staff at the bank has a birthday this Wednesday, and her favorite dessert is strawberry shortcake.  This happens to be one of my favs as well, and thankfully, she's partial to the old fashioned style of strawberry shortcake with biscuits, which I love! So I thought I'd fancy it up a bit for her.  I'm making a strawberry mousse out of some luscious ripe strawberries, adding layers of flavor…this will be scooped atop freshly baked, sweet biscuits, then mascerated fresh berries sweetened with Grand Marnier or just plain sugar can be ladled over the whole concoction….doesn't that sound divine? This particular mousse recipe uses a small package of strawberry jello mix to hold it all together.  The egg whites are whipped with strawberry Coolade for even more strawberry flavor.  There are several steps involved, but the end result is well worth the effort.  You will have a light, incredibly rich mousse with an intense strawberry flavor. For the liquid I've blended up additional strawberries until they are liquid strawberry juice.
Spectacular Strawberry Mousse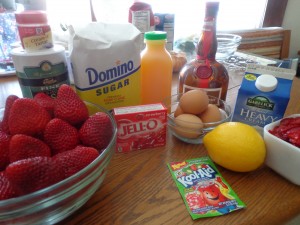 Ingredients:
1  3 oz package strawberry Jello mix
3/4 cup granulated sugar
4 large eggs, separated
1/4 teaspoon sea salt
1 cup fresh strawberries, blended until a thick juice is formed and measured to yield 1 cup of liquid
1/2 teaspoon cream of tartar
1 package unsweetened strawberry Coolade
1 cup heavy cream
1 cup chopped fresh, ripe strawberries
Beat the egg yolks with a fork in a small bowl.
In a 3 qt saucepan, combine the Jello mix, 1/4 cup of sugar and salt.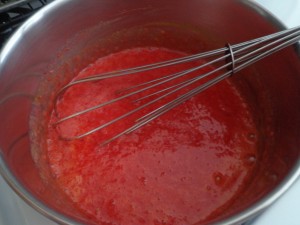 Add the cup of juiced strawberries and the yolks.  Stir to combine.  Turn the heat to medium and stir continually until the sugar and jello are dissolved, about 5 minutes (it will not reach a boil).  Pour this mixture into a large mixing bowl and refrigerate until thick but not yet gelled.  I stir this mixture every 15 minutes while it's cooling in the refrigerator.  This process will take 30 to 45 minutes to cool.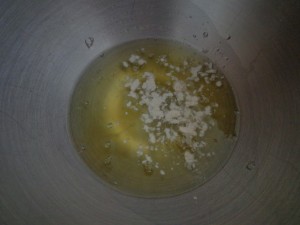 Now whip up the egg whites with the cream of tartar until frothy.  Mix the 1/2 cup of sugar with the Coolade.  Add the sugar, one tablespoon at a time to the whites and continue beating on high until thick and shiny.  The beater should hold a stiff peak when lifted up. Whip 1 cup of heavy cream until soft peaks form.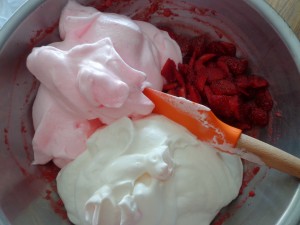 Add meringue and whipped cream to the cooled jello mixture, along with the cup of chopped strawberries.  Fold all ingredients together until well blended.  Transfer to a serving bowl and refrigerate several hours.