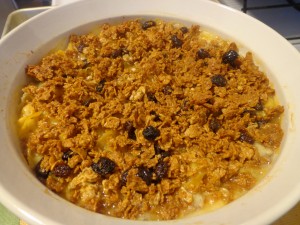 Again, happy Jewish New Year…and here is yet another traditional dish for the High Holy Days!  There are a multitude of family recipes for an Eastern European dairy dish known as kugel.  It is a sweet or savory dairy casserole, sometimes made with egg noodles and called noodle pudding…or sometimes made with matzoh bread.  Grandma Krasnoff's particular favorite is made with egg noodles and flavored with pineapple, cinnamon and vanilla, and raisins added if desired.  My family isn't particularly fond of the raisins, so I leave them out.  Although you may not be familiar with the concept of a sweet pasta casserole as a side dish…this recipe may become one of your favorite comfort foods!!!! Yummmm…for my family it evokes holiday memories!
Surprisingly, fresh isn't always best.  I make this remark on behalf of the pineapple called for in this recipe.  Fresh pineapple contains the enzyme called bromelain, which although great for your digestion or marinating meats, is not so great in allowing gelatins to gel and will cause dairy products to separate due to it's ability to breakdown protein.  Please use canned pineapple in this recipe, as the canning process de-activates the enzyme. Otherwise this dairy-centric dish will not bake into a pudding-like consistency and will taste like a metallic mess…believe me I've tried it!  So the good news is that you can always have a small can of crushed pineapple on hand in your pantry to whip up this recipe!
Also, since I am not a breakfast eater, I rarely have a box of cereal on hand to crush for the topping, which  originally called for cornflakes, but for which I had always in  the past used Wheaties… since this "breakfast of champions" was in the pantry when my kids were growing up.  Today, I buy the individual serving bowls of Raisin Bran, which just happens to be the right amount needed for the topping of this recipe!!!  This way, I don't have a nearly full box of cornflakes or Wheaties hanging around for a year until I throw it out.
Aside from these tips, this dish is so simple to put together and bakes in such a short time, that you can have it on the table in practically the same time it takes to make potatoes or rice.  You can make it ahead by assembling it all in the mixing bowl the night before or in the morning… and refrigerating until ready to bake.  Then, 45 minutes before dinner, stir the mixture once more before pouring it into the casserole dish, sprinkling with the topping and baking.  Also, it freezes very well.  I cut the casserole into serving portions while cold and wrap it up for the freezer, so don't be afraid to make the whole recipe and saving it for future meals.
Grandma's Kugel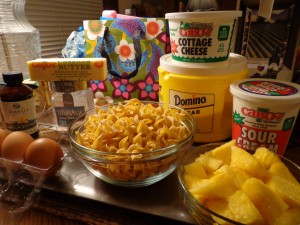 Ingredients:
8 oz medium wide egg noodles (half a package) cooked al dente
8 oz can of crushed pineapple, in its own juices, undrained
2 eggs
1 teaspoon vanilla extract
8 oz sour cream or Greek yogurt
8 oz small curd cottage cheese
1/3 cup granulated sugar
1/2 teaspoon sea salt
6 tablespoons unsalted butter – melted
2 cups crushed cornflakes/Wheaties/raisin bran
1/4 teaspoon ground cinnamon
Preheat oven to 350 degrees.  Butter a 3 or 4 qt casserole dish.
In a large mixing bowl, combine the pineapple and its juices, eggs, vanilla, cottage cheese, sour cream, sugar and salt.  Stir with a fork until incorporated uniformly.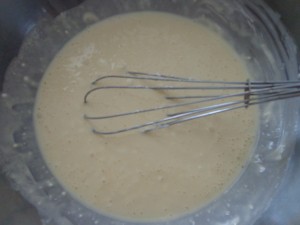 Add the drained noodles and stir to combine.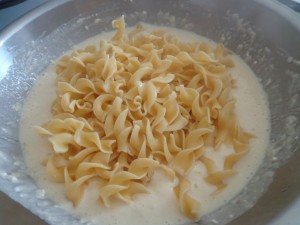 Pour into the casserole dish.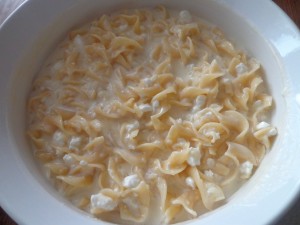 Crush the cereal of your choice into chunky crumbs (not finely crushed) and mix with the melted butter and cinnamon.  Sprinkle this topping all over the casserole.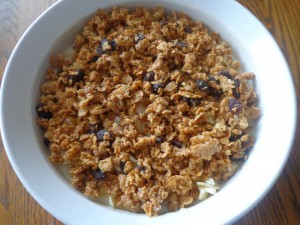 Bake for 30 to 40 minutes until bubbling and golden brown.  Serve hot or room temperature as a side dish.
Freezes well.