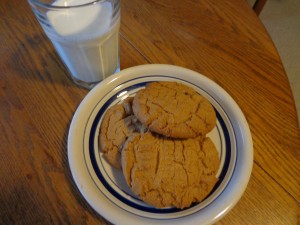 I love good old-fashioned peanut butter cookies. In fact, this similar recipe is what I use for my Fluffer Nutter Cookies.  This time however, I had half a jar of Nutella to use up, so parsimony being the mother of invention, here is my version of a peanut butter Nutella cookie.
Here's a tip for keeping your brown sugars moist once you've opened the package:  throw a couple of extra marshmallows into the bag or jar.  The marshmallow will work like a piece of stale bread, and serves to keep your brown sugars moist.
Why the strange addition of expresso powder?  Peanut butter and coffee are one of those umami pairings…each enhancing the other's flavors.
And please…I don't want to catch you simply throwing away those egg shells once you've cracked the eggs into your cookie dough!  You're home making cookies anyways, not out and about….so rub your clean fingers into the albumen left inside those shells, then rub the albumen all over your face.  Leave it to dry while you finish your cookie dough.  You will feel the albumen dry and tighten your pores.  Once you have the first batch of cookie dough safely baking in the oven…gently rinse your face with warm water and pat dry…VOILA!  you've given yourself an old-fashioned facial while baking cookies!  Your skin will feel glowing!
Peanut Butter Nutella Cookies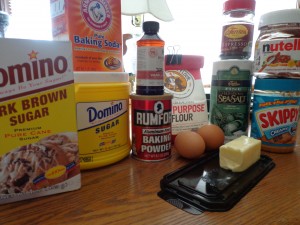 Ingredients:
1 cup unsalted butter, room temperature
1/2 cup favorite peanut butter
1/2 cup Nutella
1 cup dark brown sugar
1 cup granulated sugar
2 eggs
1/2 teaspoon vanilla extract
1 teaspoon expresso powder
2 1/2 cups all purpose flour
1 1/2 teaspoon baking soda
1 teaspoon baking powder
1/2 teaspoon sea salt
Preheat oven to 350 degrees.  Line a cookie sheet with parchment
In your large mixing bowl, cream the butter and sugars together until well combined.  Add the peanut butter/nutella, eggs, vanilla and expresso powder.  Mix well.
Add the flour, salt, baking powder and baking soda.  Mix only to combine into a dough.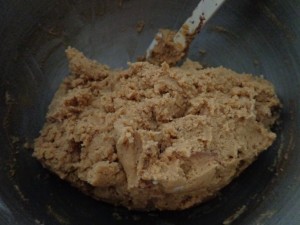 Scoop by tablespoons onto a cookie sheet and bake 12 to 15 minutes until firm and lightly browned.  Or roll into a log and wrap in plastic wrap and refrigerate or freeze until ready to bake.  Or roll tablespoon-sized balls between your palms, and flatten each ball on the cookie sheet with a fork before baking.