Grandma's Old Fashioned Oatmeal Cookies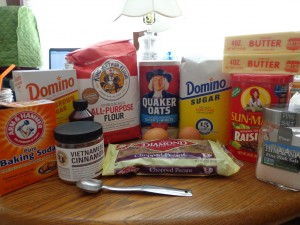 Ingredients:
2 sticks unsalted butter, room temperature
3/4 cup light brown sugar
1/2 cup granulated sugar
1 teaspoon vanilla extract
2 eggs
1 1/2 cups all purpose flour
1 teaspoon baking soda
1/2 teaspoon salt
1 teaspoon ground cinnamon
3 cups Quick Quaker Oats (not instant)
1 cup chopped pecans (or walnuts)
1 cup raisins
Preheat oven to 350 degrees.  Line cookie sheet with parchment.
In a medium bowl, combine flour, salt, baking soda and cinnamon.
Cream butter with sugars until creamy in a large mixing bowl.  Add eggs, one at a time and mix until incorporated.  Add vanilla and mix.  Add flour mixture and beat well.  Add oats and mix again.  Add nuts and raisins and mix briefly.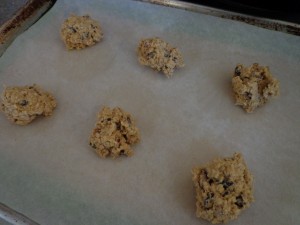 Scoop by heaping tablespoons onto parchment lined cookie sheet.
Bake 10-15 minutes until golden brown.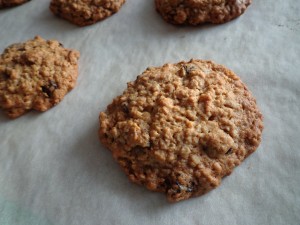 The raw dough freezes well when shaped into a log and wrapped in plastic wrap then sealed in a freezer ziploc bag.  Just slice straight from the freezer and bake for 15-20 minutes.