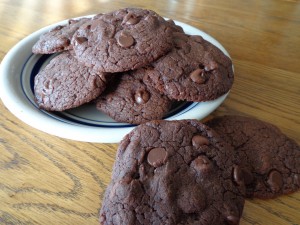 Got a chocolate craving?  Love Nutella (hazelnut/cocoa spread)?  Then here is a tiny, eensy recipe to make only 12 of the most intensely chocolatey cookies…the fastest, fudgiest, chocolate cookie to satisfy your darkest cravings….and it only takes 1/2 hour to make!  Very few ingredients guarantees that you'll have everything in your pantry to make these!  Although they are yummy warm fresh out of the oven…they are equally fudgy for days afterwards…but how can 12 cookies last that long…am I right?  These will not be crispy cookies, but you will roll your eyes when you bite into each chewy piece of heaven!
Nutella Chocolate Chip Cookies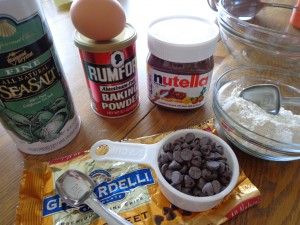 Ingredients:
1/2 cup plus 2 tablespoons all purpose flour
1 cup Nutella hazelnut spread
1 large egg
1/2 teaspoon baking powder
1/4 teaspoon sea salt
1/2 cup chocolate chips
Preheat oven to 350 degrees.  Line a cookie sheet with parchment.
Mix all ingredients in a medium bowl.  Using a soup spoon, shape into 12 balls and drop onto a cookie sheet.  Flatten each ball slightly.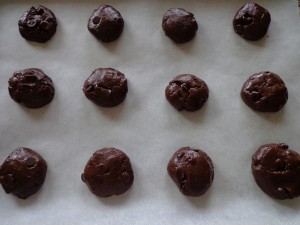 Bake 10 to 12 minutes.