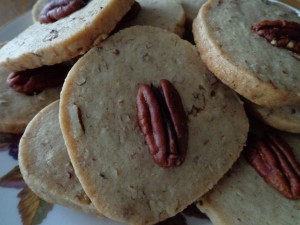 My new fav cookie is this maple pecan shortbread (ala Martha Stewart)…yeah, I know I seem to be nuts for maple stuff…but I discovered this exquisite natural maple extract up at the King Arthur Flour Factory this summer, and I've sorta gone crazy trying it out in various recipes…I LOVE maple anything!  Only problem in the past was that one could never get enough maple syrup into a dish to carry over enough of that delish maple flavor past the cooking/baking stage.  Now that I'm armed with this wonderful natural maple extract…it's like have a blank maple culinary canvas to create truly delicious maple flavored recipes…from maple pecan fudge to maple glazed brussels sprouts…so stay tuned for more maple recipes!
FYI – I usually use a plain pecan shortbread cookie dough as the pie-crust for my pecan or pumpkin pies (to alleviate soggy crusts)….this Thanksgiving I plan to try this recipe instead:)  I can already anticipate how delicious they will be, especially since both my Rum Pumpkin Pie and Bourbon Chocolate Pecan Pie both contain maple syrup as a sweetener!!!!
Maple Pecan Shortbread Cookies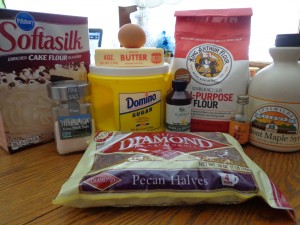 Ingredients:
21/4 cups all purpose flour
1/2 cup cake flour
1/2 teaspoon sea salt
3/4 cup chopped pecans
1 cup unsalted butter (2 sticks at room temperature)
1 egg yolk
1 teaspoon natural maple extract
1/4 cup pure maple syrup (Grade B dark amber for best flavor)
3/4 cup granulated sugar
In a medium bowl, mix together the flours, salt and chopped nuts.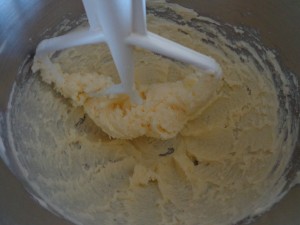 In your mixing bowl, cream the butter with the granulated sugar for 1 or 2 minutes until light and fluffy.  Add the maple syrup, extract and yolk and continue beating until incorporated.
With the mixer on low, add the flour mixture and beat only until incorporated.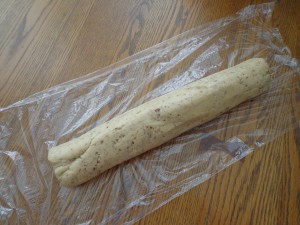 Turn out dough onto a long piece of plastic wrap, and using the wrap as a guide…shape into a log.  Wrap tightly and refrigerate.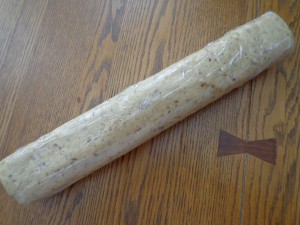 This step allows the dough to thoroughly hydrate while relaxing any gluten formed from the mixing.
You may freeze the dough for future baking at this stage.
Preheat oven to 350 degrees F.  Slice thinly, 1/4″ to 1/2″.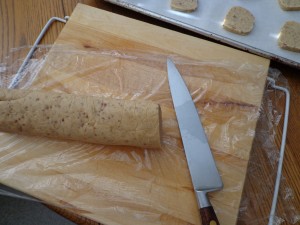 If you wish, decorate each cookie top with a perfect pecan half….
and bake on parchment lined cookie sheets for 10-12 minutes.  You do not want the cookies to brown, so watch carefully, rotating midway for even baking.