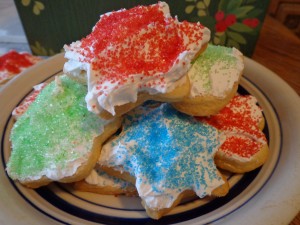 Yes, these are X-rated sugar cookies for all the adults in my life.  Honestly, although this sugar cookie dough is made with 2 tablespoons of cognac instead of milk, and although you do catch a whiff of the heady stuff evaporating while baking…in actuality, the alcohol bakes out and what remains is a very tasty sugar cookie.  I will admit that the aroma of these cookies baking does make for a very lovely holiday afternoon!
This batch of x-rated cookies is dedicated to the unsung heroes in my neighborhood who help make my life work.  Lowell Fire Station #7, right across the street…. and my landlord and his staff downstairs all contribute to the comfort and safety of my environment…for which I heartily thank them all!!!
I have frosted these delectable bites with royal icing, then sprinkled them with festively colored sugar crystals…because why not indulge for the holidays….right?
Cognac Sugar Cookies
Ingredients:
2 cups all purpose flour
1/4 teaspoon sea salt
1/2 teaspoon baking powder
1 stick unsalted butter, room temperature
1 cup granulated sugar
2 tablespoons cognac (or milk)
1/2 teaspoon vanilla extract
1 large egg
Sift flour, salt and baking powder together in a small bowl.
In large mixing bowl with paddle attachment, cream butter with sugar approximately 2 minutes until light and fluffy.  Add cognac, vanilla and egg and beat until incorporated.  Add dry ingredients and mix only until incorporated and uniform.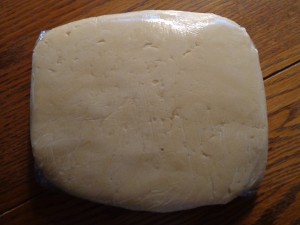 Wrap dough in plastic wrap and refrigerate 1 to 2 hours or overnight (up to 3 days or freeze if longer).  I divide the dough into halves, to make working with the dough easier.
Preheat oven to 350 degrees and line cookie sheets with parchment.  Remove half of the dough to the work surface to warm up approximately 20 minutes.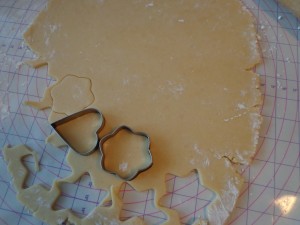 Lightly dust work surface with confectionary sugar, and roll out 1/2 of the dough until desired thickness.  I prefer a thicker cookie, so they don't break too easily if transported.  The cookies may be placed fairly close to each other as they will not spread much during baking.
Bake 10 minutes, rotating after 5 minutes for even baking.  Remove when the edges are just beginning to brown lightly.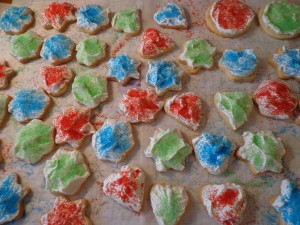 Frost with royal icing when completely cooled:
Royal Icing:
3 tablespoons meringue powder
6 tablespoons water
4 cups confectionary sugar
splash of vanilla
Measure out meringue powder and water and stir until dampened.  Add sugar and stir again until dampened, to prevent a cloud of sugar from flying all over.  Add a splash of vanilla.  Whip all the ingredients together in a large mixing bowl on high speed for 5 to 7 minutes until stiff peaks form.
Frost the cookies and sprinkle with decorating sugars.  Store any remaining icing at room temperature for a day or two, covering the surface with plastic wrap to prevent hardening.