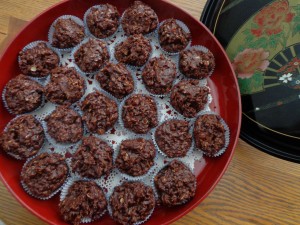 Valentine's Day is right around the corner, which immediately brings to mind CHOCOLATE!!!  Since I love chocolate…and coconut…and Nutella…I am whipping up a batch of these easy no-bake cookies that I've been making since I was a wee little girl.  This recipe appears all over the internet as a chocolate peanut-butter no bake cookie…and that's actually how I've made it countless time over the decades.  However, this particular day I've chosen to use Nutella instead of peanut-butter…and as a nod to Valentine's Day, which calls for something extra special, I'm also using a touch of Kahlua.
This recipe calls for 2 minutes on the stovetop.  That's it.  No baking, honestly!  And it will make 3 dozen generous cookies.  I use the mini-cupcake papers for easy portioning here, but I've just as frequently dolloped a heaping soupspoonful on cookie sheets.
These are so chewy, fudgy and chocolaty…I'm sure you'll satisfy your chocolate cravings!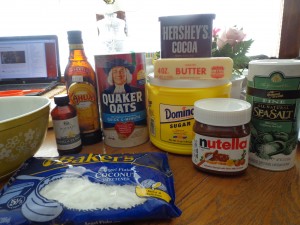 Ingredients:
2 cups granulated sugar
1/2 cup unsweetened cocoa powder (Hersey's or Droste)
8 tablespoons unsalted butter (1 stick or 1/4 lb)
1/2 cup milk (or cream)
1 cup Nutella hazelnut spread
1/4 cup Kahlua liqueur
1 tsp vanilla
3 cups quick cooking oatmeal (not instant or rolled)
1 cup grated coconut (if desired)
Line a cookie sheet with parchment or 3 dozen mini-cupcake liners.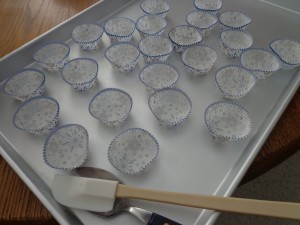 In a 3 quart saucepan measure the sugar and cocoa powder and whisk together to break up any cocoa lumps.  Add the milk and butter and heat over medium, stirring until mixture is smooth and boiling.  Let boil for 2 minutes.  Do not boil over 4 minutes or they will crumble apart when cooled.  Turn off the heat and add the Nutella and vanilla and stir to melt, until smooth.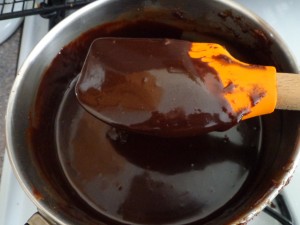 Combine oatmeal and coconut in a large mixing bowl and stir to combine evenly.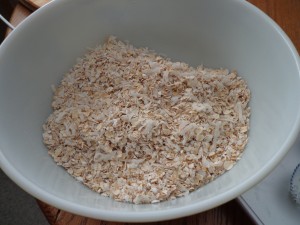 Pour hot liquid over the dry ingredients and stir quickly to combine, until everything is coated.
Quickly drop by heaping tablespoons onto the cookie sheet, or into the mini-cupcake liners.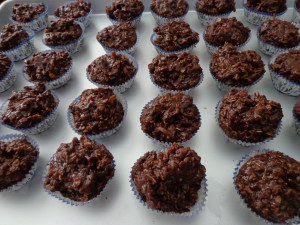 Allow to cool at room temperature.  They harden as they cool.
If mixture hardens before you are done, stir in a few drops of hot water.
For a quick set, refrigerate 3 hours.
In summer, store in the refrigerator.  Freezes well.