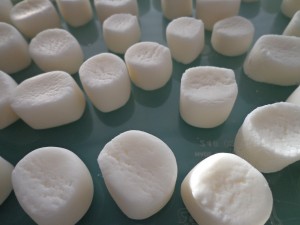 Yummmm….these melt in your mouth homemade buttermints are so easy to make that you'll wonder why you haven't tried them yourself.  In fact, even I had no idea how easy these addictive confections were to make until my work colleague, Nancy Fox, made them during the holidays and shared them with us. We all raved about them.
You literally throw together the few ingredients, roll out the dough into little logs and cut into tiny nuggets of mouthwatering sweetness.  This whole process only took me about a half hour to complete.  Then, of course, it takes 2 to 3 days to air dry.  I recommend you don't make these on a hot, humid day, unless you've got the air conditioner working.  You need a cool, dry day so that the delectable mints don't melt in your hot hands.  In order to dry them in a couple of days, you need low humidity.  Otherwise, it'll take several days.
Oh, and be warned….they may not last that long….every time you pass by them, you'll want to slip one in your mouth to test for dryness, right?  Before long, you'll wonder how they disappeared so fast….ha!
Buttermints ala Nancy Fox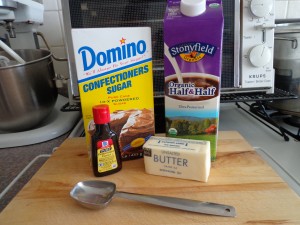 Ingredients:
1 lb box of confectioners sugar
1/4 lb of unsalted butter (one stick) at room temperature
1 teaspoon pure peppermint extract
2-3 teaspoons cream
approximately 1/4 cup extra confectioners sugar for rolling the strands of dough in
In a large mixing bowl, on low speed, combine all the ingredients.
When combined, turn the beater on high for several minutes until you see the dough come together in a silky smooth ball.
Sprinkle a countertop liberally with more confectioners sugar, pinch off a palm size piece of dough and form into a log.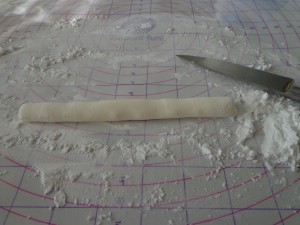 Roll the log using your palms until it reaches the size mint you desire.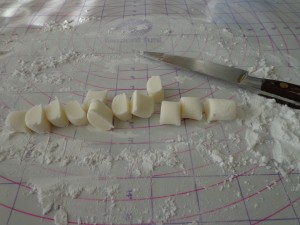 Using a sharp paring knife, but into bite-size pieces.  Cover lightly with either paper towels or plastic wrap…DO NOT seal.  They need to air dry for 2 – 3 days until hard.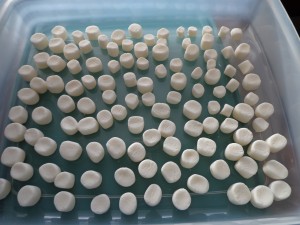 Once dry, seal tightly and keep refrigerated for several weeks.