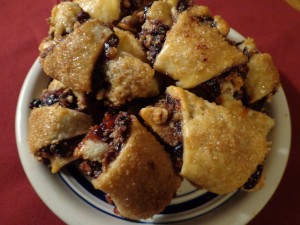 Traditionally a Jewish sweet flaky pastry, filled with a fruit jam, sprinkled with nuts and raisins and rolled up in a crescent shape, then sprinkled with sparkling sugar and baked until golden brown.  The pastry couldn't be easier to make and quite easy to roll out and cut into the crescents.  Since you make the pastry dough ahead of time, and fill them will your favorite jam, nuts and raisins, these are perfect for baking early the day that you intend to serve them…although they age quite nicely, the crisp flakiness is best the day they are baked…the moisture of the jam making these pastries less crisp when stored for any length of time.  Either way, they are a delicious bite of fruity sweetness.
Blackberry Rugelach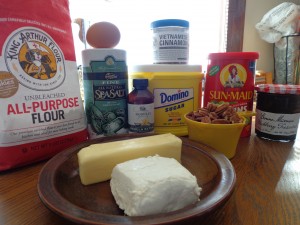 Ingredients:
8 oz cream cheese, room temperature
1/2 lb unsalted butter, room temperature
1/4 cup granulated sugar
1/4 teaspoon sea salt
1 teaspoon pure vanilla extract
2 cups all purpose unbleached flour
Filling:
6 tablespoons granulated sugar
1/4 cup light brown sugar
2 teaspoons ground cinnamon
3/4 cup raisins or dried cranberries
1 cup finely chopped pecans
1 cup favorite jam, blackberry or seedless raspberry
1 egg beaten with 1 tablespoon milk or cream
Topping:
3 tablespoons granulated sugar
1 teaspoon ground cinnamon
In a large mixing bowl, using the paddle attachment of a stand mixer, beat the cream cheese and butter together until smooth.  Add the sugar, salt and vanilla until incorporated.  Add the flour and mix only until combined.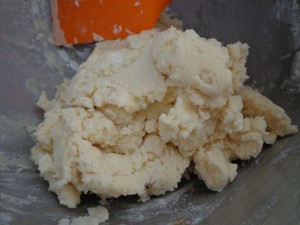 Gather the dough into a ball and wrap in plastic wrap.  Refrigerate for at least an hour.
For the filling, mix together the sugars, cinnamon, raisins and pecans.
Flour your work surface, and roll out 1/4 of the dough into a circle 8 to 9 inches in diameter.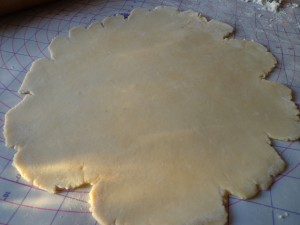 Spread the circle lightly with 2 tablespoons jam.  More is not better.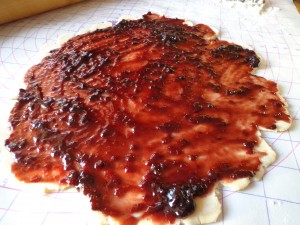 Sprinkle with half of the cinnamon/raisin/nuts mixture and press lightly to adhere, to make the cutting/rolling next step easier.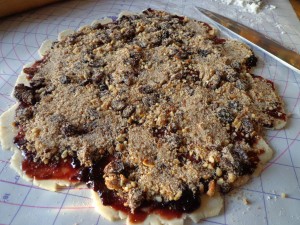 Using a sharp knife or pizza cutter, cut the circle in half, then quarters, then eighths.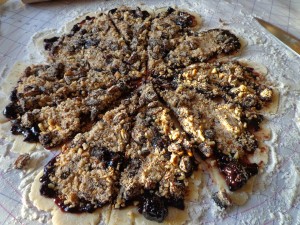 Starting at the outside edge, roll each triangle into a crescent, ending with the center tips underneath.  Place each crescent on a parchment lined cookie sheet.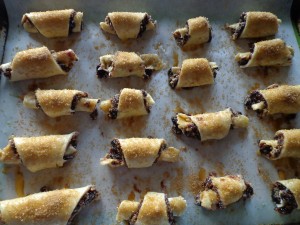 Repeat with remaining quarters of the dough.  Now chill the rugelach for 30 minutes.
Preheat the oven to 350 degrees F.
Brush each crescent with egg wash.  Sprinkle with cinnamon sugar topping.  Bake for 15 minutes until lightly browned and crisped.