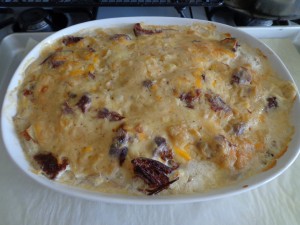 Here's a comfort food your family will love, and it uses up that leftover Easter ham!
Simple to put together, hearty and a satisfying one dish meal.
As a girl, I used the old Betty Crocker recipe for scalloped potatoes, simply layering thinly sliced potatoes in a casserole dish, sprinkling each layer with salt and pepper and few chopped onions, dotting with bits of butter, sprinkling with a little flour and grated cheddar.  I wasn't using chunks of leftover ham though, as I was simply making a scalloped potato side-dish.  Then I scalded the milk.  The top layer was grated cheese.  I poured the hot milk over the whole casserole and popped it in the oven for 45 minutes to an hour…until bubbling hot and golden brown.  Couldn't be easier or more delicious.
This hearty version sautes the chopped onion in butter in a large skillet, calls for a sprinkling of flour over the softened butter to create a roux, then pouring the milk in and stirring over a medium heat until the white sauce thickens to a gravy-like consistency.  This hot sauce is then poured over the alternating layers of sliced potatoes, ham chunks, and shredded cheese and baked 45 minutes to an hour, until bubbling hot and golden brown.
Scalloped Potatoes and Ham au Gratin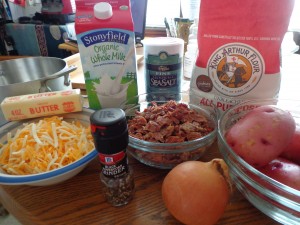 Ingredients:
3-4 lbs of red potatoes, washed and thinly sliced
2 cups of cubed ham
2 cups shredded cheese, cheddar or monterey jack
1 small onion, diced
2 tablespoons butter or bacon fat
1/4 cup flour
3 cups milk
very little salt
ground pepper to taste
In a large skillet, melt the fat and sweat the onions until softened.  Sprinkle the flour over the onions and stir for 2 minutes until all the fat is absorbed.  Pour in the milk while stirring, and continue to cook over medium heat until the sauce thickens into a gravy.  Season to taste, keeping in mind that both the cheese and ham are salty.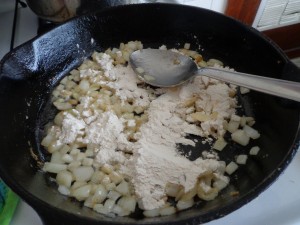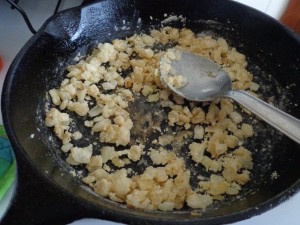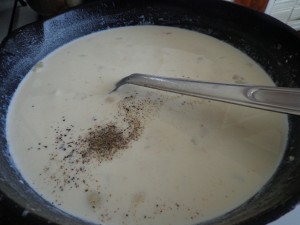 Butter a large casserole.  Spread a layer of potatoes slices over the bottom, sprinkle with half of the ham and half of the cheese.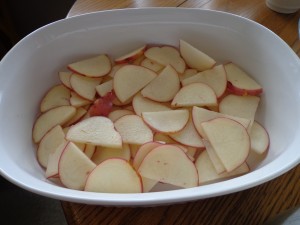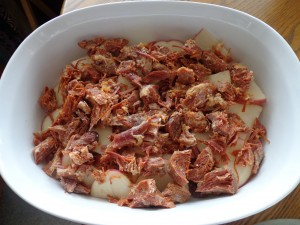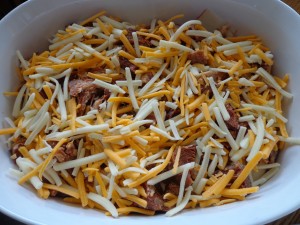 Pour half of the sauce over all.
Repeat with another layer of the remaining potatoes, ham and cheese.  Pour the rest of the sauce over the top of the casserole and spread out to cover.
Bake for 45-60 minutes until bubbling hot and golden brown.