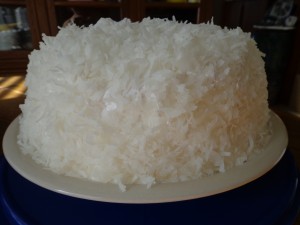 Summer is fast approaching and visions of hot summer nights and warm breezes reminds me of visiting the Caribbean Islands….mmmm the tropical nights fragrant with flowers and ocean breezes, with waves gently lapping upon white sand beaches, the hot sun sparkling off crystal clear azure waters.  This was where I was first introduced to delicious frozen pina coladas…the mouthwatering flavors of sweet coconut,  ripe fresh pineapple and rum continues to elicit tantalizing memories.  So I thought about capturing this same amazing combination of flavors in a dessert whose taste would evoke these spectacular elements.
I decided to bake a vanilla cake soaked in rum, layered with sweet pineapple filling and frosted with divinity frosting, dusted with coconut.  The final creation looked like a cloud of deliciousness and tasted heavenly!  Believe me, this cake will not disappoint!!!
The time spent to bake and build this memorable masterpiece will be well worth the accolades you will receive!  The following pineapple filling recipe is the same used for my delicious pineapple pie, which people love!  I advise using either a fresh, ripe pineapple or frozen pineapple chunks.
Pina Colada Cake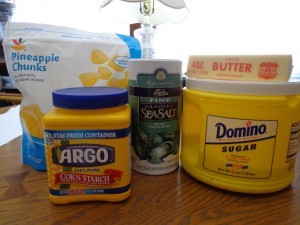 For the Filling Ingredients:
1 16 oz package frozen pineapple chunks, thawed or 1 ripe peeled pineapple, or 1 20 oz can crushed pineapple in juice, include all juices
3/4 cup granulated sugar
1 egg
2 tablespoons flour, or 2 tablespoons cornstarch
2 tablespoons butter
pinch of sea salt
Process all ingredients in a food processor until the pineapple is the consistency of crushed pineapple bits. (this will make cutting the finished cake easier)
Pour mixture into a medium saucepan and bring to a boil.  Reduce heat to a simmer and continue to cook for 2 or 3 minutes until thickened.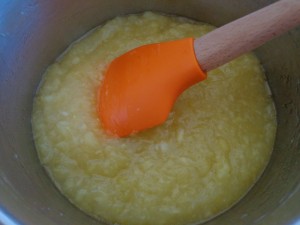 Cool pineapple mixture completely in refrigerator while you bake the cake.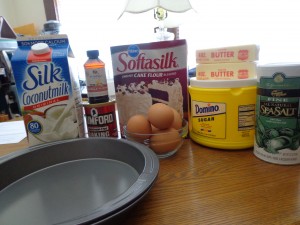 For the cake ingredients:
2 3/4 cups sifted cake flour
1 tablespoon baking powder
1/2 teaspoon sea salt
5 large egg whites, at room temperature
1 1/4 cups coconut milk, unsweetened
13 tablespoons unsalted butter, room temperature
1 1/4 cups granulated sugar
1 1/2 teaspoons pure vanilla extract
favorite rum
Preheat oven to 350 degrees F.  Butter two 8 inch cake pans.  Line the bottoms with parchment or waxed paper rounds.  Now butter the paper too.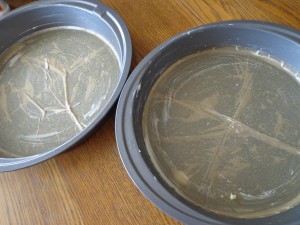 Stir together the flour, baking powder and salt in a separate bowl.  Whisk together the egg whites and coconut milk in a small bowl, until well incorporated.
In a large mixing bowl, cream butter until smooth.  Add the sugar and cream on medium speed until fluffy, about 2 or 3 more minutes.  Don't forget to scrape the sides of the bowl if necessary.  Add the vanilla and beat to incorporate.
Add the dry ingredients alternatively with the liquid ingredients, beginning and ending with the dry ingredients a third or quarter at a time.  Continue to beat only until well incorporated, no longer than 2 minutes.
Divide batter into the pans evenly and smooth tops.  Drop each pan onto the countertop from a height of 10 inches, to force out any large air bubbles.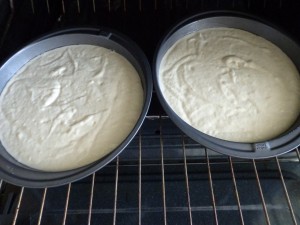 Bake for 30 to 35 minutes until lightly golden brown on top and a toothpick inserted into the center only has a few crumbs adhering to it.  Cool cakes in the pan for 10 minutes, then remove from pans and remove paper bottoms.  Let cool completely.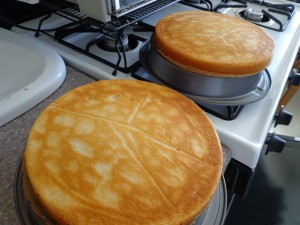 While the cake layers are cooling, let's make the divinity frosting (7 minute frosting).
Divinity Frosting aka 7 Minute Frosting
Ingredients:
2 egg whites at room temperature
1/3 cup water
pinch of cream of tartar
pinch of salt
1 1/2 cups granulated sugar
1 1/2 teaspoons pure vanilla extract
In a heat proof bowl large enough to fit over a saucepan of boiling water without the bottom touching the hot water, combine the egg whites, water, cream of tartar and salt.  With a hand mixer, beat for 1 minute until well combined.  Now place the bowl over a boiling pan of water and begin beating on high speed for 7 minutes.  Frosting will become frothy white and increase in volume as it cooks, becoming stiffer.  The final step is to beat in the vanilla until well dispersed.
To assemble the cake:
2 vanilla cake layers drizzled with rum
1 batch of pineapple filling, cold
1 batch of divinity frosting
14 oz package of sweetened flaked coconut
First, poke multiple holes in each cake layer with a toothpick or skewer.  Drizzle rum over the tops of the cake, being sure to let it soak in.  The amount of rum is up to your taste, but I used about a 1/2 to 3/4 cup per layer.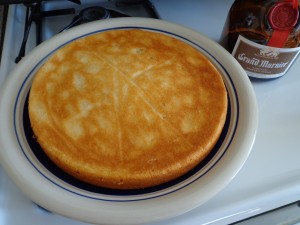 Place one cake layer upside down on a cake cardboard circle or serving platter lined with strips of waxed paper or paper towels (to facilitate clean up after apply the coconut).  Spread the pineapple filling all over this cake layer.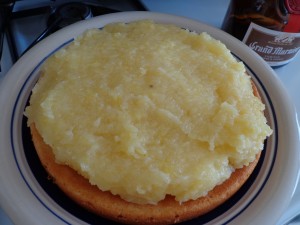 Place second cake layer upside down over the pineapple filling.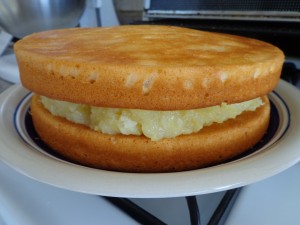 Frost entire cake with divinity frosting.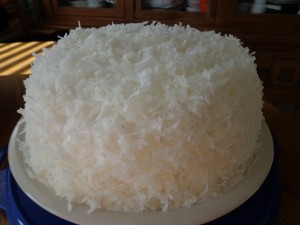 Now press handfuls of coconut onto the sides of the frosted cake, so the flaked coconut adheres.  The excess will drop to the paper strips.  If you are using a cardboard circle, place the cake in one hand over a large bowl or plate of coconut and use the other hand to press handfuls of coconut into the frosting.  This way, the excess coconut falls back onto the plate or bowl.
This cake will keep beautifully for two days, covered and sealed at room temperature.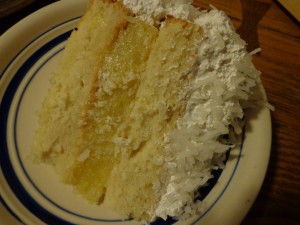 Now cut yourself  a slice and dream of a tropical paradise!  Yum….