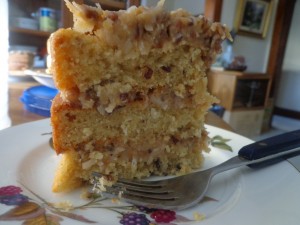 Coconuts and pecans are some of my favorite things to eat.  Combined, they are irresistible.  So raise your hand if you love German chocolate cake!  I am not afraid to admit that it's the German chocolate cake FROSTING that I love, not the cake itself.  In fact, German chocolate cake itself does not lend itself well to dreams of decadence. However, I could mainline the frosting alone!  Ahhh… for guilty pleasures:)  Ain't life grand?
So I've substituted a rich, flavorful Italian Cream Cake for the German chocolate cake, tossed out the plain cream cheese frosting that usually accompanies Italian Cream Cakes and used my beloved coconut pecan frosting as both a filling between layers and a frosting on top.  Now this pairing should have been a no-brainer, because the two ingredients that set Italian Cream Cakes apart from plain vanilla cakes are coconuts and pecans!
Here is a Japanese-Jewish version of an Italian Cream Cake with German Chocolate Cake frosting…and all you coconut/pecan frosting fans are gonna swooooooon!  Perhaps we'll call it a United Nations cake????  hahahahaha…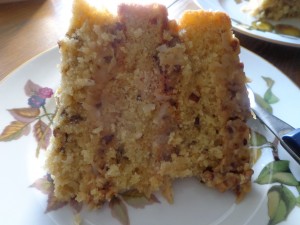 Trudy's Italian Cream Cake with Coconut Pecan Frosting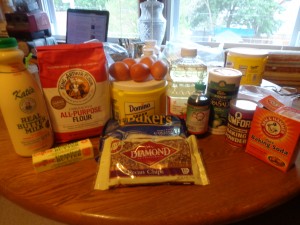 Ingredients:
1/2 cup unsweetened butter, at room temperature
1/2 cup shortening (such as Crisco)
2 cups granulated sugar
5 eggs, separated and at room temperature
2 cups cake flour
1/2 teaspoon sea salt
1 teaspoon baking soda
1 cup buttermilk
1 teaspoon vanilla extract
2 cups sweetened grated coconut
1 cup chopped pecans
Preheat oven to 325 degrees F.  Butter and flour 3  9 inch cake pans.
Sift flour and baking powder together.
Combine vanilla with buttermilk.
In large mixing bowl, beat butter, shortening and sugar together for 3 minutes until fluffy.  Add the egg yolks, one at a time, beating well after each.  Scrape down the sides of the bowl if necessary.
Alternate 1/3 of the flour with 1/2 of the liquid, beating only until combined after each addition.  End with the last 1/3 of the flour.  Fold in the coconut and pecans.
In a clean bowl with clean beaters, whip the egg whites and salt at low speed until frothy, then increase speed to high until whites are soft but holds a stiff peak when lifted up with wire whip.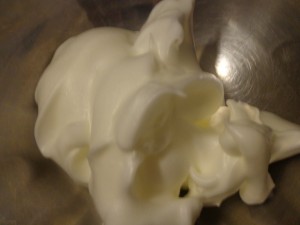 Gently fold the whites into the cake batter, only until no white streaks remain.  Pour evenly into the 3 cake pans.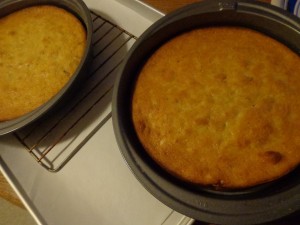 Bake for 25 minutes until toothpick inserted into center comes out clean.  Cool 10 minutes, then remove from the cake pans and cool to room temperature.
To finish the cake, fill between layers with 1/3 of the coconut/pecan frosting and frost the top with the remaining 1/3 of the frosting.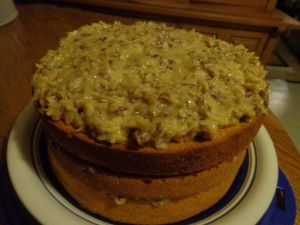 Coconut Pecan Frosting
1 cup half & half cream or light cream
1 cup light brown sugar
4 egg yolks
1/2 cup unsalted butter (1/4 lb)
pinch of salt
1 teaspoon vanilla extract
10 oz sweetened grated coconut
8 oz chopped pecans (2 cups)
In a medium saucepan, combine the cream, sugar, salt and yolks and whisk until thoroughly combined.  Add the butter and turn the stove temperature to medium, melting the butter while whisking until the mixture comes to a simmer.  Turn the heat to low and continue to simmer for another 10 to 15 minutes until the mixture thickens, stirring occasionally.
Remove from the heat.  Stir in the vanilla, coconut and pecans.  Combine thoroughly and cool to room temperature.  Resist temptation to spoon it directly into your mouth!