Devil's Food Chocolate Cake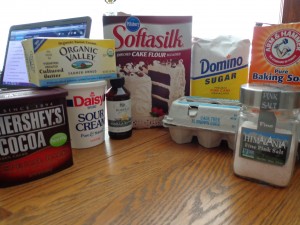 Ingredients:
3 cups cake flour, sifted
1/2 teaspoon salt
1 teaspoon baking soda
1 1/2 sticks unsalted butter, room temperature
2 1/4 cups granulated sugar
4 eggs, room temperature
3/4 cups hot water
1 teaspoon expresso powder
3/4 cups unsweetened cocoa powder
3/4 cups sour cream
1 teaspoon vanilla extract
2 teaspoons Kahlua liqueur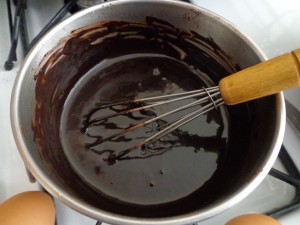 Whisk together the hot water, expresso powder and cocoa powder.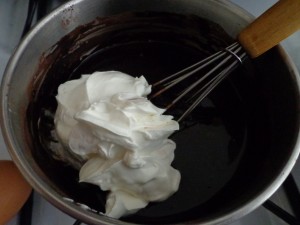 When incorporated, whisk in the sour cream, vanilla and Kahlua and set aside to cool to room temperature.
Preheat oven to 350 degrees F.  Line cupcake pans with cupcake papers.
Sift together the flour, salt and baking soda.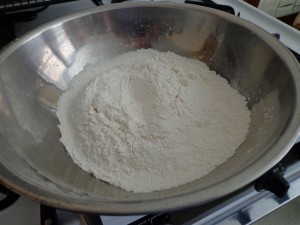 In large mixing bowl, cream the butter with the sugar about 2 minutes until fluffy and light.  Add the 4 eggs, one at a time and mix well after each.
Add 1/3 of the dry ingredients and mix briefly until incorporated.  Add 1/2 of the cooled liquids and mix.  Add another 1/2 of the dry ingredients and mix.  Add remaining half of the liquids and mix.  Add last 1/3 of dry ingredients and only mix until incorporated.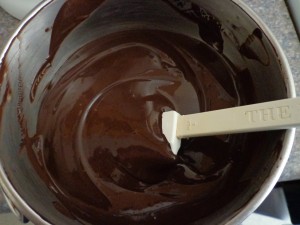 Scoop into cupcake papers, filling 2/3 of each cup.  Bake 20 minutes.
Let cool while you make this delicious buttercream: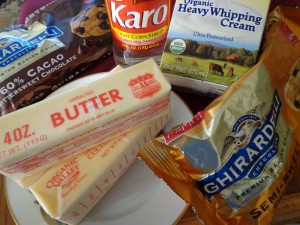 Ingredients:
8 oz bittersweet chocolate bits
8 oz semi-sweet chocolate bits
1 1/2 cups heavy cream
2 tablespoons light corn syrup
3 sticks unsalted butter, room temperature but not too soft
Place the chocolate bits into a large mixing bowl.
In a small saucepan, heat the heavy cream and corn syrup to a boil, then pour the hot liquid over the chips.  Let stand 2 minutes to melt the chips, then turn on the wire whisk attachment and whip the ganache until smooth.  Turn off machine and let stand until ganache has cooled down to room temperature.  Now turn the machine on medium speed and begin feeding the butter, a pat-at-a-time, into the ganache while whipping.  After all the butter has been added, whip only until smooth and creamy.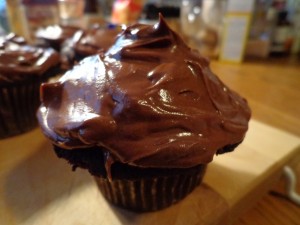 Frost the cooled cupcakes generously.  The frosting will be glossy from the corn syrup, and will solidify if refrigerated.