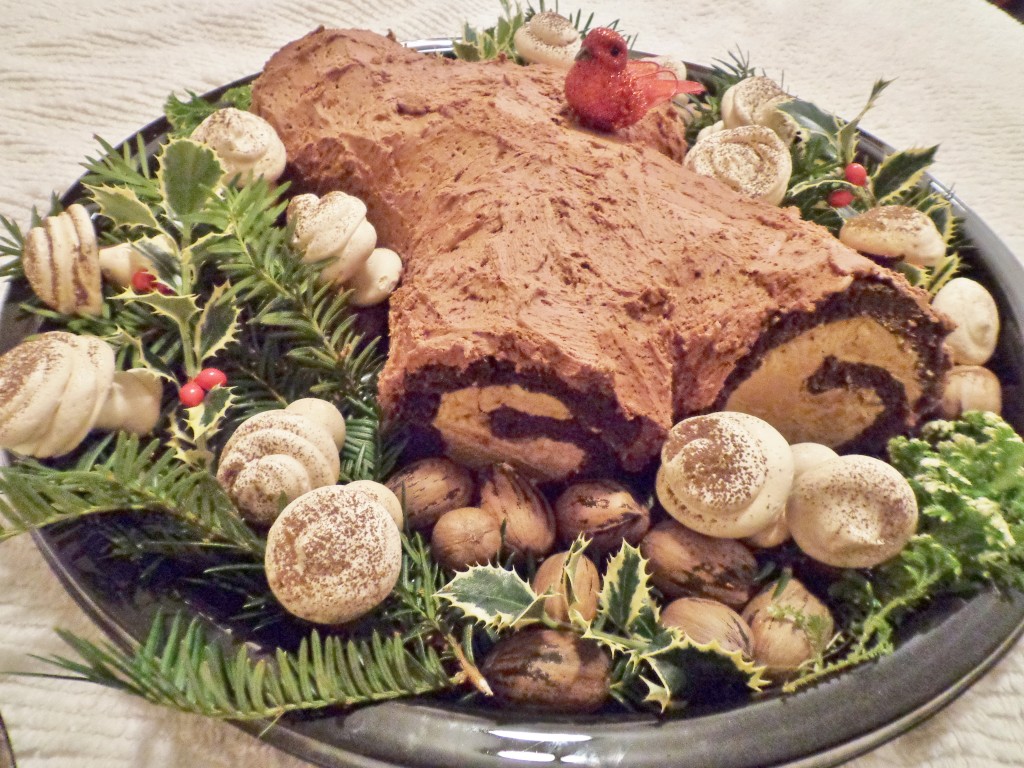 I started making buche de noels, or yule logs, back when I had my food shop, Country Cuisine.  They are spectacular centerpieces, and melt-in-your-mouth delicious desserts, even if they are a labor of love to create.
Chocolate Genoise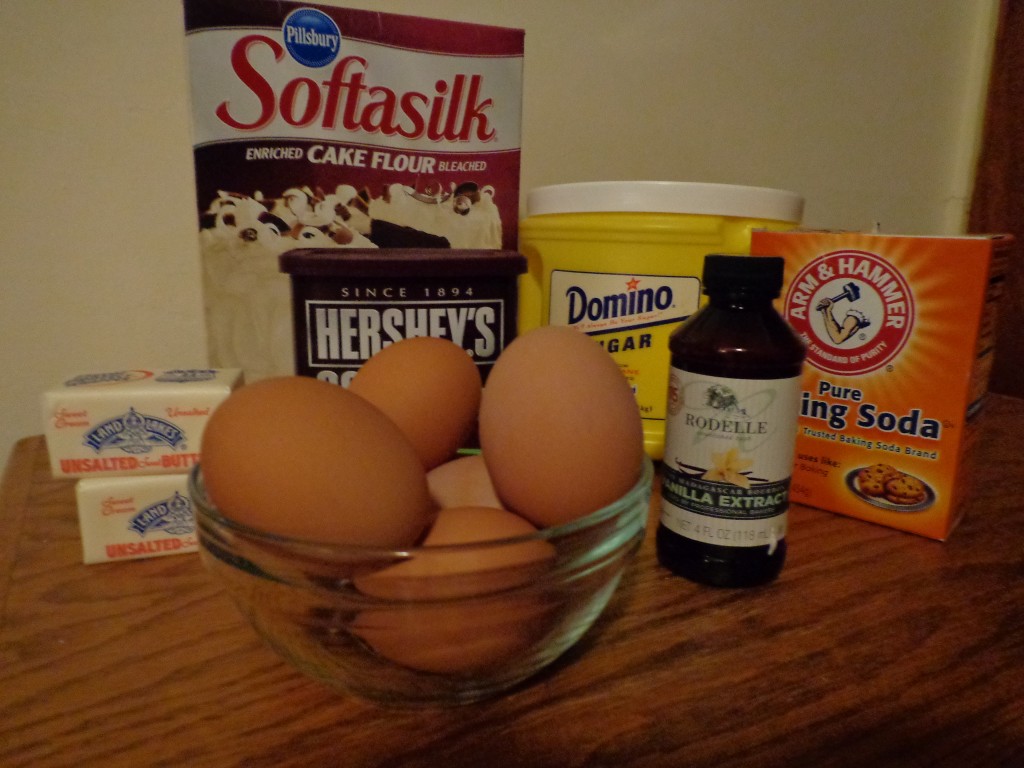 Ingredients to make the chocolate genoise (cake):
Ingredients
5 tablespoons unsalted butter, plus more for parchment and pan
2/3 cup sifted cake flour (not self-rising)
1/3 cup sifted cocoa powder, plus more for dusting
1/4 teaspoons of baking soda
6 large eggs
3/4 cup sugar
2 teaspoons vanilla extract
Heat oven to 350 degrees. Butter a 10 1/2-by-15 1/2-by-1-inch jelly-roll pan. Line with parchment; butter and flour paper, tapping out the excess flour.
Sift flour, cocoa, and baking soda into a medium bowl. In a small saucepan over low heat, melt butter.  Set aside in a warm place.
In a  heat-proof mixing bowl, whisk together eggs and sugar. Set bowl over a pan of simmering water, do not allow bottom of bowl to touch the hot water; stir until mixture is warm to the touch and sugar has dissolved. Remove from heat, and beat, using whisk attachment on high speed until mixture is thick and pale and has tripled in bulk. Reduce speed to medium, add vanilla, and beat 2 to 3 minutes more.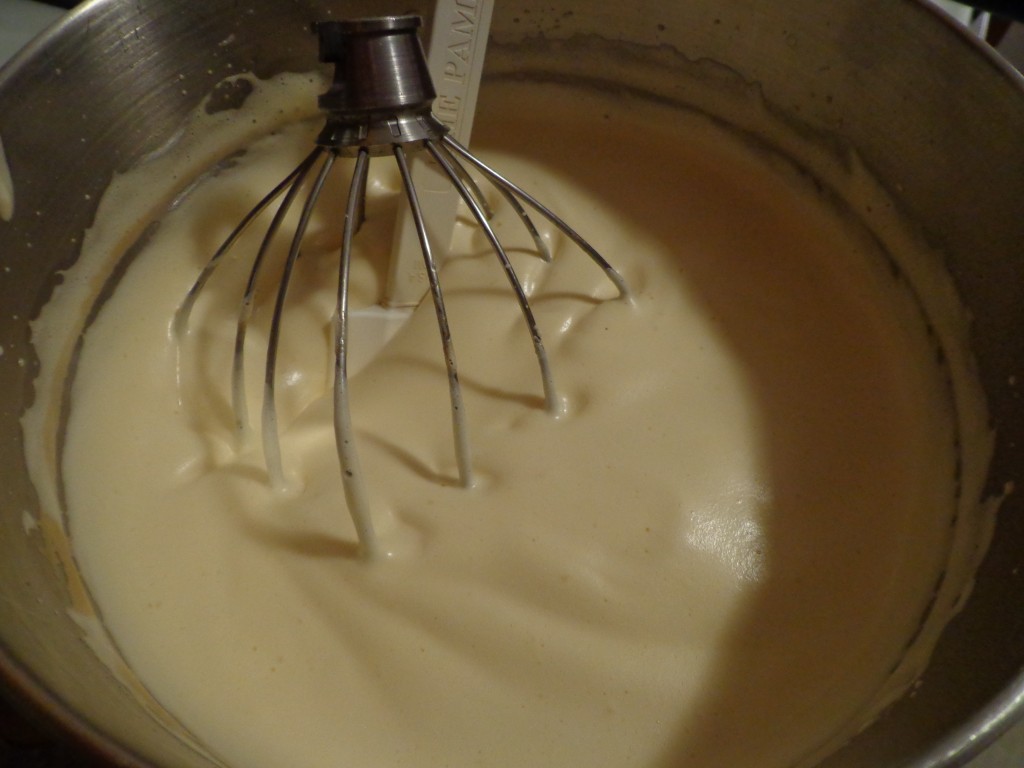 In three additions, sprinkle flour mixture over egg mixture, folding in gently with a spatula. While folding in last addition, dribble melted butter over batter (discard milky liquid at bottom of melted butter) and fold in.
Pour batter evenly in pan. Tap pan on counter to remove air bubbles. Bake until cake springs back when touched in center, 15 to 20 minutes. Don't overbake or cake will crack. Let sit in pan only until cool enough to handle (5 minutes).
Dust surface of cake with confectioners sugar. Cover with a sheet of parchment paper (this sheet now becomes the bottom parchment which willl cover the rolled up cake). Invert cake onto a work surface, remove pan and peel off bottom parchment (from the baking process); dust with more confectioners sugar. (sprinkle cake with additional Kahlua if desired for extra flavor and moistness) Place fresh sheet of parchment on entire length of cake.  Starting from one long end, using bottom parchment to guide cake along, carefully roll up cake like jellyroll with parchment in the center of roll and also outside. Wrap in plastic; refrigerate until thoroughly cold (at least 30 minutes).
Kahlua Buttercream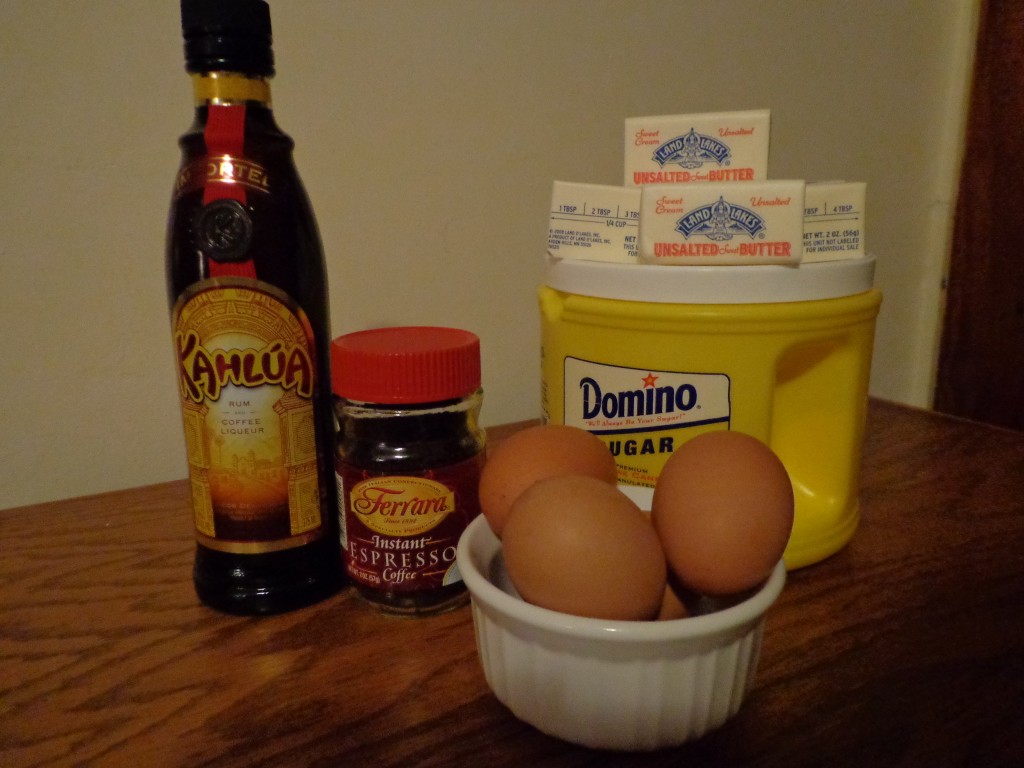 Ingredients to make the Kahlua buttercream (filling):
4 large egg whites
1 cup sugar
24 tablespoons (3 sticks) unsalted butter, softened
2 tablespoons instant espresso powder
2 tablespoons Kahlua
Whisk the egg whites and sugar together in the bowl of an electric mixer. Set the bowl over simmering water and whisk gently until the sugar is dissolved and the egg whites are hot. Attach the bowl to the mixer and whip with the whisk on medium speed until cooled.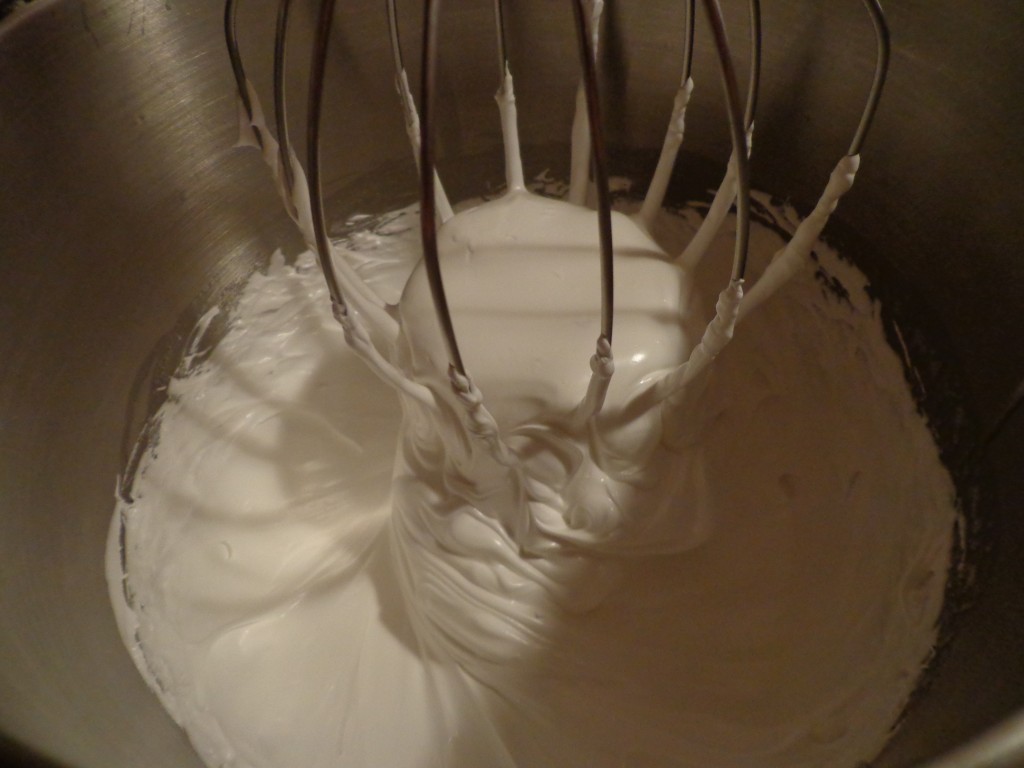 Switch to the paddle and beat in the softened butter and continue beating until the buttercream is smooth. Dissolve the instant expresso in the Kahlua (I do this several days in advance) and beat into the buttercream.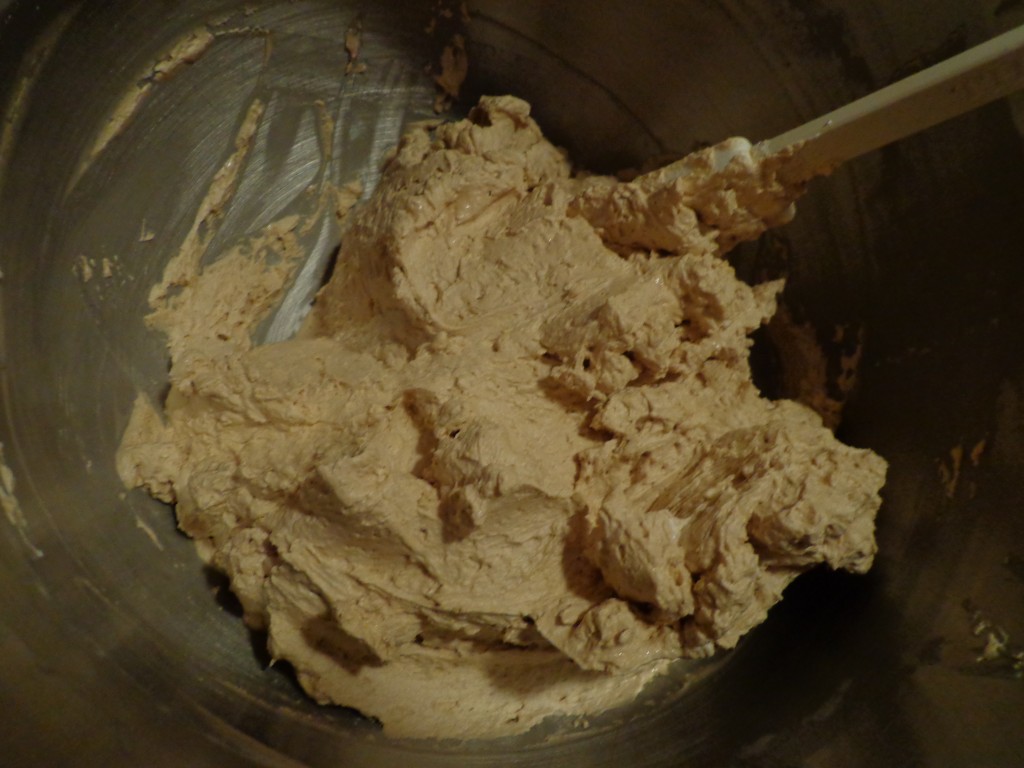 On your work surface, unroll the genoise cake (still on the exterior parchment or plastic wrap) and peel away the interior parchment paper.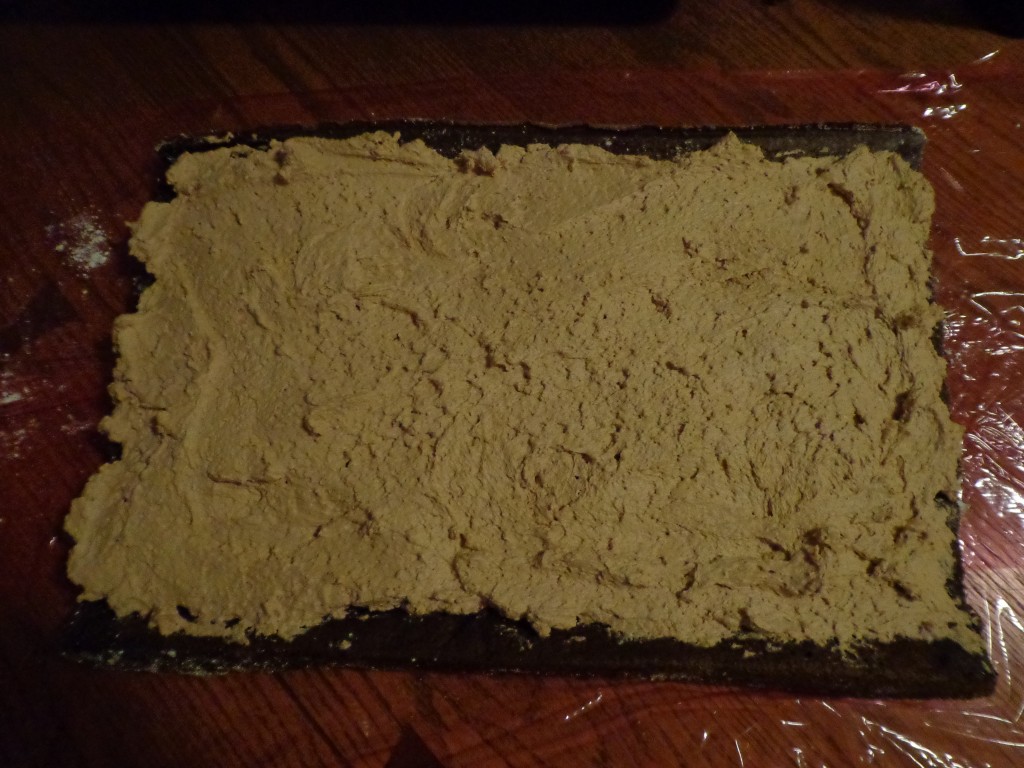 Spread the layer with the buttercream. Use the plastic wrap to help you roll the cake into a tight cylinder. Transfer to baking sheet and refrigerate for at least 30 minutes or until set.
Meringue Mushrooms
I make the meringue mushrooms several days in advance, unassembled…storing the cooled caps and stems in individual sealed plastic bags to prevent moisture from making them sticky.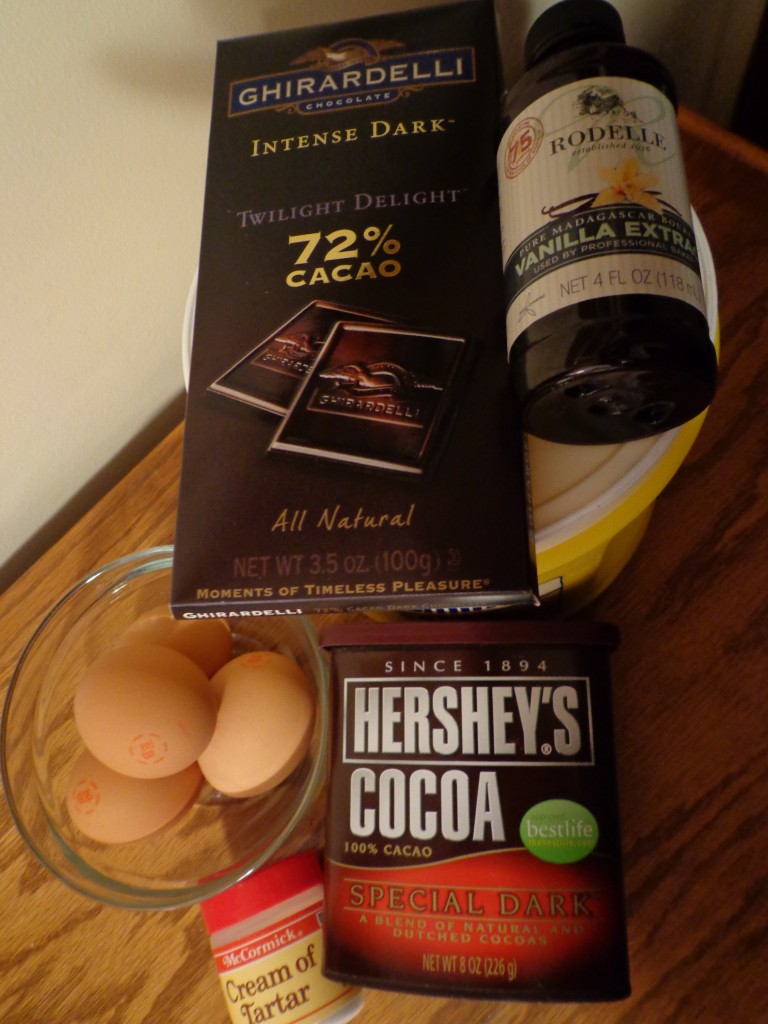 INGREDIENTS
1 cup sugar
4 large egg whites, at room temperature
1 teaspoon pure vanilla extract
1 tablespoon cocoa powder, for dusting
3 ounces bittersweet or semisweet chocolate
Heat oven to 225 degrees.  Line jellyroll pan with parchment paper.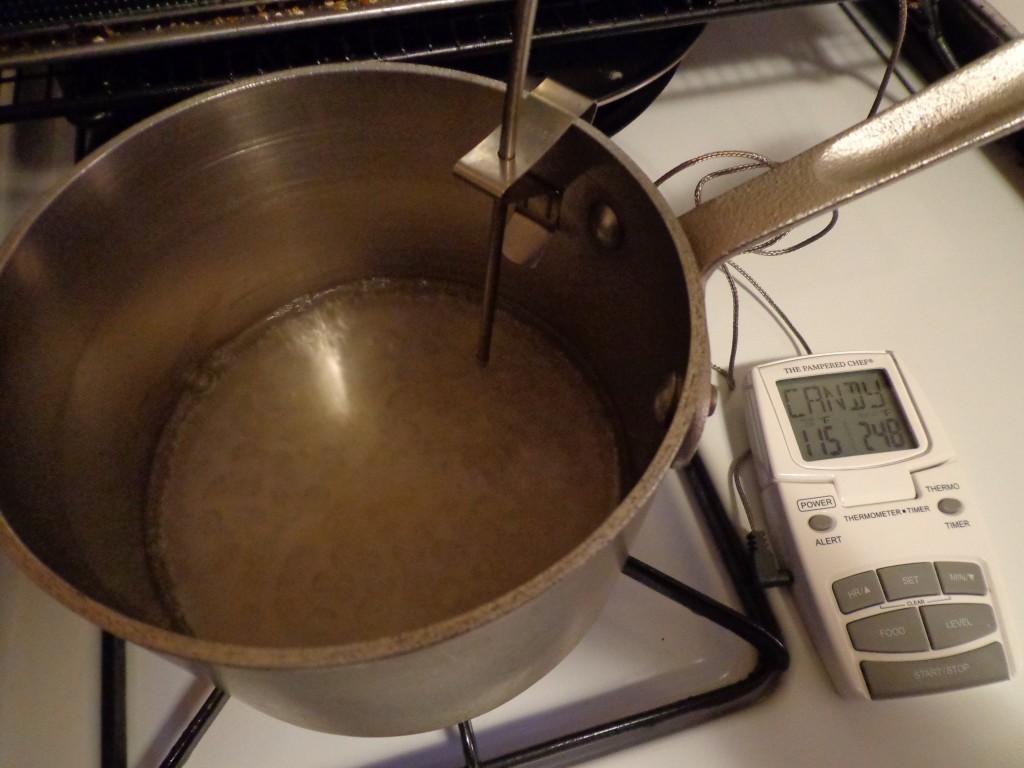 In a small saucepan, heat sugar and 1/2 cup water over low heat until sugar dissolves. Bring to a boil; cook until liquid reaches 248 degrees.(hard-ball stage) on a candy thermometer.
Meanwhile, in the bowl of an electric beater fitted with the whisk attachment, whip egg whites on low speed until soft peaks form.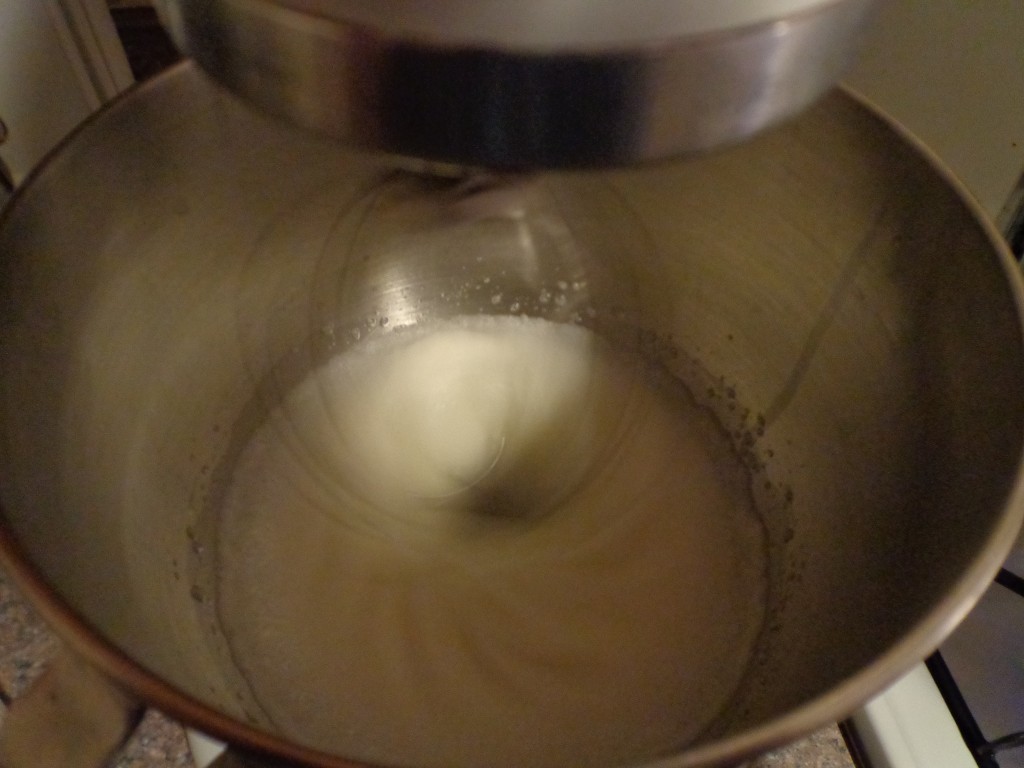 Increase speed to high, and add hot syrup in a steady stream, beating constantly. Continue beating until cool and stiff, about 5 minutes. Beat in vanilla.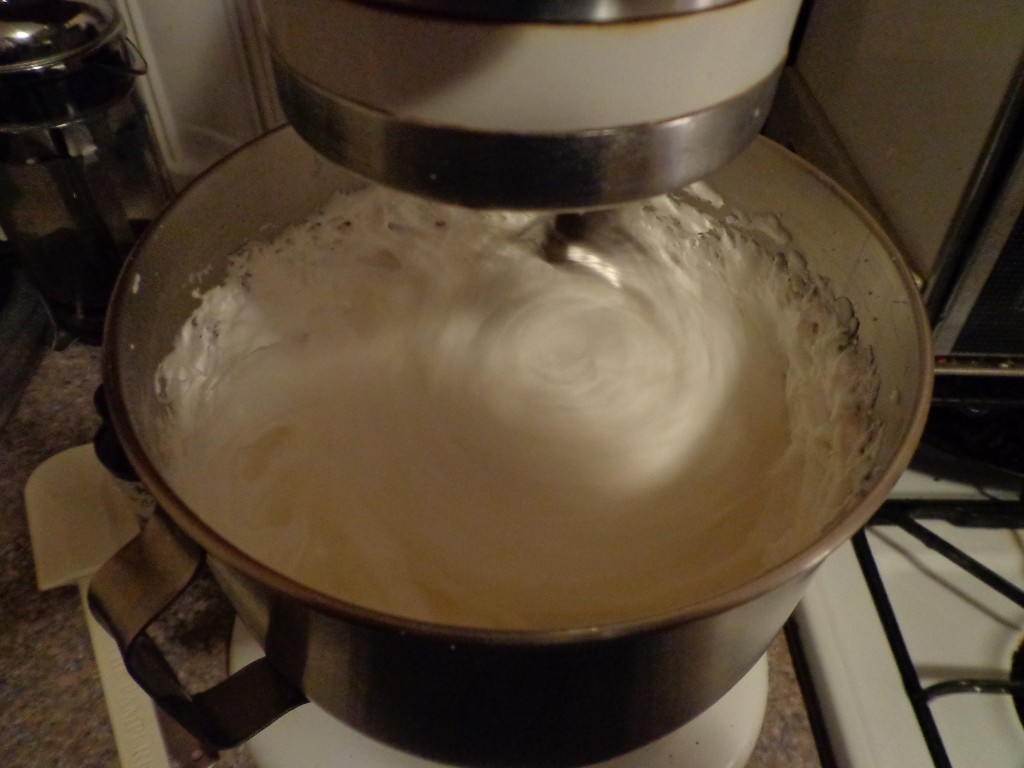 Spoon meringue into a large ziploc bag and snip off a bottom tip of the bag, only large enough for caps of the mushrooms.   Pipe meringue onto prepared baking sheet to form 2-inch domes. Pipe a separate stem shape for each dome.  Don't bother forming perfect domes or stems, as mother nature doesn't make perfect mushrooms either…and they will appear more real is imperfectly formed.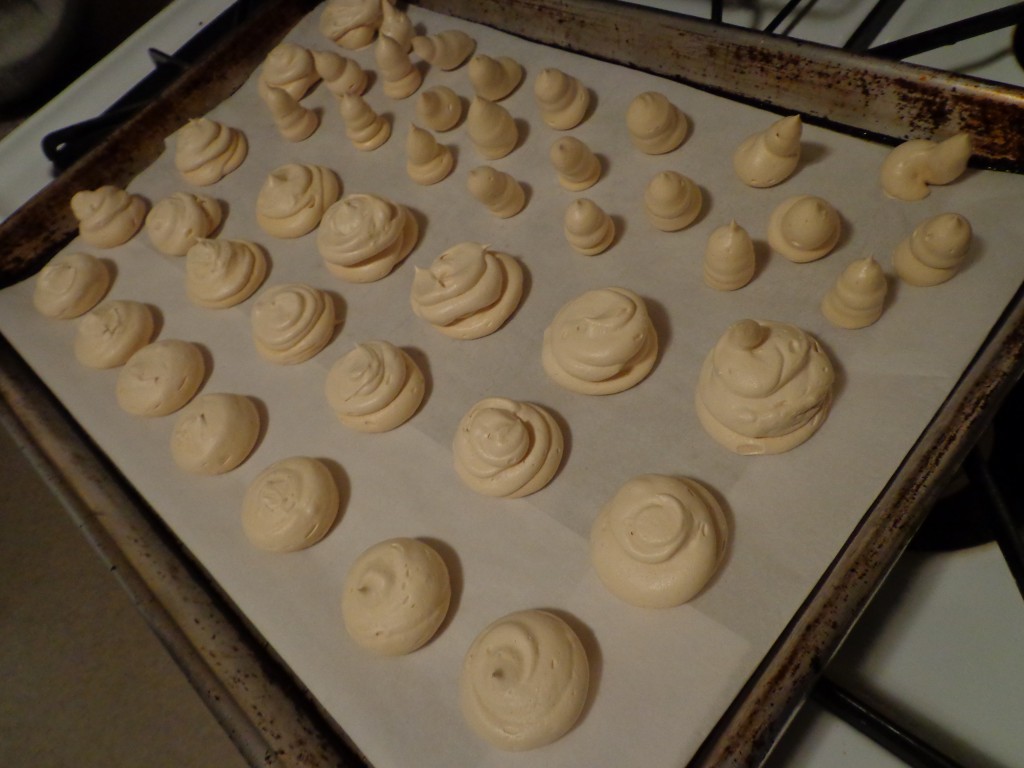 Sprinkle cocoa powder lightly over meringues. Bake until dry, about 2 hours. Store in an airtight container until ready to use.
To assemble:
Slightly melt a small amount of the bittersweet or semisweet chocolate (either in a small ramekin if using a microwave, or a small saucepan if using stovetop).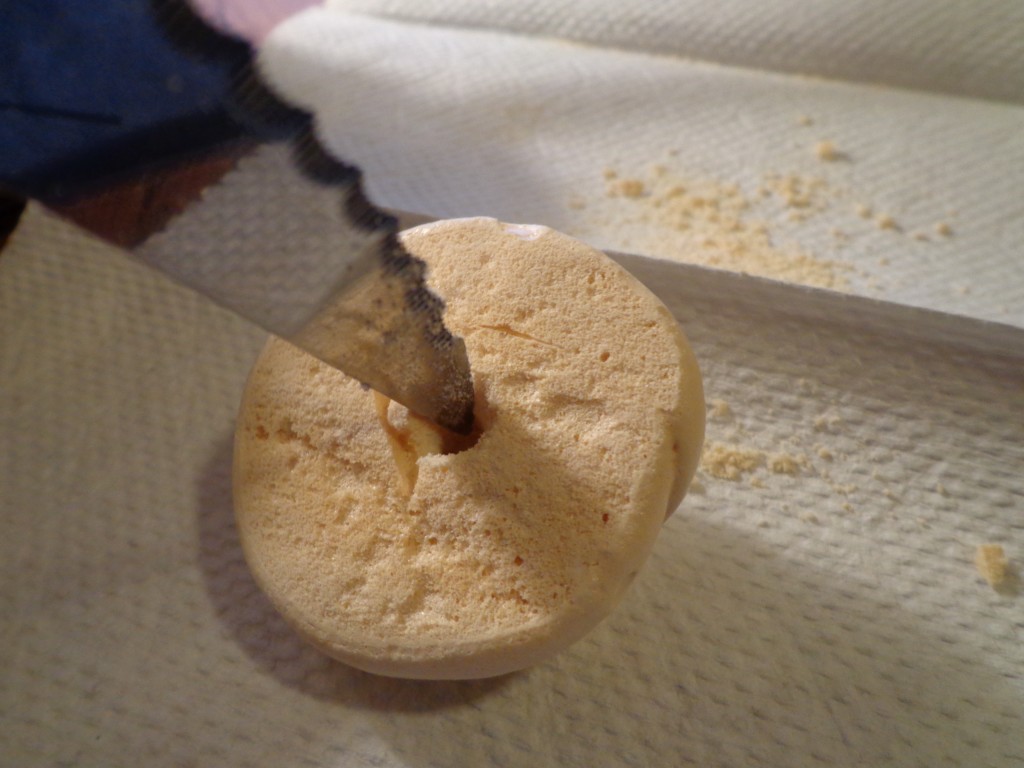 Using the tip of a small paring knife, dig a tiny hole in the center of each cap.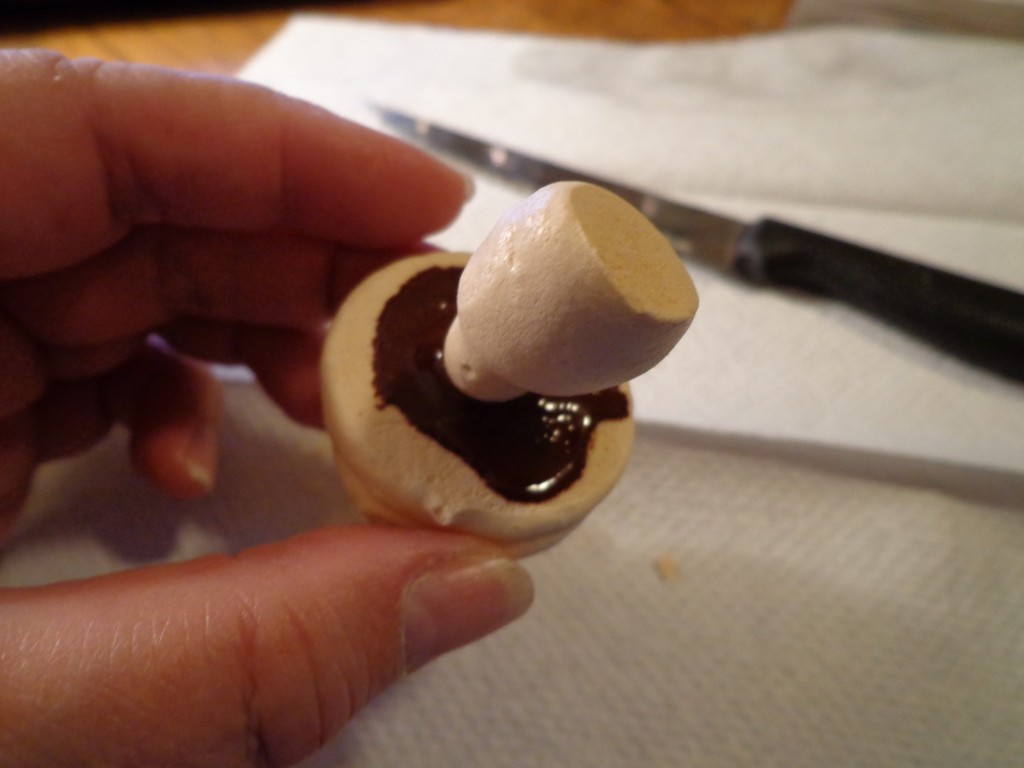 Brush a small amount of melted chocolate across the bottom of each cap, making sure a drop of the chocolate fills the hole.  Dip the tip of a stem into the melted chocolate and insert into the hole.  Immediately store in a clean plastic egg container, with each mushroom upside down, until cooled and set.  Once set, you can store the mushrooms in an airtight container until ready to decorate the buche de noel.  I recommend not assembling the completed buche de noel until an hour or two before serving, so the meringues don't pick up moisture (which makes them sticky).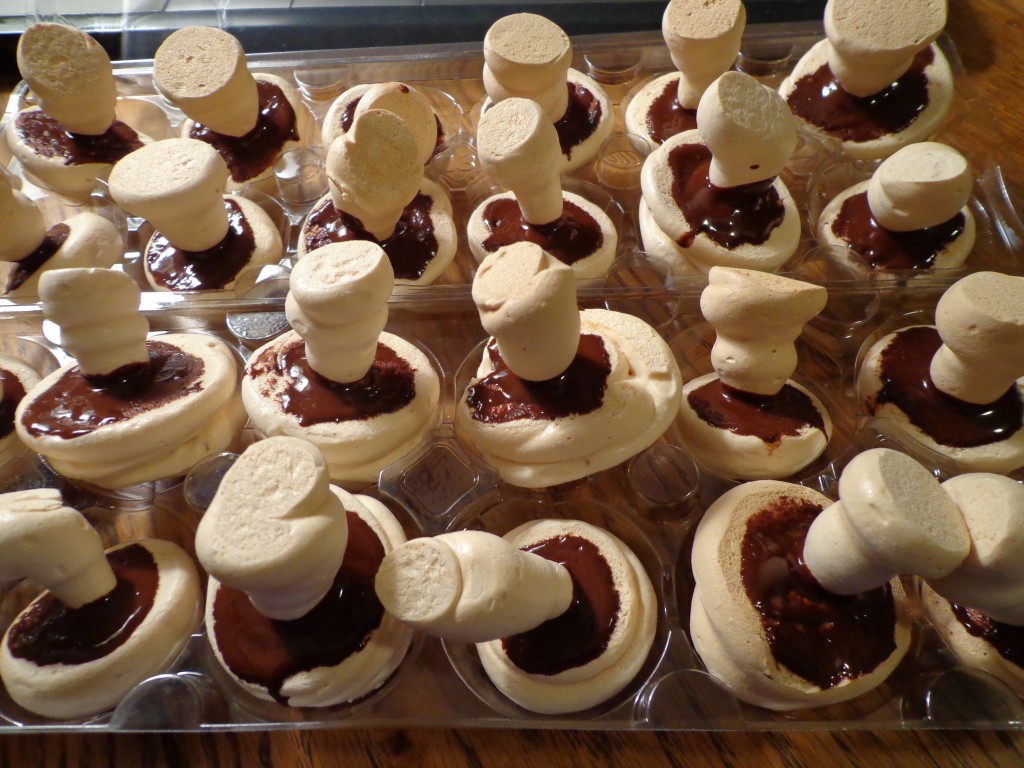 Chocolate Ganache (frosting)
Ingredients:
2 cups heavy cream
12 oz semisweet chocolate (either chips or broken into pieces)
Place the chocolate in a mixing bowl.
Heat the cream in a small saucepan until scalded (tiny bubbles form around perimenter of cream and pan).  Remove from heat and immediately pour over chocolate.  Allow to sit for 5 minutes to warm the chocolate, then stir to smooth out any lumps.  Set aside at room temperature to cool, but not solidify.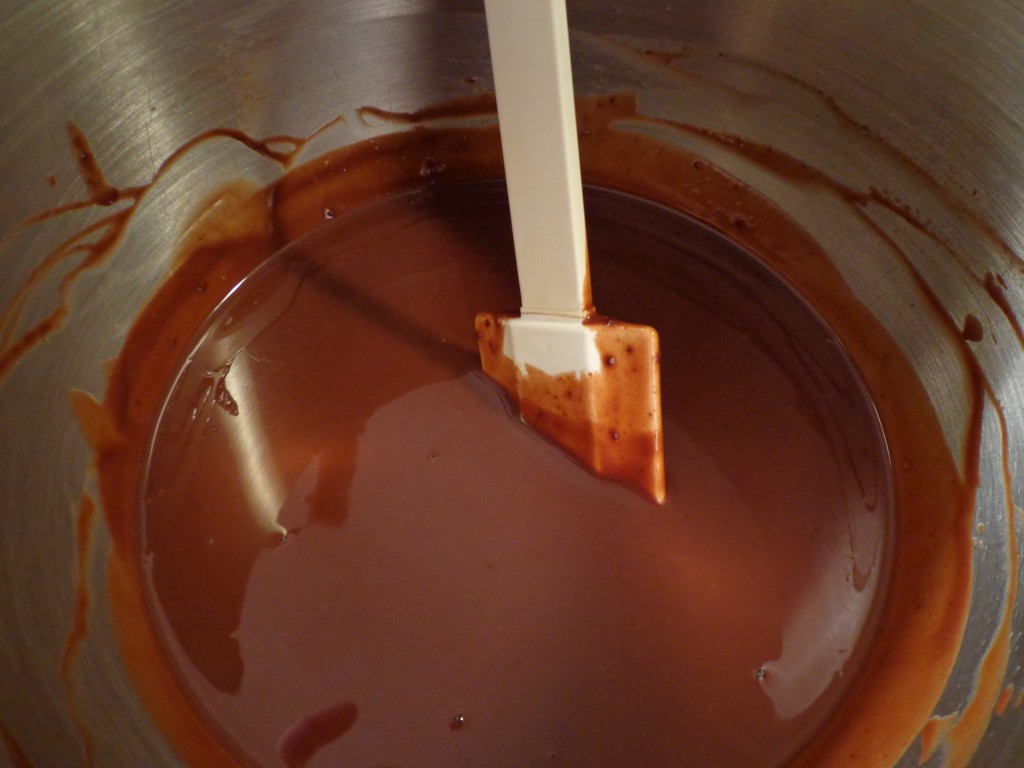 When ready to frost the buche de noel (which can be done the day before), mix with the whisk attachment to whip the frosting over medium speed until the frosting lightens and holds a soft peak….do not overbeat as it continues to thicken as you spread the cake.  This only takes a few minutes.
Prepare serving platter.  Assemble cut evergreens, nuts, holly, meringues, decorations.
Unwrap cold, filled chocolate roll and center on serving platter.  Place waxed paper around cake while decorating to keep platter clean.  Cut ends of cake at an angle to duplicate a cut log with cut branches.  Trim exposed roll ends cleanly to display the filled design to best advantage.  Frost cake with ganache roughly to resemble bark. Store in refrigerator until ready to serve.
Decorate platter with greens, nuts, meringues.  The buche de noel can sit at room temperature for several hours, if using as a table centerpiece.