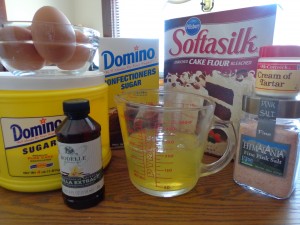 Ingredients:
1 1/2 cups powdered sugar
1 cup cake flour
1 1/2 cups egg whites (12) at room temperature
1 1/2 teaspoons cream of tartar
1 cup granulated sugar
2 teaspoons vanilla extract
1/4 teaspoon salt
Preheat oven to 375 degrees, with rack on lowest position.
Sift together powdered sugar and flour into a medium mixing bowl and set aside.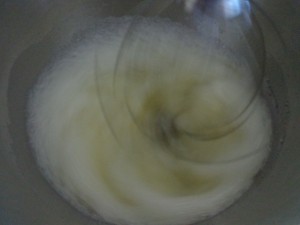 In a stand mixer, mix egg whites with cream of tartar until frothy on medium speed.  Beat in granulated tablespoon by tablespoon, then vanilla and salt and turn speed up to high.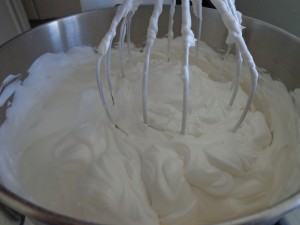 Continue beating until the meringue has expanded to fill 3/4 of the bowl, and is stiff and glossy.  Do not worry about overbeating, or deflation as the cream of tartar protects your meringue.  (approx 5 minutes)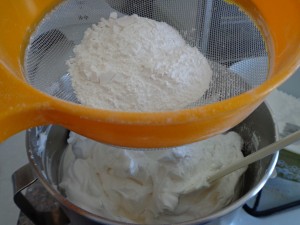 Sift the powdered sugar-flour mixture 1/4 cup at a time over the surface of the meringue and fold in, just until the dry ingredients disappear before adding the next 1/4 cup.  (if adding 1 cup grated coconut, fold it in now).  Do not over fold.  When the dry ingredients are incorporated, put your spatula down and walk away!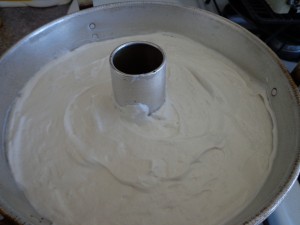 Just teasing, don't walk away…..spoon batter into clean, dry angel food pan.  (do not grease or it will not rise).  Gently run a thin metal knife through the batter to eliminate large bubbles.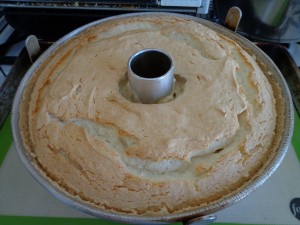 Bake 30-35 minutes until cracks on top feel dry and it springs back when touched.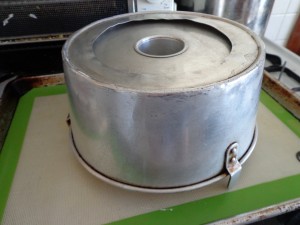 Remove from oven and immediately turn cake upside down while still in pan.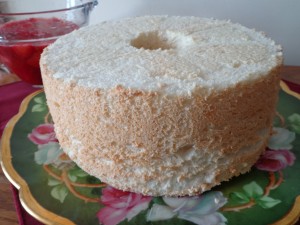 Let cool for 2 hours.  Using a thin, sharp knife, loosen cake from pan and serve upside down.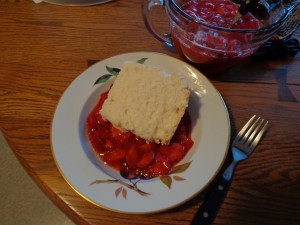 Shown here served with sliced, sugared fresh strawberries.