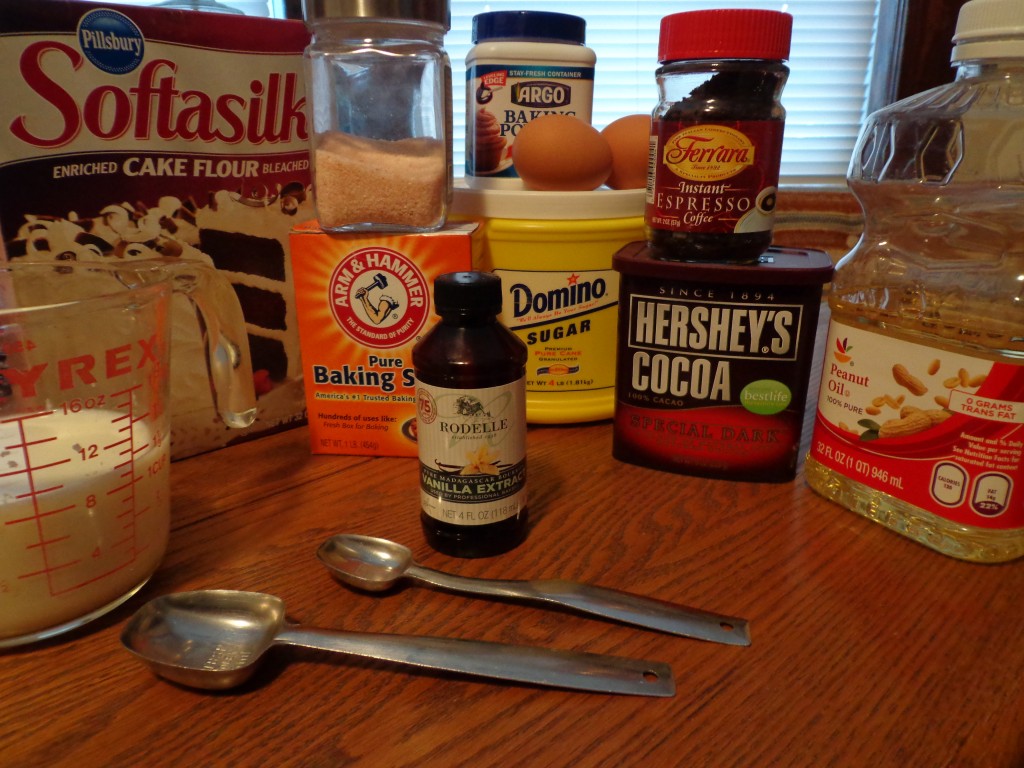 Ingredients:
2 cups sugar
1 3/4 cups cake flour
3/4 cup Hersey's cocoa
1 1/2 tsp baking powder
1 1/2 tsp baking soda
1 tsp salt
2 eggs
3/4 cup milk
1/4 cup Kahlua liqueur (if desired or just use 1 cup milk)
1/2 cup vegetable oil
2 tsp vanilla extract
1 cup boiling water
1 Tbls expresso powder
additional 1/4 cup Kahlua liqueur for sprinkling over hot cake if desired
Preheat oven to 350 degrees.  Since I use non-stick pans, I actually lower my oven temperature to 325 degrees.  Butter two non-stick loaf pans, or two cake pans. If using regular aluminum pans, you will have to butter and flour, or use parchment on the bottoms.
Measure out the sugar, flour, cocoa, baking powder, baking soda and salt into a large mixing bowl.  Add eggs, milk, oil, Kahlua, vanilla and beat on medium speed 2 minutes.  Meanwhile, boil 1 cup of water and dissolve the expresso powder in it.  Turn off mixer and stir in the hot boiling water.  The batter will be thin.  Immediately, pour into the cake or loaf pans.  Bake 30-40 minutes, until a wooden toothpick inserted into the middle comes out clean.   Sprinkle an additional 1/4 cup of Kahlua all over the hot cakes to be absorbed. Cool for 10 minutes in the pans. Remove from the pans and cool on a wire rack.  Frost with Kahlua Chocolate Ganache.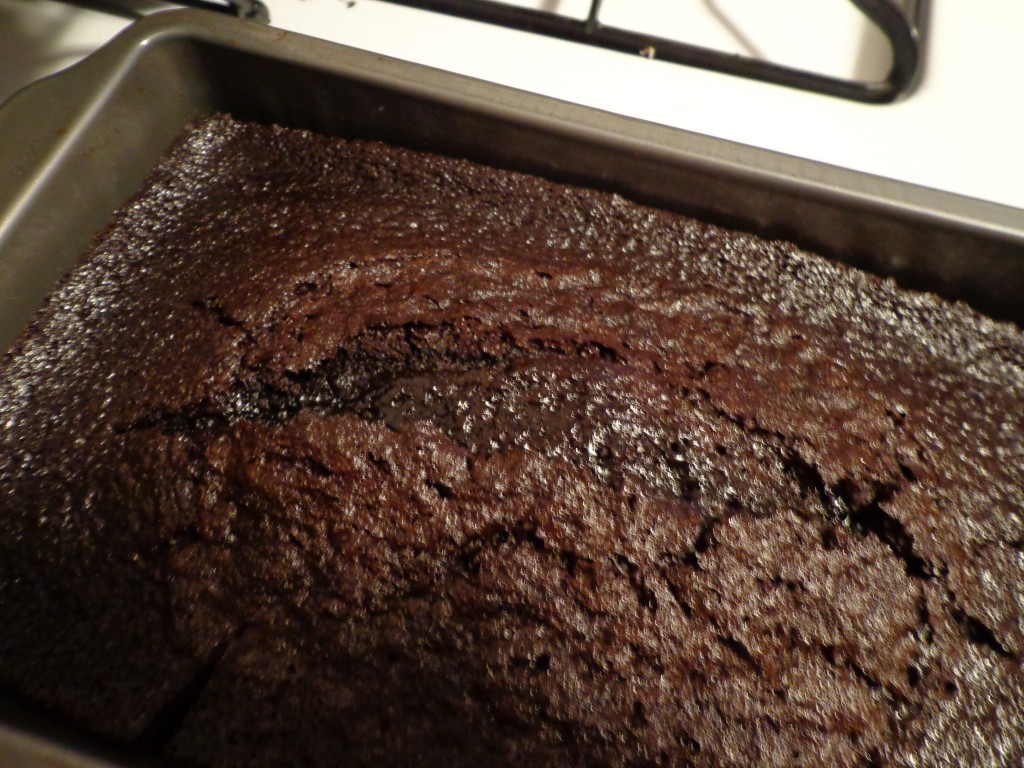 Kahlua Chocolate Ganache
12 oz semisweet chocolate chips (I use Ghirardelli)
2 cups heavy cream
1/4 cup Kahlua liqueur
In small saucepan, on low heat, melt the cream and chocolate chips together, stirring until smooth.  Add the Kahlua.  Remove from heat and pour into a mixing bowl.  Allow to stand at room temperature until cool, stirring every few minutes to prevent a skin from forming on the stop. (do not try to speed things up by refrigerating, as the ganache will solidify and you will have to start over with warming and cooling it….or you can use it in it's solid form to make chocolate Kahlua melt-in-your-mouth truffles by scooping the refrigerated mixture into little balls with a melon baller and rolling each truffle in chopped pistachios, or cocoa powder, or coconut, or any chopped nut of your choice)
When cake is completely cooled and all the liqueur has been absorbed, whip the room temperature ganache at medium speed until light and the consistency of whipped butter.  Do not overbeat or it will look curdled and you will have to begin the warming/cooling cycle all over again.  This recipe is very forgiving, and any leftover frosting can be stored for a couple weeks in the refrigerator, warmed and cooled and whipped all over again.  Simple, versatile, forgiving and soooooo decadently delicious!