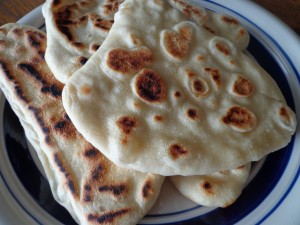 I wanted to make naan bread today, but didn't have any yogurt handy…so I made pita instead.  Our local homemade pizza shop makes double its daily pizza dough usage, and bakes half of its daily pizza dough as fragrant, warm, soft pita pockets. Local residents love their pita bread, and know when the restaurant is baking the pita, which it does 5 times a day!
That's what gave me the idea, to make my fav pizza dough but instead of making a pizza with it, dry fry it on a stove top griddle as pita.  However, pita is usually baked in a very hot oven, or stuck to the side of a hot wood-burning tandoori oven to bake…naan, which is a similar type of bread, is dry fried on a hot griddle on a stove top.
Although pita/pizza/naan is a yeast dough, it only takes an hour for the yeast to work its magic, then about 2 minutes per side to fry on a dry griddle.
Mmmmm…Soft and chewy with flavor that will surprise you.  In this recipe, a fruity, extra virgin olive oil provides that flavor, whereas typically in naan bread, yogurt provides a tangy softness.  Each pillow of dough will puff up as you cook it on the hot griddle.  This is how those pockets are formed that we all love to fill with sandwich yummies.
Pita made in the style of Naan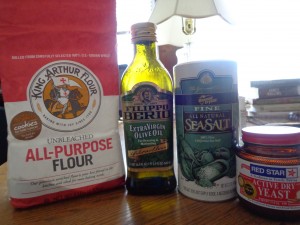 Ingredients:
3 cups of all purpose flour
1 package of active dry yeast (2 teaspoons)
2 teaspoons of sugar or honey
1 1/2 teaspoons of sea salt
2 tablespoons of extra virgin olive oil
1 cup lukewarm water (110 degrees F)
Mix the yeast with the sugar or honey and 2 tablespoons of the warm water and set aside to bloom (it will bubble up in 10 to 15 minutes at room temperature).
Meanwhile, combine the flour and salt.  Pour the yeast, olive oil and water in a well in the middle of the dry ingredients.  Using your fingers or a spatula, mix all the ingredients until well combined, and knead for 5 to 10 minutes.  Form into a smooth ball and place in a lightly oiled bowl.  Cover and let rise for about 1 hour.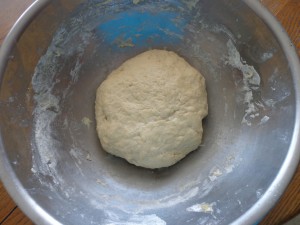 Divide the dough into 8 pieces.  Roll out each piece and set aside to rest until all are done… free form shapes look very homemade.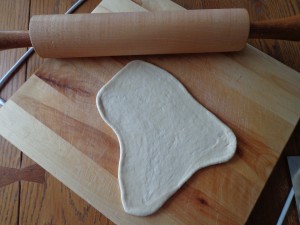 Heat the griddle over medium high until hot.  Place one or two pieces of pita on the dry, hot griddle.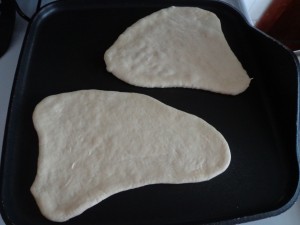 Let cook for approximately 2 minutes.  The pita will bubble and puff up.
When you see scorch marks or browning form on the bottom…flip over and cook the other side until lightly browned.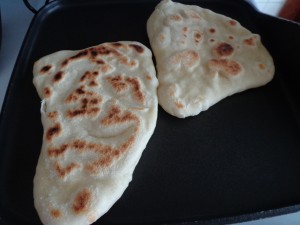 Set aside and cover while you fry the remaining pita. Stack them as they are done, much like a stack of pancakes.  Naan is usually buttered when removed from the hot griddle, and stacked until all the bread is fried.  Serve them warm for a soft, chewy texture. Yum!