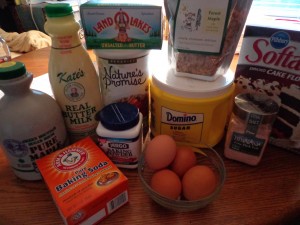 Ingredients:
3 cups all-purpose flour
1 1/2 cup cake flour
1 cup favorite granola, plus additional for sprinkling
2 tablespoons baking powder
1 teaspoon baking soda
2 tablespoons granulated sugar
1 teaspoons salt
1 pound cold unsalted butter, diced
1/2 cup cold buttermilk
1/2 cup pure maple syrup
4 extra-large eggs, lightly beaten
Glaze:
1 1/4 cup powdered sugar
1/2 cup maple syrup
Preheat oven to 400 degrees.
In a large mixing bowl, combine all the dry ingredients.  Using your paddle attachment, add the cold butter and mix until coarse sand texture.  Combine the buttermilk, maple syrup and eggs and add to the dry ingredients, only until combined and it forms a ball.
Turn out dough onto a floured surface.  Pat into a 1 inch thick circle.  Using a floured biscuit cutter, cut scones and place on lined cookie sheet.  Use up all the dough in this fashion.
Bake 20-25 minutes.
Make the glaze by combining powdered sugar with maple syrup.  Remove scones from the oven.  Allow to cool 5 minutes, then spread with the glaze and sprinkle extra granola over the top.
These scones last for several days and remain deliciously buttery.